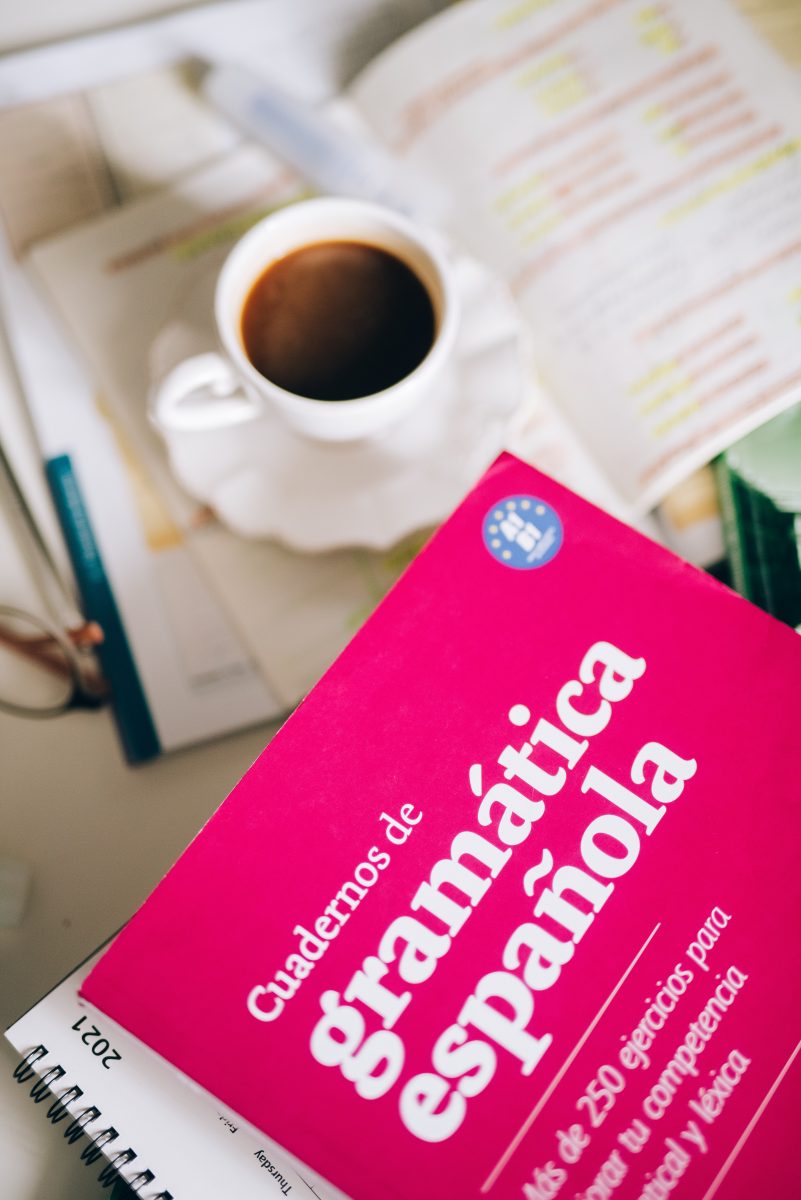 Spanish conjugations can be quite tricky. As you may know, there are three types of conjugations depending on verb ending (-ar, –ir or-er). There are also three different moods—indicative, subjunctive and imperative—with 20 different tenses in total. Not to mention the three verbals—infinitive, gerund and participle! This is why, in this article, we've gathered plenty of recommendations to help you in your Spanish conjugation practice.
Below, we'll look at various tips for every type of learner and cover different easily-available resources. We'll also focus on a couple of Spanish conjugation challenges to keep an eye out for.
But first, let's figure out what kind of learner you are, so you can make the best of this article. Let's dig in!
Discover your learning style
In the next section, we'll cover various types of Spanish conjugation practice because we know not everyone learns the same way. This is why we thought it'd be useful to take some time to reflect on your specific learning style so you can focus on the strategies and resources that will best adapt to your needs.
For example, if you love reading, you can focus on some grammar books (here are some you may find useful) and take out books in Spanish from your local library, if available. You'll find some other tips on reading below.
If you are a visual learner, you should focus on media and videos. Diagrams, flashcards, and images are also helpful.
You may also be an auditory learner; this means you learn best by listening. In this case, audiobooks and podcasts could be a great addition to your Spanish conjugation practice.
If you are a verbal learner, you should try to get as much speaking practice as possible. We know speaking a new language can seem daunting at first. If you are a beginner, listening to others and trying to interact in any way you can will definitely be helpful.
Finally, you might be a kinesthetic learner, meaning you learn best in hands-on, physically active scenarios that engage all the senses. Having a mixture of all the resources below might be a good call for kinesthetic learners who tend to be quite active and a little restless. Moreover, games, role-playing, and speaking practice might work best for you.
Tips for Spanish conjugation practice
Now that you know what you need, let's take a look at some more specific tips for Spanish conjugation practice.
Start with the basics
A great starting tip for Spanish conjugation practice is to learn the conjugation for the most common regular verbs, preferably in the most basic tenses. If you're just starting out, you should take tenses one at a time and keep things simple.
In the Spanish Language, there are three verb endings: –ar, –er, and –ir. This means all verbs have one of these endings, and their conjugation varies depending on that ending. So it's important to learn the conjugation for each of these verb endings.
You can find some Spanish conjugation practice examples in this article. There, you'll see the present tense conjugation for the verbs hablar (to talk), comer (to eat) and vivir (to live), among plenty of others.
Once you are comfortable enough with the Spanish present tense for regular verbs, you can take a look at some irregular and stem-changing verbs such as hacer (to do), venir (to come) and tener (to have).
You can find a comprehensive overview of the Spanish tenses here.
Listen and read in Spanish
Spanish conjugation practice is not all about studying. Putting your knowledge to the test will help you solidify it and learn even more.
One of the ways to do this is to listen to Spanish. This can be in the form of podcasts, radio shows, music, or even TV shows. You can find the content that best adapts to both your taste and your proficiency level.
Reading is another great strategy. You can start simple, with children's books or short articles. If you're a bit more advanced, you can tackle newspapers and even novels.
Listening and reading will give you the opportunity of seeing the various verbs and conjugations in context. Not to mention, they are a great way to practice identifying the tenses you've been studying.
You can even combine the two skills by watching your favorite Spanish show with Spanish subtitles!
Speak the language
Another way to tackle your Spanish conjugation practice is to work on your oral skills.
Maybe you have a friend or family member who speaks Spanish. You might have found an awesome language exchange through Facebook or MeetUp. Or decided to dive into a bilingual chat room or app like Espanglish Chat or Tandem. Any of these are great options to practice Spanish and improve your conjugation skills.
Keep a journal
Another great way to work on your Spanish conjugation practice is through writing. You can keep a journal for this purpose and even if you write just one or two sentences every day (or even once a week), you can make a lot of progress.
You can use your journal to report on what you did that day (past tense), what you are currently doing (present tense) or your plans for the next day or the weekend (future tense). This is a great way to practice a wide variety of Spanish tenses.
Memorize irregular verbs
We know irregular verbs can be the stuff of nightmares, but they are important to learn. Once you have your basic tenses down, you should focus on the most common irregular verbs. Here, however tedious, memorization and drilling will be your best allies.
Here is a list of nine common Spanish verbs with links to articles on their conjugation:
You can also find a comprehensive list of Spanish irregular verbs here.
Resources for Spanish conjugation practice
It's time for some resources! Below, you'll find five online tools to help you with your Spanish conjugation practice.
Conjuguemos
Conjuguemos is an extensive archive of activities and games that will test your writing, grammar, and listening skills. The site is free for students, and you can choose from a variety of fun single or multiplayer games, most of which offer three levels: easy, medium and hard. This is a great option for kinaesthetic learners.
Exercises related to Spanish conjugation practice are divided according to mood, tense, and whether verbs are regular or irregular. If you're feeling particularly brave, Conjugemos even has the option to test all tenses together.
FluentU
FluentU offers immersive learning. You can work on its website or app, which uses music videos, movie trailers, and commercials, among other multimedia resources, to help you learn Spanish. This provides you with real-life context that makes the learning process that much easier and entertaining, and it's an excellent resource for visual and auditory learners.
FluentU offers a 14-day free trial before you commit. After this, monthly and annual plans are $29.99 and $11.99, respectively.
Clozemaster
Perfect for visual learners, Clozemaster turns learning Spanish into a game, making it easy and fun to improve your Spanish conjugation skills. What sets this app apart from the others is its focus on contextual learning that helps you build on your vocabulary and grammar skills faster and more efficiently.
The app uses a gap-fill methodology, which is where the app's name comes from: a "cloze test" is a type of test where you are given a portion of a text with one or more words missing. When it comes to Spanish conjugation practice, you can focus on the Grammar Challenges where you can practice different verbs and tenses.
You can sign up for Clozemaster and access a lot of features for free but, if you want to step up your game, there is also a Pro version. Clozemaster Pro costs $8 per month, $60 per year, or $140 for a lifetime subscription.
Memrise
Excellent for visual and auditory learners, Memrise offers a collection of digital flashcards, including audio and images, with some additional interactive tools. The site breaks Spanish verb conjugation into 25 categories with multiple-choice and translation exercises.
Memrise offers a free version as well as an ad-free premium version for $8.49 per month, $29.99 per year, or $119.99 for a lifetime subscription.
Study Spanish
Study Spanish offers verb drills and quizzes to carry out your Spanish conjugation practice in context. A great perk of this online resource is that it lets you opt out of the "vosotros/as" conjugation in quizzes if you're not after peninsular Spanish. Study Spanish includes sections on regular, irregular, and stem-changing verbs in all tenses.
The site offers a free membership with limited access, as well as monthly and lifetime memberships for $9.99 and $119, respectively.
Spanish conjugation practice – Final word
The Spanish conjugation practice tips and resources that work best for you will depend on both your learning style and your personal preferences. We hope this article has given you plenty of options that meet your needs to get you started.
If you are feeling extra curious, you can find more Spanish-learning resources here and some more info on Spanish-learning apps here.
Challenge yourself with Clozemaster
Learning Spanish conjugation might seem daunting at first, but don't worry, it comes naturally with practice.
Test your skills and see what you've learned from this article by playing a selection of sentences with conjugated forms of Spanish verbs.
Sign up here to save your progress and start getting fluent with thousands of Spanish sentences at Clozemaster.
Clozemaster has been designed to help you learn the language in context by filling in the gaps in authentic sentences. With features such as Grammar Challenges, Cloze-Listening, and Cloze-Reading, the app will let you emphasize all the competencies necessary to become fluent in Spanish.
Take your Spanish to the next level. Click here to start practicing with real Spanish sentences!