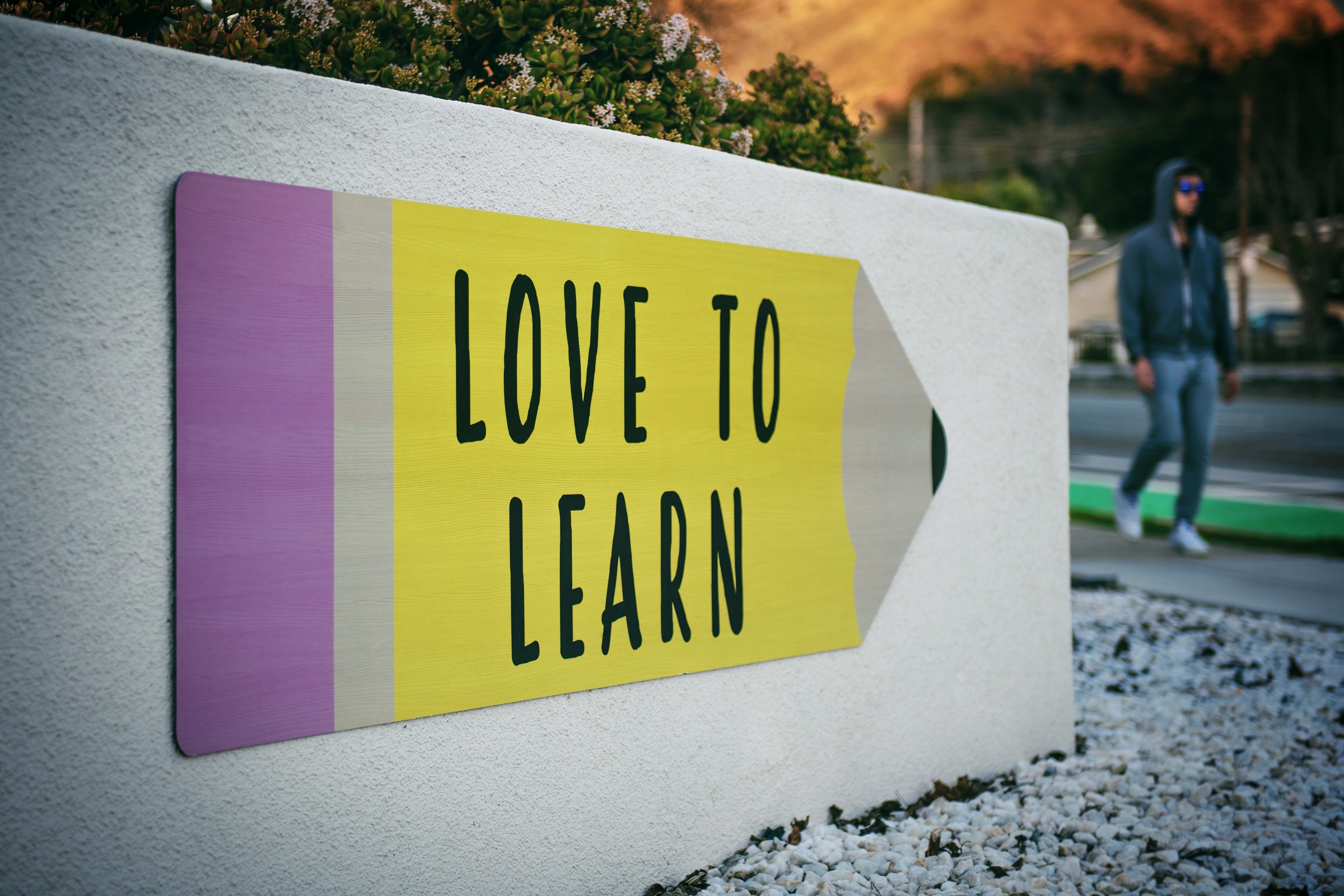 Learning Spanish is no easy feat, but in the era of mobile apps, there are dozens of tools available to help you find your way.
A lot of language apps are designed to cover only the basics. If you want to take things to the next level, in this post, we'll go over some of the best intermediate Spanish apps currently in the market. As you will see, these apps vary regarding learning dynamics and may be free or only available through paid subscriptions.
What are you waiting for? Let's improve your Spanish!
Duolingo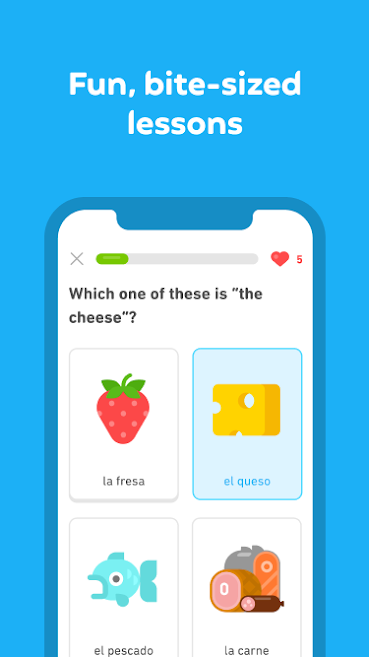 Price: Free
Duolingo is probably one of the most popular language-learning apps worldwide and definitely deserves a place among our top intermediate Spanish apps.
The app uses gamification to help Spanish students by offering various rewards and providing automatic grading. It also includes personalized learning at the level of university courses.
Duolingo lets you choose the amount of time you devote to your learning according to your needs, as well as your specific goals (for example, learning how to order at a restaurant). The app has various translation-based exercises to help you learn vocabulary and work on your writing and listening skills.
This intermediate Spanish learning app also gives you the possibility to create a profile and track your progress. In addition to the useful content, there are also some quirky sentences here and there to keep things fun and make them memorable.
Although Duolingo is free to download and use, there is also a Plus version available that removes ads and offers offline courses and progress quizzes among other features. You can make use of the 14-day free trial before you decide if Duolingo Plus is for you, after which plans start at $6.99 per month.
Key features:
Personalized
Progress tracking
Continuous improvement
Memrise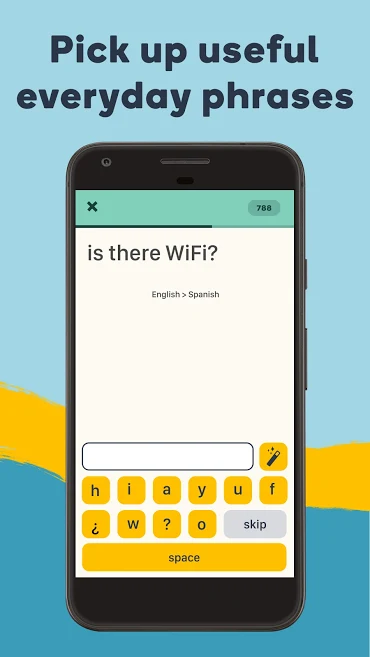 Price: Free
The name of this app might have given you a hint already, but just in case, Memrise is focused on helping you memorize words and phrases. This methodology is a bit different from those used in the other intermediate Spanish apps in this list.
Memrise has different modules according to your level which include multiple-choice and translation exercises. In most of these, you listen to audios or watch videos of native speakers and choose the correct option (which can be in Spanish or be the relevant English translation). Once you've cemented each word or phrase in your brain, you keep building on it through writing exercises and more related vocabulary.
If you think the memorizing business might be dull at first, you should try one of the Spanish courses and prepare to be pleasantly surprised! The methodology is fun and very effective as it helps you associate words and create useful and sometimes mischievous sentences. It also offers a wide variety of everyday topics and includes reviews, a leaderboard, and a personal ranking.
Memrise is available for free, but the Pro membership provides extra features such as a chatbot at your disposal, adaptive technology, and your learning statistics. The pro version also offers Difficult words and Learning skills sections and costs $9 per month, $59 per year, or $129.99 for a lifetime subscription.
Key features:
Grow your vocabulary
Learn phrases for real-life situations
Chat with other learners
Clozemaster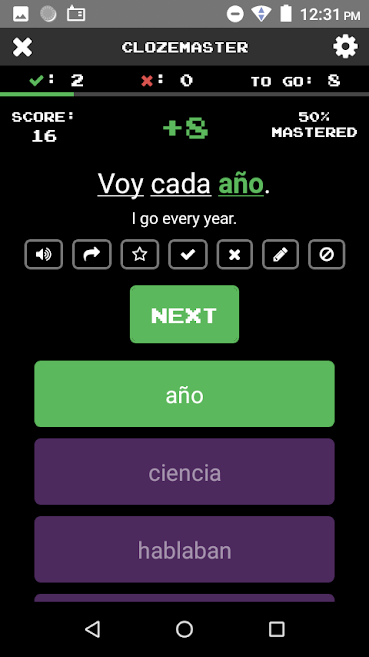 Price: Free
Clozemaster turns learning Spanish into a game, making it easy and fun to improve your language skills. What sets this app apart from other intermediate Spanish apps is its focus on contextual learning that helps you build on your vocabulary and grammar skills faster and more efficiently.
The app uses a fill-in-the-blank methodology, as you can see from the screenshot above. And this is where the app's name comes from: a "cloze test" is a type of test where you are given a portion of a text with one or more words missing.
However simple it may sound, there is a lot more to this app. As you play, you score points that will help you rise in the leaderboard while you compete with other users. There are also different categories you can play, such as Most Common Words or Grammar Challenges, not to mention you can also build and share your own cloze collections.
You can sign up for Clozemaster and access a lot of features for free but, if you want to step up your game, there is also a Pro version. Clozemaster Pro costs $8 per month, $60 per year or $140 for a lifetime subscription, with extras such as unlimited listening practice, custom settings and automatic Google translations, among other features.
Key features:
Countless fill-in-the-blanks exercises
Progress tracking
Listening and grammar challenges
Rosetta Stone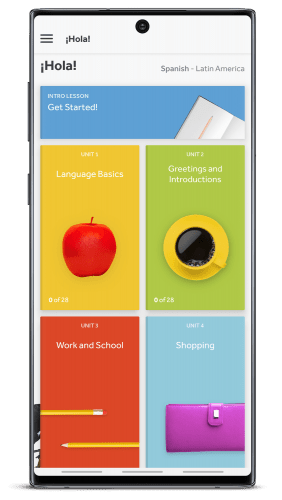 Price: From $9.99/month
Rosetta Stone is not only extremely popular, but it is also one of the oldest language-learning apps out there. Unlike most intermediate Spanish apps, Rosetta Stone teaches solely using Spanish; English is never used as an intermediary. This makes it quite an immersive experience.
Another thing that makes it stand out from other apps is the possibility to schedule live lessons with a tutor, which gives you the chance to interact with a native speaker.
Moreover, its speech-recognition system is set up to recognize non-native accents, making it an excellent learning tool.
It seems Rosetta Stone is adept at standing out from the rest because another one of its differences is the cost. Though it offers a free 3-day trial, the app is subscription-based. You can choose between a 3-month, 1-language subscription for $11.99 per month, a 12-month, unlimited languages subscription for $7.99 per month, and a lifetime subscription starting at $179.
Key features:
Immersive curriculum
Excellent speech-recognition software
Live tutoring
Babbel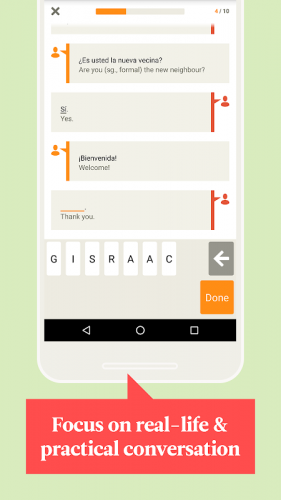 Price: From $6.95/month
Babbel is one of the few intermediate Spanish apps that really focuses on helping you improve your conversation skills. The app offers matching and listening exercises with a wide array of different Spanish accents. Your subscription includes full access to the Spanish courses, both for the mobile app and on the web.
The app goes over a wide variety of topics and includes a review feature. Each course is planned around your interests, as well as your native language, and, just like Rosetta Stone, Babbel also uses speech recognition to help you learn and improve your pronunciation.
You can also choose how much time to devote to learning Spanish during each session as it offers short interactive lessons.
Babbel is a paid app. It provides access to one free lesson, but after that you will have to choose from three subscription options for 3, 6 or 12 months, starting at 6.95 per month for the latter.
Key features:
Interactive lessons
Practice conversation skills
24/7 customer service
MosaLingua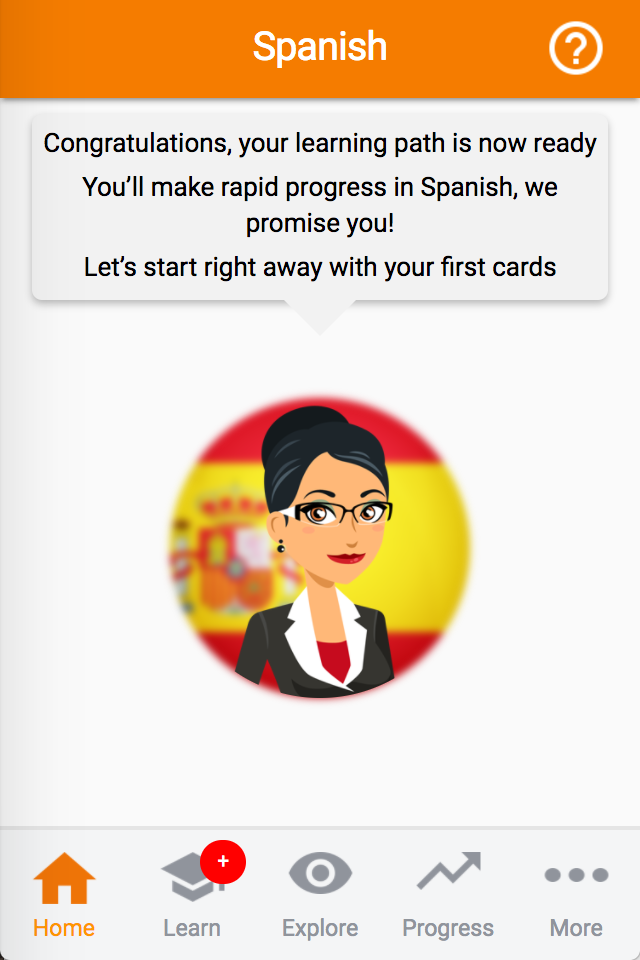 Price: From $4.49/month
MosaLingua uses various teaching methodologies to help you learn Spanish, which sets it apart from the rest of the intermediate Spanish apps in this list.
It includes thousands of vocabulary flashcards, audio clips, grammar essentials, and learning tips. It also provides you with 10 levels of difficulty, as well as customized learning, proficiency certificates, and over 200 bonuses to keep you motivated.
The app offers 14 topic categories, with dozens of subcategories, and several optional packs. You can even create your own personalized flashcards with new vocabulary. There is also a MosaLingua Learning Club where you can practice your skills with other users.
The app is subscription-based, with a choice of $9.49 per month or $57.99 per year (which translates into $4.83 per month). However, MosaLingua offers a free trial to help you decide before making a commitment.
Key features:
Practical lessons
Coaching
Use of scientifically proven learning techniques
Busuu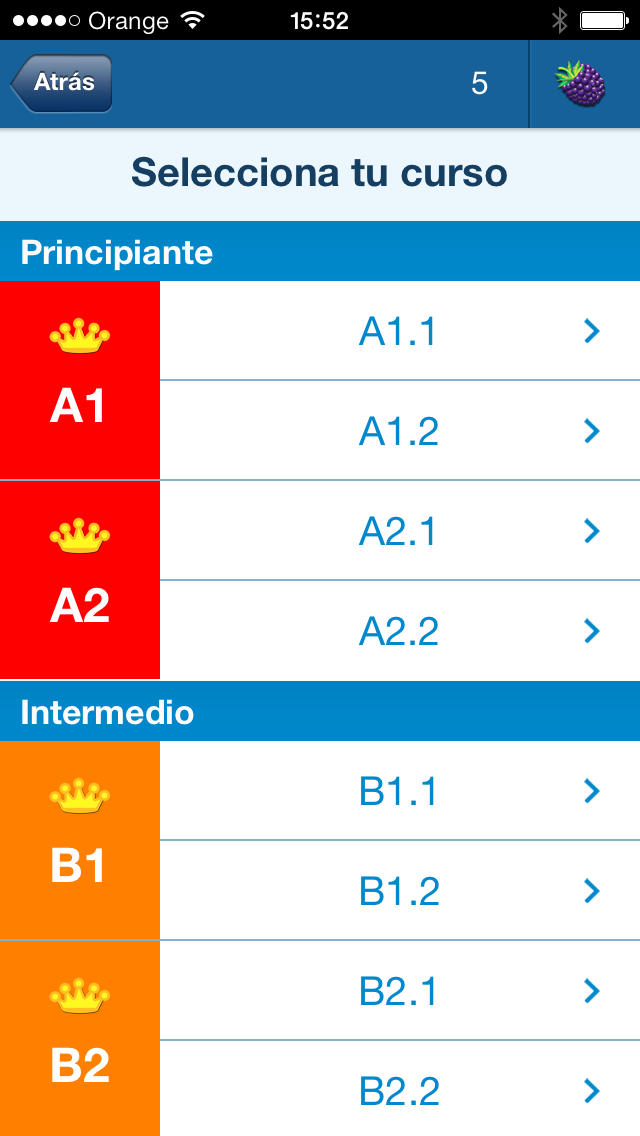 Price: Free
You could say Busuu has the whole package as it includes speaking, vocabulary and pronunciation lessons, exercises and examples, as well as grammar and writing tips. This means it covers all four essential language skills: reading, listening, writing and speaking.
One of its greatest features is that no internet connection is required to use the app. It also covers a wide variety of topics and includes fun quizzes to test how much you've learned.
Busuu does not only let you choose for how long you wish to study, but it also allows you to schedule the days of the week and time you are able or prefer to have your lessons. The app gives you the option of starting on an elementary level or—as in this case we are discussing intermediate Spanish apps—do a test to set your current level of language proficiency.
After placing you, Busuu will recommend a specific plan for you. You have the option to continue with a basic free plan or subscribe to the Premium ($5.83/month) or Premium Plus ($6.66/month) plans to be paid yearly. The premium plans allow extra features such as more personalized learning, offline mode and the possibility of adding more languages.
Key features:
Covers all four language skills
Personalized
Offline mode
Final thoughts on our top intermediate Spanish apps
As you can see, there are plenty of different intermediate Spanish apps available for you to keep working on your skills. Some are more focused on one particular aspect of the language (like vocabulary building or speaking practice), while others are more comprehensive. You can, of course, choose one or find the combination that best suits your needs.
What all of these intermediate Spanish apps do have in common is that they include gamification, making learning easy and fun for all. We hope you find the perfect fit for your needs and learning style!