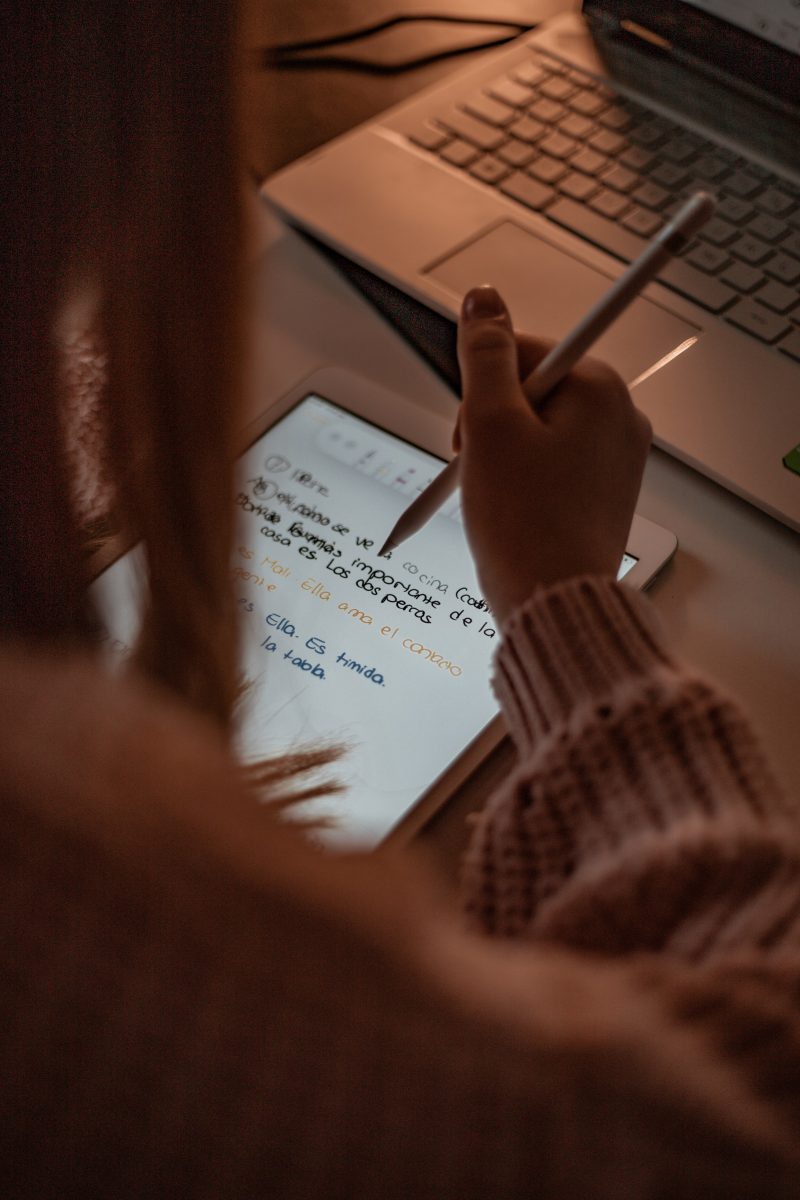 When learning any language, finding the right resources is vital. Luckily for you, there is an endless list of amazing Spanish resources available in many formats. However, sometimes it is hard and time-consuming to find the best ones or the ones that fit your particular learning style.
In this article, we'll cover the best Spanish resources available and, hopefully, give you a good starting point.
Apps and Online Courses
When it comes to apps and online courses, there are plenty of Spanish resources available to aid you in your online learning. We'll highlight the ones we find more useful to get you started.
Apps
Duolingo
Duolingo is among the most popular language-learning apps worldwide and definitely deserves a place among our Spanish resources.
The app uses gamification to help you learn Spanish by offering various rewards and providing automatic grading. It also includes personalized learning at the level of university courses. Duolingo lets you choose the amount of time you devote to your learning according to your needs, as well as your specific goals.
The app is free to download and use, but it also offers a Plus version that removes ads and offers offline courses and progress quizzes, among other features.
Clozemaster
Clozemaster turns learning Spanish into a game, making it easy and fun to improve your language skills. What sets this app apart from the others is its focus on contextual learning that helps you build on your vocabulary and grammar skills faster and more efficiently.
The app uses a fill-in-the-blank methodology, which is where the app's name comes from: a "cloze test" is a type of test where you are given a portion of a text with one or more words missing.
You can sign up for Clozemaster and access a lot of features for free but, if you want to step up your game, there is also a Pro version. Clozemaster Pro costs $8 per month, $60 per year, or $140 for a lifetime subscription, with extras such as unlimited listening practice, automatic Google translations and custom settings, among other features.
Busuu
You could say Busuu has the whole package as it includes speaking, vocabulary and pronunciation lessons, exercises and examples, as well as grammar and writing tips. This means it covers all four essential language skills: reading, listening, writing and speaking.
One of its best features is that you don't need an internet connection to use the app. It also covers a broad array of topics and includes fun quizzes to test how much you've learned. Moreover, Busuu does not only let you choose for how long you wish to study, but it also allows you to schedule the days of the week and time you wish to have your lessons.
Busuu offers a basic free plan as well as the Premium ($5.83/month) and Premium Plus ($6.66/month) plans that are paid yearly. The premium plans allow extra features such as offline mode, more personalized learning and the possibility of adding more languages.
If you are interested particularly in apps, you'll find more options in this article.
Online courses
Udemy
Udemy is a global e-learning marketplace that offers a wide variety of courses on various topics. Millions of people have made use of this incredible tool that offers around 100,000 courses from thousands of instructors around the globe.
It also has a section devoted to learning Spanish. It includes both free and paid (but affordable) courses at every level, which makes it one of the best Spanish resources out there. You will find their Spanish courses here.
Coursera
You might also have heard about Coursera. This site also offers free and paid (but also affordable) online courses on a wide range of topics. It has partnered with over 200 universities and organizations so you can make use of their resources remotely and even get diplomas for them.
Coursera offers many Spanish courses for every level which are available here. There are also language courses for specific purposes.
Alphabet and Pronunciation
The Spanish alphabet is pretty straightforward, though it does add the "ñ" and a couple of letter combinations (like the double l or the "ch" combination that can get tricky). Not to mention the silent h and rolling your r's! Here are some Spanish resources to help you with the alphabet:
The basics
Starting with the basics, there are a lot of YouTube videos and channels that offer help in this particular area. For example, you can take a look at this video. It includes the full alphabet with examples and clear guidelines on pronunciation.
The Mimic Method
The Mimic Method prides itself in taking a unique approach to learning languages by focusing on hearing and pronunciation first. On their site, there is an ultimate guide to the Spanish alphabet and its pronunciation, complete with both written and oral examples. Here's the link to the article.
StudySpanish.com
StudySpanish.com is an educational website focused on the Spanish language. The site devotes a whole section to Spanish pronunciation. This includes examples and exercises, and also focuses on those tricky sounds like the double r. You can find their comprehensive alphabet course here.
Forvo
Forvo prides itself in being the largest pronunciation guide in the world. When it comes to Spanish resources, its main benefit is that it includes regional variations. This means you can learn and practice how words are pronounced in different Spanish-speaking countries. It also provides you with essential vocabulary, which is a great plus!
Vocabulary and Grammar
We all know vocabulary and grammar can be tricky, especially when it comes to Spanish. So here are some Spanish resources that cover these specific areas.
Conjuguemos
Conjuguemos is an extensive archive of exercises that will test your writing, grammar, and listening skills. It works for learners of all levels, but intermediate learners and above will be able to make the most of it.
Most common words
You can explore this list of the top 100 Spanish words to build upon your existing vocabulary. You will find example sentences and translations to make things easier. You can read them out and also make your own sentences with the words to make sure they stick.
Clozemaster blog
In addition to its app, as you probably know from this very article, Clozemaster also offers a blog that covers a wide variety of Spanish grammar and vocabulary. It includes articles on general conjugation, the conjugation of particularly tricky and useful verbs, adjective agreement, and pronouns, among many other grammar topics.
Grammar-specific articles are available here, but there are also articles focused on vocabulary, such as how to say "hello" or "Merry Christmas" in Spanish.
Memrise
Memrise offers a collection of digital flashcards, including audio and images, with some additional interactive tools. The site breaks Spanish for beginners into 19 categories to test your knowledge of specific vocabulary which makes it great to get started.
Spanish Reading Resources
If you want to improve your reading skills, these Spanish resources can definitely give you a hand.
Books for beginners
Reading is a great way to expand vocabulary and practice a language in a fun way. So, if you're a book lover, you will find a list of sites with free Spanish books for beginners in this post.
Practical Spanish
Practical Spanish offers a nice collection of passages for beginners. The passages are organized by topics, offer an English translation if you have any doubts about meaning, and also include a recording for you to hear the correct pronunciation!
Short stories for intermediate learners
If you are ready to step it up a notch, you might enjoy the book Spanish Short Stories for Intermediate Learners. Short stories are a great learning tool as they make it easy to maintain focus and momentum. This book by Spanish expert Olly Richards is an excellent collection for intermediate learners to increase vocabulary and improve their grammar.
Online newspapers and magazines
Another great way to practice your reading skills is to read pieces of news or magazine articles in Spanish. This is an excellent way to contextualize your learning and for you to read on topics that you consider interesting. You can check out BBC Mundo and CCN en español for news. When it comes to magazines, there is a list of high-quality magazines on a variety of topics in the bottom part of this article.
Blogs
If you're an avid blog reader, this might be a better option to practice your reading skills. There are countless blogs out there, and you can find them on virtually any topic, so we'll leave you with a list of 21 really interesting blogs to get you started.
Clozemaster's Cloze-Reading
The language learning app Clozemaster includes a Cloze-Reading mode, which turns reading Spanish texts into a fun game. Cloze-Reading applies the idea of cloze testing to reading practice – in each paragraph, a few random words are replaced by cloze exercises, requiring you to choose the word which matches the context.
When reading a text on Clozemaster, you can click on any Spanish word to display its translation into English. Thanks to this handy feature, you can start reading Spanish texts which would normally be too difficult for you.
Spanish Listening Resources
If you are more of an aural learner, you should definitely take a peek at these Spanish resources.
Spotify
If you are a music fan, you can sign in to your Spotify account and find Spanish artists in your favorite genres. Here are some easy (and catchy) songs to help you learn Spanish on your own.
SpanishPod101
Spanishpod101 offers a very comprehensive archive with over 1,800 audio and video lessons. There are plenty of beginner-focused materials by native speakers with different accents and speaking styles. The content is constantly updated so you are sure to find fresh resources regularly.
Podcasts
Another great Spanish resource for listening practice and Spanish lessons are podcasts. These are great because they also cover all types of topics, and you can listen to them on the go or as background to get acquainted with the language. If you prefer podcasts that offer lessons, here are a couple of options to get you started:
Coffee Break Spanish is an award-winning podcast course that provides conversational lessons between a teacher and a student.
Spanish Obsessed includes a great collection of podcasts and audio lessons. It was created by a couple made up of a Colombian woman and an English man and includes material for all levels.
If you prefer regular podcasts on varied topics, you can check out this article for some very interesting options.
Clozemaster's Cloze-Listening
In Clozemaster's Cloze-Listening mode, your task it to listen to a Spanish sentence (recorded by a native speaker), see it written down with a missing word, and fill in the blank based on what you've heard. Those bite-sized exercises are a great way to improve your Spanish listening skills, especially if you feel intimidated by longer spoken texts.
Spanish Exam Resources
Whether you need an examination for professional or educational purposes or just want to test your language level, knowing which are the most reputable exams always comes in handy. Here are our top three:
DELE exam
The DELE exams certify which level of Spanish non-native speakers have and go from A1 to C2 levels. Just like your standard language exam, it includes listening, reading, writing, and speaking sections.
The organization in charge of providing your DELE certificate is the Instituto Cervantes and its certification does not expire. For an in-depth guide to the exam, as well as useful resources, you can take a look at this article.
SIELE exam
The SIELE exam is similar to the DELE except that the former is not divided into different levels. There is just one exam that assesses your level according to the sections you are able to complete correctly. Think of it like the IELTS or TOEFL of Spanish examinations. This certification is valid for up to 5 years.
Check out this article for a comprehensive guide on the exam.
D.I.E. exam
The D.I.E. was created by the FIDESCU foundation. Unlike the DELE and SIELE exams, the D.I.E. only has oral and written sections. Moreover, you can choose to do only one or both of these, and there are six levels for each one.
Unfortunately, there is not much information about this particular exam available in English, but you'll find all the details in Spanish here.
Multimedia Spanish Resources
TV shows
Who said you can't learn anything from watching TV? Watching TV shows or films in Spanish is a great way to practice your listening skills. If your TV provider allows it, you can start with the English subtitles on and then change them into Spanish ones when you're ready to move to the next level.
Streaming
You can find films and TV series in Spanish to watch on your preferred streaming platform. Again, if you are still a beginner, you can watch them with English subtitles, then move on to Spanish subtitles and, when you feel confident enough, with no subtitles at all.
Streaming services today have plenty of content from all over the globe, which gives you the chance to hear different accents and vocabulary from various Spanish-speaking countries.
If you're into series, La casa de papel, Las chicas del cable and Elite are great Spanish choices. There's also Narcos from Colombia and Control Z from Mexico.
When it comes to films, there's Belmonte from Uruguay, Soltera codiciada from Peru, and Roma from Mexico, among many others.
YouTube channels
YouTube is an incredible platform to find Spanish resources with the added benefit of being available for free. Some of the channels you might find useful include Butterfly Spanish, Culture Alley and The Spanish Dude.
Fluentu
Beyond the traditional multimedia sources, there is Fluentu, a website that offers immersive learning. You can work with Fluent on its website or its app, which uses music videos, movie trailers and commercials, as well as many other multimedia resources, to help you learn Spanish. This provides you with real-life context that makes the learning process that much easier and entertaining.
Fluentu offers monthly and annual plans at $29.99 and $19.99, respectively. However, you have the option to get a 14-day free trial before you commit to either plan.
Communities
Learning a language also involves communicating with others. Being part of a community, either in person or online, makes learning easier and more bearable at times. So here are some Spanish resources if you are looking for people with whom to share your learning journey.
Forums
There are plenty of Spanish forums out there where you can talk and share with other Spanish learners. Here are just a few:
Linguaholic covers a variety of languages. It has a Spanish forum with plenty of subforums such as idioms, literature, or conversation so you can just practice away.
ESPANGLISHCHAT is a bilingual English and Spanish chat room. You can use it on your Desktop or your mobile device.
My Language Exchange covers an impressive 164 languages. You can make friends with native Spanish speakers, as well as find penpals and language teachers. The site has plenty of resources and allows you to note your native language, your country of origin, and an age range to find the perfect language exchange partner for you.
Spanish language exchanges
To practice your speaking skills, you can join a conversation club or meetup. There are plenty of face-to-face and online ones all over the world if you just dig a little online. You might even make a new friend with whom to practice your Spanish daily, not only through conversation, but also by keeping in touch through email or WhatsApp.
Spanish Resources – Final Word
We hope this article has provided you with a wide selection of useful Spanish resources.
If you want to learn Spanish completely on your own, you might also benefit from looking at our article How to Learn Spanish on Your Own: The Complete Guide.