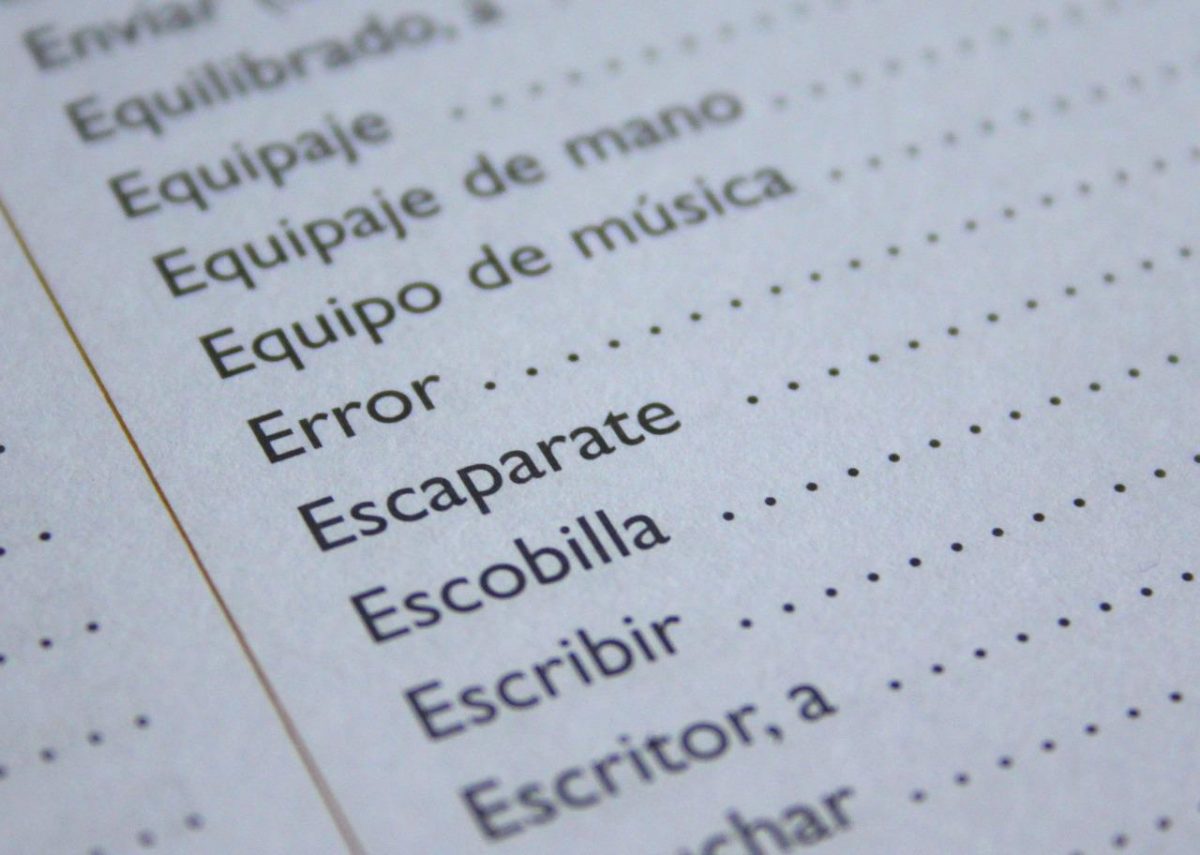 Adding new vocabulary is very important to improve your language skills. A few hundred words are enough to interact with others while travelling, but you will need around 1,500 words if you want to reach a basic conversational level. Meanwhile, advanced users know 8,000 words, and 15,000 words make you as fluent as a native speaker.
These goals may seem challenging, but it's not as hard as it looks. What it takes is perseverance and patience. If you consistently work on learning new vocabulary, you are sure to succeed in your language learning goals.
In this article, we'll give you plenty of tips and resources to learn Spanish vocabulary!
Tips to Learn Spanish Vocabulary
How much new vocabulary you are able to learn will depend on the time you have available and the type of learner you are. Below, you'll find a list of useful tips to learn Spanish vocabulary. One or more of these are sure to meet your needs.
Make flashcards and sticky notes
Flashcards may sound both old-school and a lot of work, but they are really helpful and effective. Moreover, nowadays, your flashcards don't have to be made with actual pen and paper. There are apps and sites like Anki and Quizlet that can make creating and using your flashcards easy and practical.
When it comes to sticky notes, these are very useful to place on items to know what they are called in Spanish. You can put them on your furniture, your clothes, your kitchen utensils, etc.
If you're wondering what vocabulary to put on your flashcards and notes, this will depend on what topic you want to focus on. Maybe you are learning something simple like the parts of the body or something a bit more complex like the parts of a car. Either way, this is a great way to learn Spanish vocabulary.
Watch videos or TV
If you enjoy watching videos on YouTube, then watch some in Spanish! Look for videos that use the vocabulary you are learning.
If you are a bit more advanced, TV shows and movies might be a better fit. You can start with English subtitles if you need them, and then move to Spanish ones if your streaming service offers this.
Both shorter videos and movies and TV shows give you a chance to see the vocabulary you are learning in the relevant context. We will give you some suggestions on what to watch later on.
Moreover, watching content in Spanish has the added bonus of helping you practice your listening skills.
Read short stories
If you enjoy reading, this is an excellent way to learn Spanish vocabulary. Spending just 10-20 minutes a day reading can provide great results.
If you don't like short stories, you can opt for blog or newspaper articles. Moreover, as you become more proficient in the language, you can move on to full books in your genre of choice.
While reading, it is useful to highlight or take notes of the new words or phrases that pop up to look into and practice later.
Keep a vocabulary journal
Whether you get your new vocabulary from reading or listening, keeping a journal is a good way to cement that knowledge. You can also get a random new word a day from sites like SpanishPod101.com if you're feeling adventurous.
Writing things down helps your brain process the new knowledge. You can include the word with a short definition and an example for context.
Study loan words and cognates
This is another way to expand your Spanish vocabulary.
Loan words are words taken from another language that Spanish speakers used as part of their normal vocabulary. You can find words in English that are the same in Spanish, making it easier to integrate them into your vocabulary. An example of this is the word "natural".
Meanwhile, cognates are words from different languages with a similar origin or meaning. This also makes it easier to assimilate them. An example of this would be "organization" in English and "organización" in Spanish.
You should be careful with cognates as you might come across "false cognates" or "false friends", These are words from different languages that seem similar but have completely different meanings. An example of this would be "carpet" in English and "carpeta" in Spanish. Carpeta actually means folder or binder.
Actively use the vocabulary you learn
We all know that practice makes perfect. If you want to learn Spanish vocabulary, the same rule applies. Use new words and phrases at least a couple of times a day to make sure they stick.
You can use the vocabulary by purposefully including it in your writing or your conversations. It will be easier to learn words or phrases by using them in the appropriate context.
Resources to Learn Spanish Vocabulary
There is a wide variety of resources available to help you learn Spanish vocabulary. We'll list some of them below, so you can pick the ones that more closely fit your learning style or your personal interests.
Vocabulary lists, flashcards and articles
Most common words
You can explore this list of the top 100 Spanish words to learn Spanish vocabulary. You will find example sentences and translations to make things easier.
Clozemaster blog
In addition to its app, which we'll look into below, Clozemaster also offers a blog that covers a wide variety of Spanish vocabulary. Articles focused on vocabulary include those on how to say "sorry" and "happy birthday" in Spanish.
Memrise
Memrise makes flashcards incredibly easy. Its collection of digital flashcards also includes audio and images, as well as some interactive tools. You will find countless categories of Spanish for every level, which will allow you to test your knowledge on various topics.
Reading
Short stories
A great option to learn new vocabulary is to read short stories. The book Spanish Short Stories for Intermediate Learners was written by Spanish expert Olly Richards and is an excellent collection for intermediate learners to increase vocabulary and improve their grammar.
News and magazines
Another great way to pick up Spanish vocabulary is to read pieces of news or magazine articles. This is an excellent way to contextualize your learning and for you to read about topics that you consider interesting or useful. You can check out BBC Mundo and CCN en español for news. When it comes to magazines, you'll find a list of high-quality ones in the bottom section of this article.
Blogs
If you love blogs, this might be a better option to learn Spanish vocabulary. There are countless blogs out there that cover every topic imaginable, so we'll leave you with a list of 21 really interesting blogs to get you started.
Books
We've covered various forms of shorter text for you to learn Spanish vocabulary. Now, if you're an avid reader, you'll find a list of sites with free Spanish books in this post.
Videos
YouTube
YouTube is an excellent platform to find Spanish resources with the added benefit of being available for free. Some of the channels you might find useful to learn Spanish vocabulary include Easy Spanish, Butterfly Spanish and The Spanish Dude.
Streaming
We've already mentioned that you can benefit from watching films and TV shows in Spanish so here are some recommendations.
If you're into series, La casa de papel, Las chicas del cable and Elite are great Spanish-made choices. If you prefer Latin American shows, you can watch Narcos from Colombia and Control Z from Mexico.
When it comes to films, you can find Belmonte from Uruguay, Soltera codiciada from Peru, El laberinto del fauno from Spain, and Roma from Mexico, among quite a few others.
Podcasts
Another great resource to learn Spanish vocabulary are podcasts. These are excellent because they cover all types of topics, and you can listen to them on the go or as background to get acquainted with the language. Here are a couple of options:
Españolistos
This is a good choice for intermediate speakers. The podcast is hosted by Andrea and Nate, a Colombian Spanish teacher and her American fiancé.
Españolistos has hundreds of episodes on various topics that will help increase your vocabulary as well as improve your listening skills.
Un día en español
Each episode of this podcast covers a day in the life of a Spanish speaker. Un dia en español is great to learn new vocabulary on everyday activities.
The podcast is also accompanied by a transcript and a vocabulary guide so you don't miss anything.
If you prefer regular podcasts on different topics, you can also check out this article for some interesting options.
Apps
Clozemaster
Clozemaster turns learning Spanish into a game, making it easy and fun to learn new vocabulary. Its focus on contextual learning sets it apart from other apps, as it helps you build on your vocabulary and grammar skills faster and more efficiently.
Clozemaster uses a fill-in-the-blank methodology, which is where the app's name comes from. This methodology is embodied in "cloze tests", a type of test where you are given a portion of a text with one or more words missing.
You can sign up for Clozemaster and access a lot of features for free. There is also a Pro version that includes extras such as unlimited listening practice, automatic Google translations and custom settings, among other features. You can learn more here.
MosaLingua
MosaLingua uses various teaching methodologies to help you learn Spanish. It includes thousands of vocabulary flashcards, audio clips, and learning tips. It also offers 10 levels of difficulty, as well as customized learning, proficiency certificates, and over 200 bonuses to keep you motivated.
The app includes 14 topic categories, with dozens of subcategories, and several optional packs, so it's perfect for any proficiency level. When it comes to Spanish vocabulary, you can even create your own personalized flashcards.
The app is subscription-based, with a choice of $9.49 per month or $57.99 per year (which translates into $4.83 per month). However, MosaLingua offers a free trial to help you decide before making a commitment.
Duolingo
Duolingo is one of the most popular language-learning apps worldwide. The app uses gamification to help you learn Spanish, offering various rewards and providing automatic grading as you make progress.
With Duolingo, you can choose the amount of time you devote to your learning according to your needs and your specific goals.
The app is free to download and use, but it also offers a Plus version that gets rid of ads and also includes offline courses and progress quizzes.
Final Thoughts on How to Learn Spanish Vocabulary
There are plenty of ways in which you can learn Spanish vocabulary. Whether you prefer reading a book, listening to a podcast or watching a popular TV show, you are sure to find the resource that best fits your needs.
We hope this article has given you a wide array of tips and resources to help you on your language-learning journey.
If you are looking for more resources to learn Spanish in general, you can take a look at this article. If you are an intermediate-level learner who prefers apps, you can find more options here.
Challenge yourself with Clozemaster
Learning Spanish vocabulary might seem daunting at first, but don't worry, it comes naturally with practice.
Test your knowledge of intermediate-level Spanish vocabulary by playing a selection of sentences with some of the 10,000 most common Spanish words.
Sign up here to save your progress and start getting fluent with thousands of Spanish sentences at Clozemaster.
Clozemaster has been designed to help you learn the language in context by filling in the gaps in authentic sentences. With features such as Grammar Challenges, Cloze-Listening, and Cloze-Reading, the app will let you emphasize all the competencies necessary to become fluent in Spanish.
Take your Spanish to the next level. Click here to start practicing with real Spanish sentences!