Clozemaster Pro

Get fluent faster.

Take your language learning to the next level with unlimited listening exercises for 31 languages, sentence favoriting for extra practice with difficult sentences, automatic translations for any word or phrase, offline favorites practice and downloadable Fast Tracks for the mobile app, and more.
You're going to need to learn a lot of vocab to reach fluency.
Here's how
Clozemaster Pro

can help:
Even more context.
Search sentences, add to your review queue, favorite, master, and more - all without losing your spot in a round.
Improve your listening skills.
Start understanding everything you hear with unlimited listening practice for 31 languages. *Only available for Fast Track, Most Common Words, and Grammar Challenge collections. More coming soon!
Custom settings.
Take control of your learning. Customize the number of sentences per round and set review intervals to fit how you learn best.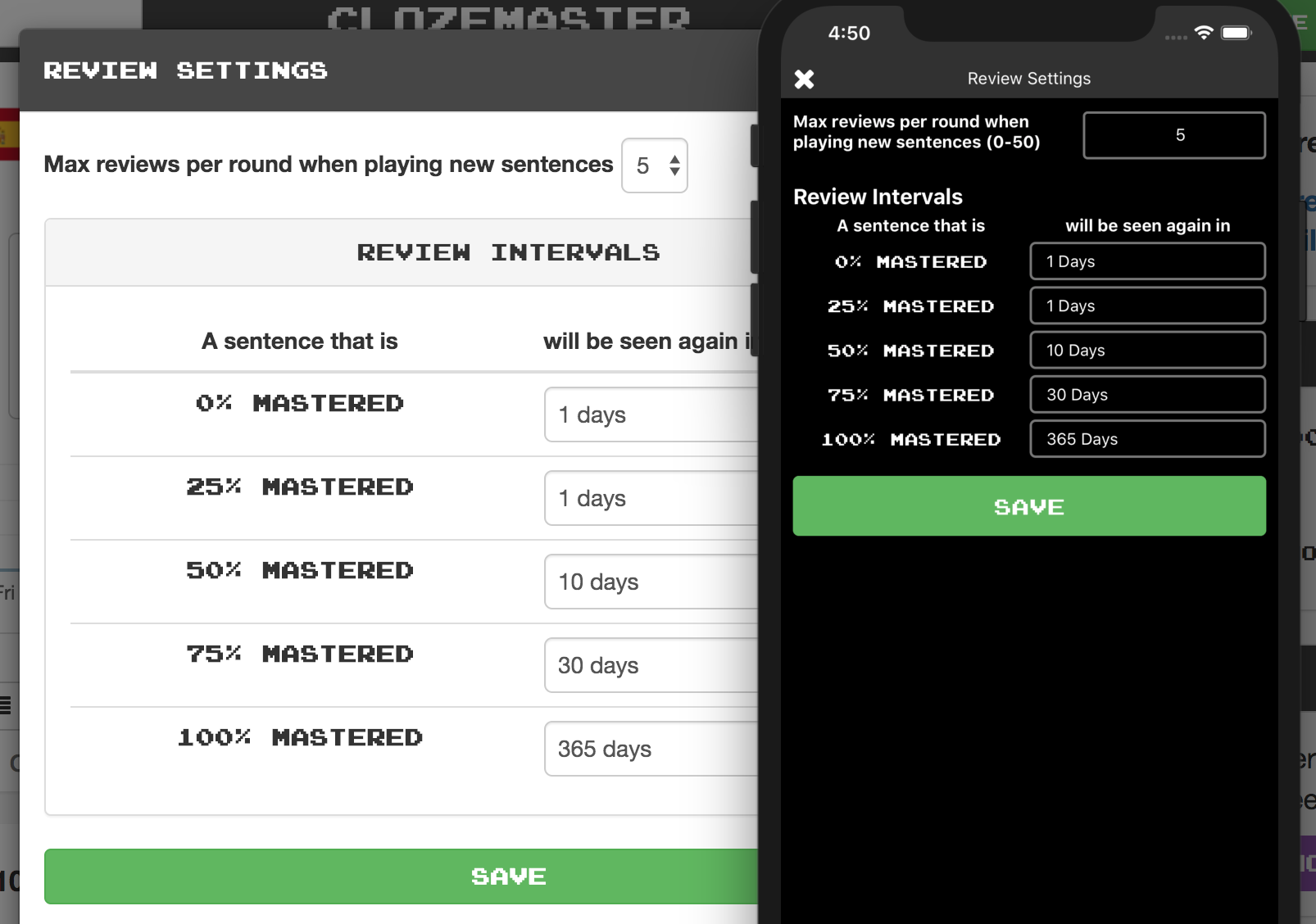 Understand every word you see.
Automatic Google translations and sentence search for any word or phrase.
More stats on the web.
Get advanced metrics. See your review forecast, overall progress, and more.
Keep learning anytime, anyplace.
Download collections and play offline in the mobile app.
That feeling when it clicks, when you can watch TV and movies in another language with ease, land in a foreign country and understand every word you see and hear, impress your date, and speak confidently with native speakers - all of it requires a strong base of vocabulary.
Clozemaster Pro

can help you get there faster.
Pro Fine Print
Thanks for supporting Clozemaster! Your support helps keep Clozemaster running and allows for the continued development of awesome language learning tools. Your credit card is charged immediately upon subscribing and you will have immediate access to Clozemaster Pro features. You will then be charged automatically at the end of each billing cycle.
You can cancel your subscription at any time simply by going to your 'Account' and selecting 'Disable' next to 'Automatic Renewal' after you subscribe. Your subscription will then expire at the end of the current billing cycle and you won't be billed again.
A few details to keep in mind regarding your Pro membership:
If you deactivate your Clozemaster account, your subscription to Clozemaster Pro will be automatically and immediately canceled.
The Clozemaster Pro Yearly plan has a 30-day money back guarantee. If you would like to cancel your Pro subscription and apply for a refund, please contact us at cancel@clozemaster.com. No refunds will be issued after 30 days, no refunds for Monthly plans.
Please also be sure to read our Terms of Use and Privacy Policy.
Clozemaster is constantly growing and improving. If there's anything we can do to improve Clozemaster, there's a feature you'd like but don't see here, or you have any questions, comments or feedback, please don't hesitate to contact us here or at contact@clozemaster.com.