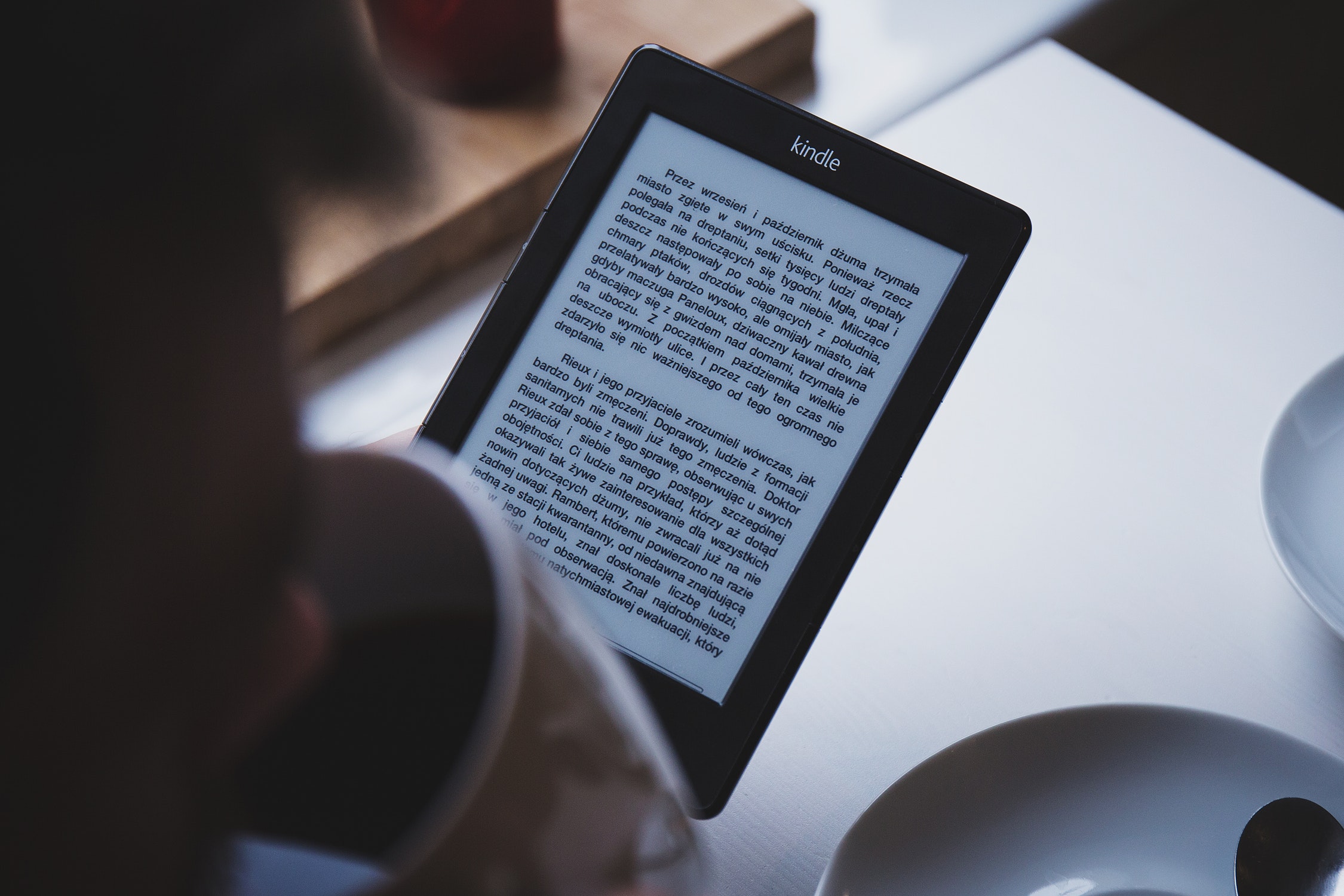 Finding good learning materials for Polish is no easy task. Sure, a quick Google search should be enough to find dozens of relevant sites, but how do you tell the best resources from the less useful ones?
As it turns out, the most valuable materials are not necessarily the ones that get the most exposure or the highest price tag. Moreover, finding true gems requires not just effort, but also a good understanding of the subject—something that, as a learner, you probably haven't yet acquired.
To help you choose the very best resources and build your own learning strategy, I've compiled a list of materials that you should definitely check out (or at least bookmark for later).
The resource list is intended to be a companion piece to The Definitive Guide to Learning Polish, but should be equally useful when used independently.
---
Contents
---
Apps and online courses
Language learning apps
Duolingo

—the Polish for English speakers course at Duolingo has over 2 million learners, and with good reason. Duolingo provides a very smooth learning experience, which makes it a great introduction to the language. It's really good at teaching vocabulary and solid at teaching grammar—but don't expect it to teach you all the necessary competencies on its own.

Clozemaster

—practicing with Clozemaster is the best way to keep in touch with the Polish language in a realistic context. The app teaches you the language through mass exposure to thousands of Polish sentences—your task is to fill in the gaps with the right words. Thanks to some nifty features such as Cloze-Listening, Cloze-Reading and Grammar Challenges, Clozemaster lets you work on a wider range of crucial language skills than most other apps.

Memrise

—if you want to learn vocabulary with pre-made flashcard decks, Memrise is probably your best choice. The Memrise-branded courses

Polish 1-7

are particularly worth recommending, as they introduce new vocabulary in a natural progression and include really good recordings. You might also browse it for courses that fit your specific vocabulary needs, from

Dating in Polish

to

Polish Sayings and Swearwords

.

The Great Translation Game—a great option for those looking to practice writing in Polish. Once you select or upload your own Polish text, you're tasked with reviewing an automatic translation into English, and then translating it back to Polish. The game gives you instant feedback on your writing, making it a great way to break through plateaus and work to weed out common mistakes in your Polish writing. And since you're working from native-level content, you can always be sure that the end result is perfectly correct.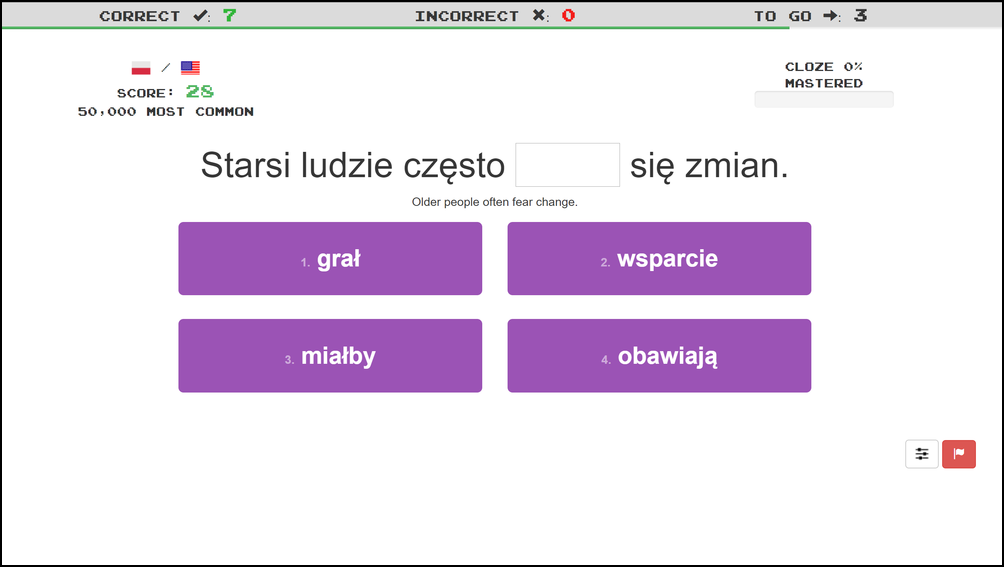 Website courses
Mówić po polsku

—the site contains dozens of articles explaining various aspects of the Polish language, with a particular focus on grammar. It doesn't have a linear structure, so you can progress through its articles in whatever order suits you best.

Polish course at Wikibooks

—the course is rather old and has a lot of gaps, but it is still worth a quick look. It has plenty of tables illustrating the key declension and conjugation patterns in Polish.
---
Alphabet and pronunciation
A Foreigner's Guide to the Polish Alphabet

—a unique animated presentation devoted to the Polish alphabet, its pronunciation and various trivia about the language. Highly recommended for learners at any stage. A non-multimedia version is available

here

.

Polish Alphabet & Pronunciation at Mówić po polsku

—a really useful article presenting all the Polish letters along with audio recordings. It even comes with a pronunciation video. Perfect for those who need to hear all the default sounds of all the letters in isolation.

Polish alphabet at Wikipedia

—a neat table listing all the letters of the Polish alphabet, their usual pronunciation, and rough English equivalents. Especially useful for those familiar with the International Phonetic Alphabet.

Polish for English speakers: writing and pronunciation (video playlist)

—a 40-minute playlist with seven videos introducing all the letters of Polish alphabet one-by-one. It covers all the important details and provides a lot of examples. Highly recommended.

Forvo

—an online pronunciation dictionary which lets you search for any Polish word and hear it pronounced by native speakers. If you're unsure about the pronunciation of a Polish, Forvo is definitely the source you should check first.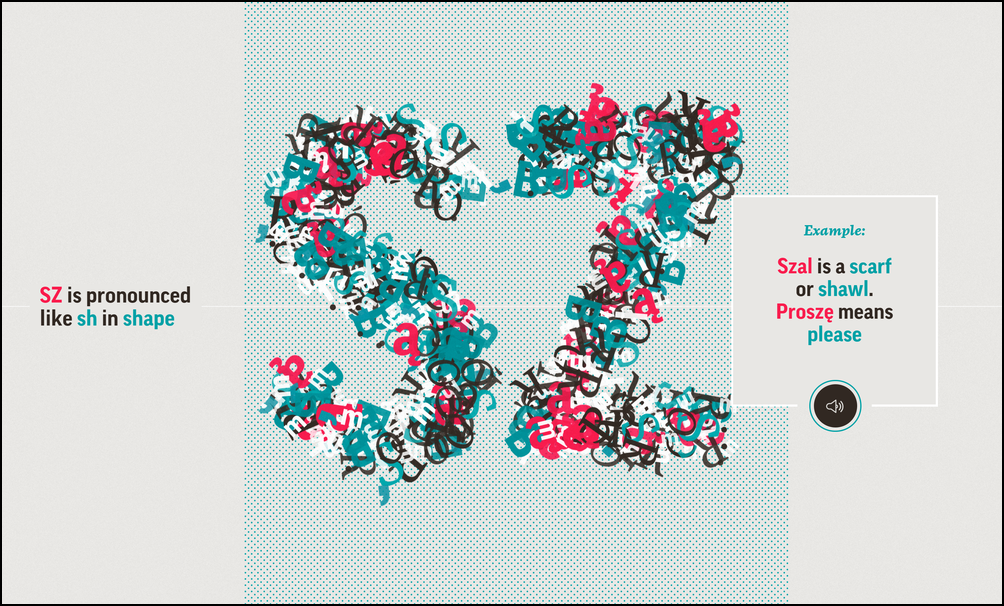 ---
Vocabulary and grammar
Dictionaries
Phrasebooks
Vocabulary practice
Vocabulary at Polski na wynos

—a huge selection of PDF vocabulary worksheets covering various topics, from "Money" to "Unusual Vegetables". Very similar to what you would expect to find in a good textbook.

Words and Pictures at BaltoSlav—a simple vocabulary game which requires you to choose the correct picture for the word given. Good for building visual associations.
Textbooks (digital)
Polish Grammar in a Nutshell by Oscar E. Swan

—a popular textbook explaining the fundamentals of Polish grammar, available online for free. It has several flaws: the explanations are very technical, some usage examples are off, and it is definitely not beginner-friendly. Nevertheless, it is one of the most extensive textbook-style grammar resources for Polish, which makes it very useful as a reference.

A Grammar of Contemporary Polish by Oscar E. Swan (choose Polish Reference Grammar from the menu)

—another comprehensive guide to Polish grammar, even more technical and detailed than

Polish Grammar in A Nutshell.

If you think some grammatical feature of Polish isn't explained anywhere on the Internet, try searching in this book before you give up.

First Year Polish Lessons by Oscar E. Swan

—yet another resource for learners published by Professor Swan, definitely more beginner-friendly than his other materials. The course is divided into 12 lessons teaching grammar and vocabulary with example sentences and dialogs. Some lessons are a bit quirky, but it is still worth recommending, especially as a free resource. Comes with a nice glossary.

A Concise Polish Grammar by Ronald F. Feldstein

—a "grammatical sketch of Polish" on 114 pages. Quite technical, with a focus on pronunciation and grammar.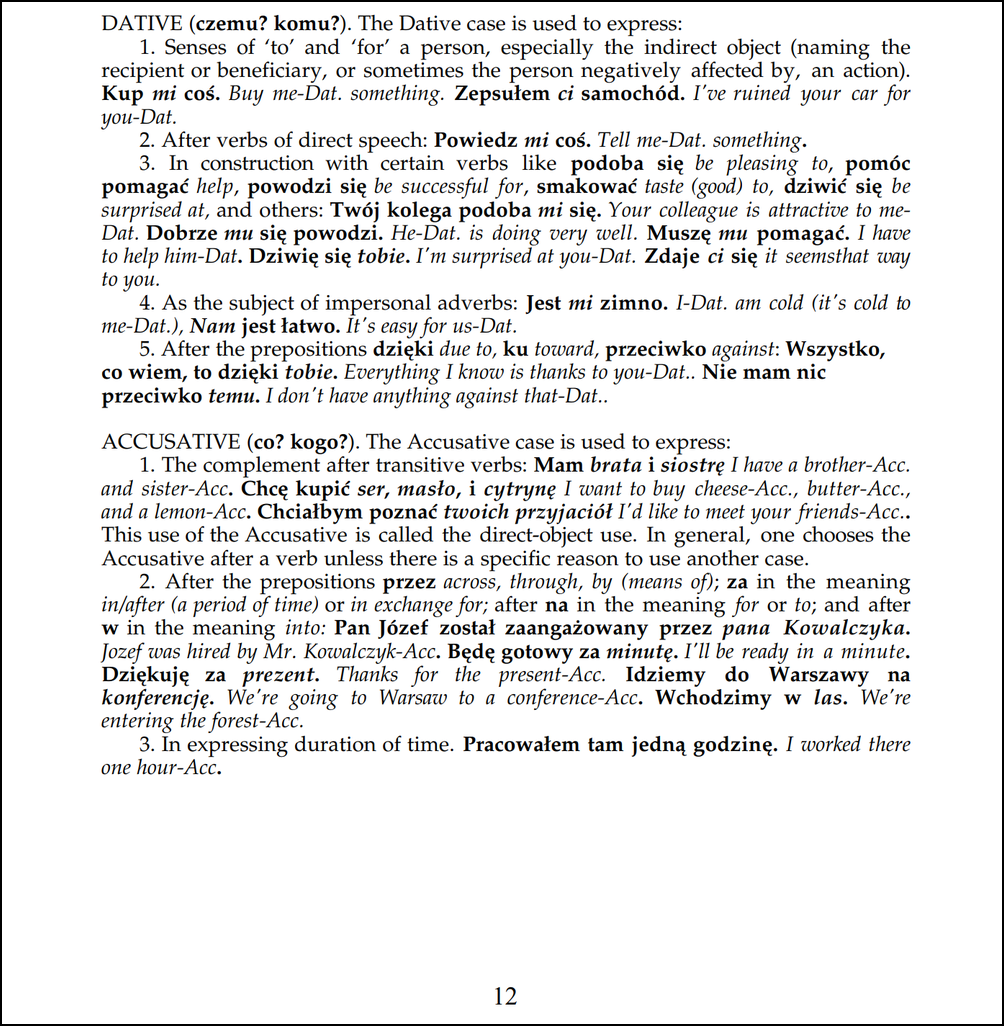 Textbooks (paper)
Polish for Dummies

—praised by many learners as a good all-around introduction to the language. Don't let the title fool you: though it is less technical than your average textbook, I wouldn't call it simplistic or dumbed-down. Comes with an audio CD.

301 Polish Verbs

—as the title would suggest, the book lists 301 common Polish verbs and provides full conjugation tables for each of them. Comes with quizzes to help you test yourself on what you've learned. If you can commit to carefully studying the tables and usage examples, this book can be one of the best ways to internalize Polish conjugation patterns.

Polski, Krok Po Kroku

—a series of textbooks teaching Polish across all levels. The textbooks are divided into units, each with its reading/listening material and exercises. Strangely enough, the instructions are always given in Polish, even in the A1 level textbook.

Polish: A Comprehensive Grammar

—definitely one of the best reference guides to Polish grammar available on the market. Not only does it cover pretty much all the important aspects of Polish grammar, but also explains them clearly and thoroughly across 672 pages.
Frequency lists
3000 most common words in Polish at Ezglot

—a frequency list based on the contents of Polish Wikipedia articles. A bit skewed towards the typical subject matter of encyclopedic articles, with some words related to chronology and science ranking higher than you would expect.

5000 most used Polish words at Wiktionary

—a frequency list compiled from a large database of Polish movie subtitles. The choice of source material results in some outliers, but it is still quite reliable overall.

200 Most Frequently Used Polish Words + 2000 Example Sentences—a free ebook with a quite reasonable collection of the most common Polish words. Its biggest strength lies in the example sentences, which show how the words are used in context.
Grammar explainers
Polski z Anią

—a series of ten videos explaining grammatical cases, tenses, and some aspects of Polish syntax. Recommended for both beginners and more advanced learners. Subtitles available in Polish and English.

Grammar at Polski na wynos

—a very rich library of concise grammar explainers in the form of tables and diagrams. The resources are mostly in Polish, but some come with additional English captions.

Polish Grammar Explainers at Clozemaster Blog

—a series of articles deconstructing various aspects of Polish grammar: prepositions, personal pronouns, verbs of motion, and so on. All concepts are illustrated with many example sentences and helpful tables.

Polish Grammar at Mówić po polsku

—a table of contents with all the grammar-related articles published at Mówić po polsku. Has separate explainers for most parts of speech, grammatical cases and verb tenses.

Declension sheets for Polish nouns and adjectives

—declension sheets showing the default endings of Polish nouns and adjectives in all grammatical cases. You can print them out and use them for reference.

Masculine, feminine, and neuter noun declension at Wikibooks

—another set of declension tables with several examples for each gender.

Polish noun cases at Wikibooks

—a page from the Polish Wikibooks course attempting at explaining the contexts in which each grammatical case should be used. It is far from being a complete list of all usage cases, but still covers a lot of ground.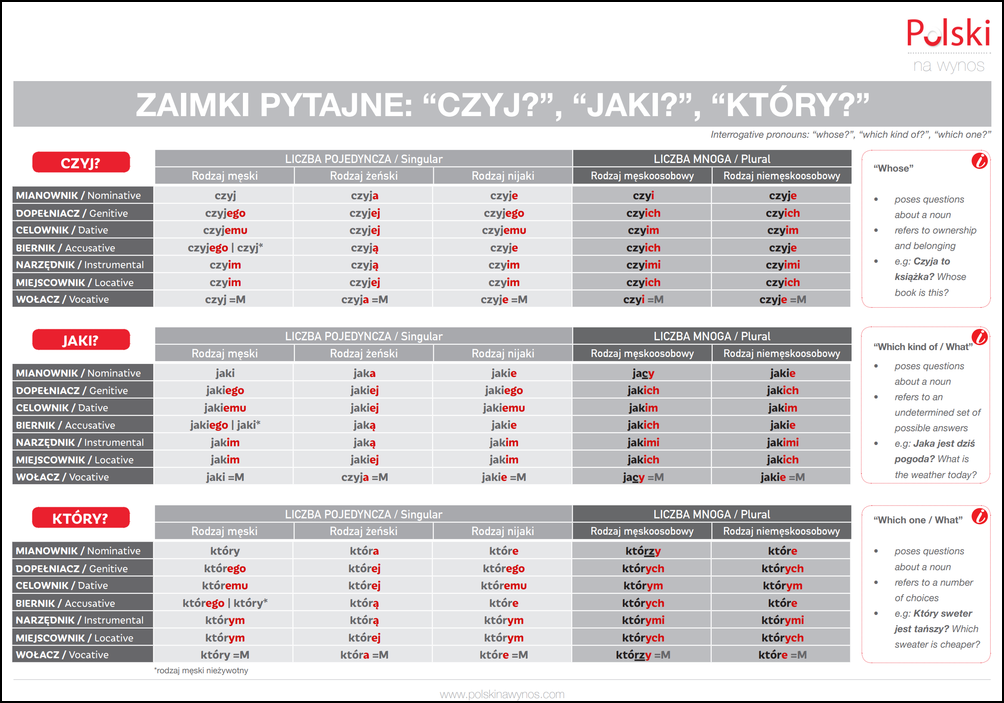 Other useful tools
LanguageTool

—a pretty advanced spelling checker. Paste in your Polish text and click "Sprawdź tekst"—the tool will highlight potential grammar, spelling and punctuation errors and suggest how to correct them.

Cooljugator

—a "smart conjugator" that will show you a given verb's forms in all tenses. It also has usage examples sourced from movie subtitles.

Polish conjugation at bab.la

—another reliable conjugation tool.

Linguee

—an online dictionary that doubles as a database of Polish-English translations. Tremendously useful as a source of idiomatic expressions in more formal contexts (publishing, marketing, law, etc.)—simply enter an English expression and see if you can find a Polish equivalent.

Reverso Context

—a search engine that works similarly to Linguee. Typing in an English word or entire phrase will show its equivalents in Polish translations. The database is mainly sourced from movie subtitles, so it can provide valuable context for various colloquial expressions.

Synonimy.pl

—a Polish thesaurus, helpful when looking for synonyms of particular Polish words.

Anki

—excellent spaced repetition software, available free of charge for various systems. Use it to create your own flashcards and always keep Polish vocabulary and grammar fresh in your memory. User-made flashcard decks for Polish can be found

here

.

SubLearning

—an intriguing online tool which quizzes you on the Polish translations of English movie subtitles (or the other way around). You can choose a specific movie or have it pick a random one.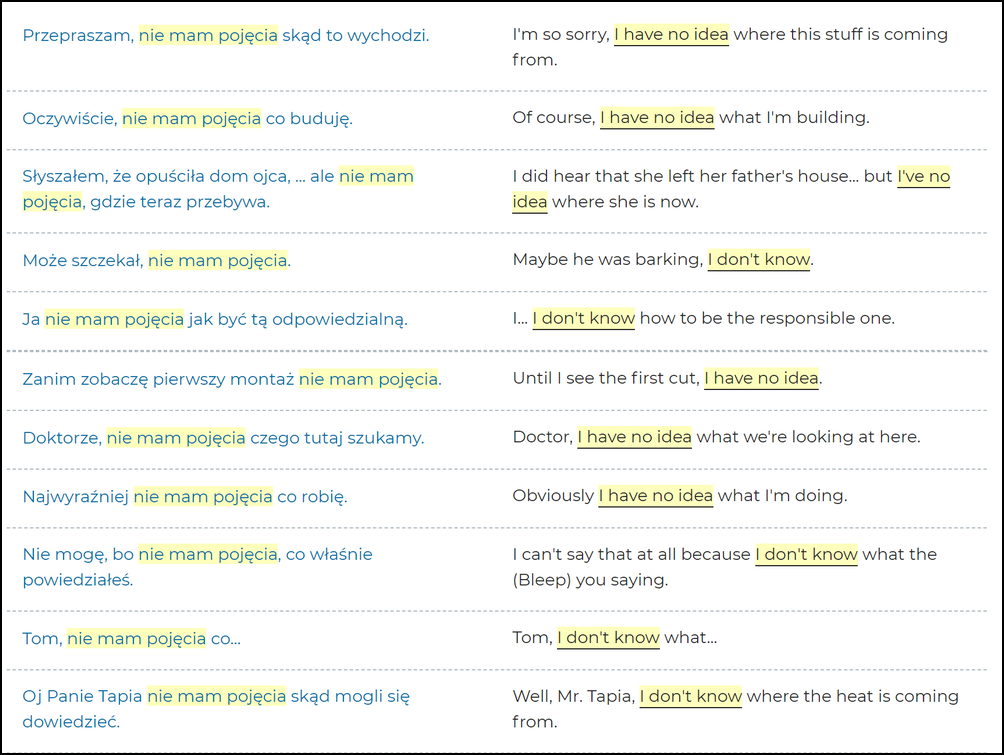 ---
Reading materials
Free e-books
Wolne Lektury

—a free online library with thousands of Polish works which have fallen into public domain. Most of the books available here are over 100 hundred years old, so their language might be a bit archaic. The site also has free audiobooks.

New books at Polish Wikisources

—a chronological list of all the books available free of charge in Polish at the Wikisources project. Mostly older titles.

Free e-books at Woblink

—a quite large library of free titles available in the Polish e-book store Woblink. To download the free e-books, you'll have to create an account ("załóż konto" in the top right corner) and log in.

NajpierwPrzeczytaj.pl

—a Polish self-publishing platform. All the published books are free to download.

Free e-books at Legimi

—a selection of free e-books at the Polish platform Legimi, has many classics of Polish and world literature. A free sign-up is required to download the books.

Chmura Czytania

—a catalog of free e-books in Polish. Chiefly consists of classic literature in public domain.

Free e-books at Publio—a small catalog of free e-books at the online store Publio. You'll need to create a free account to download its titles.
A bilingual edition of Alice's Adventures in Wonderland—the Polish translation of Alice is displayed right next to the English original, making it an excellent learning resource. It has one serious flaw though: most of the diacritics (characters such as ą, ł, ż, etc.) in the Polish text are missing.
News
Magazines & hobby sites
National Geographic Polska

—the website of the Polish edition of National Geographic magazine

Focus.pl

—a Polish magazine publishing popular science articles

Newsweek Polska

—the Polish edition of the weekly Newsweek

PCLab.pl

—a portal with articles, reviews and news from the world of technology

Eurogamer.pl

—the Polish version of the popular video game news website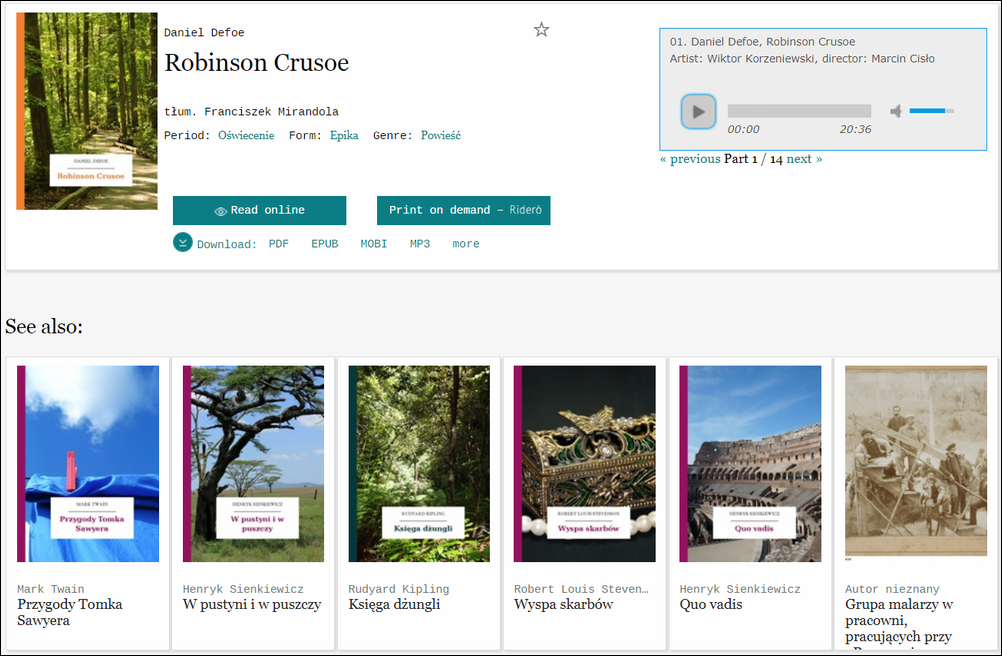 ---
Listening materials
Podcasts for learners
Real Polish Podcast

—Piotr from Real Polish tells stories, shares his own thoughts and various tidbits related to history, science and language learning. Everything is presented in rather slow, very clear Polish. The podcast episodes are also available on

its YouTube channel

.

PolishPod101

—the podcast is basically a language course in audio format. Lessons correspond to specific topics and cover all proficiency levels. The site also has some extra features such as a dictionary, vocabulary lists, and flashcards. Note that access to most of the materials requires a paid subscription. Some of the audio lessons are available for free on

the podcast's YouTube channel

.
Regular Polish podcasts
Audiobooks
Audiobooks at Wolne Lektury

—a quite sizeable selection of free public domain audiobooks can be found under "List of audiobooks".

Audioteka

—if you're willing to pay for your listening materials, Audioteka offers a huge selection of Polish audiobooks at reasonable prices.
Radio
RMF FM

—music and news, most popular Polish radio station

Radio ZET

—music and news, another very popular station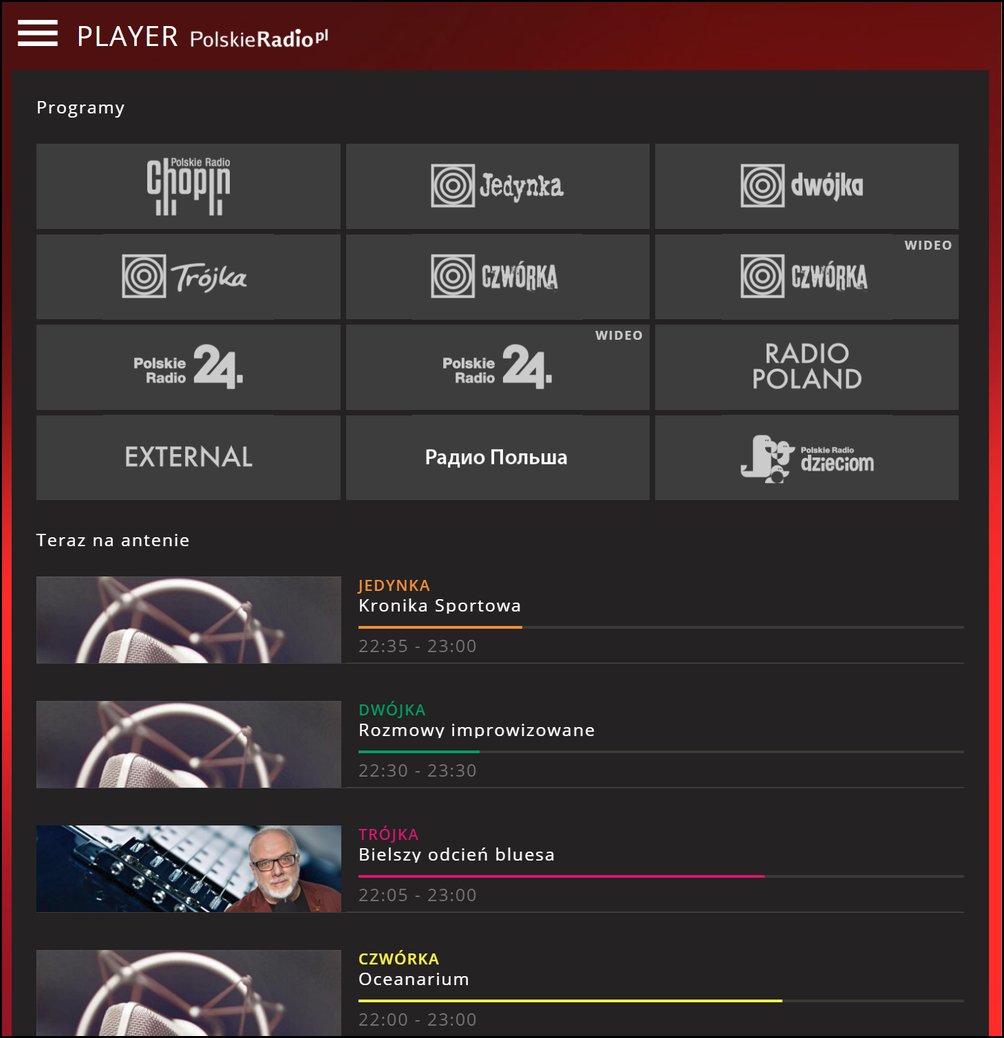 ---
Multimedia
General tip: If you want to be shown more Polish content (or have the option to enable Polish subtitles/audio), try changing the interface language. This works not just in Netflix, but also iTunes and several other services.
Streaming services
Netflix

—to get access to the platform's catalog of Polish TV shows and movies, change the interface language to Polish. This should cause the "Polish" category to appear under both "TV shows" and "Movies". As of now, there aren't that many titles to choose from, but it's still worth checking out if you're subscribed to Netflix.

Vod.tvp.pl*

—a VOD service run by TVP (

Telewizja Polska

—the Polish public TV broadcaster). You can find almost all of TVP's programming here, from the most recent TV show episodes to classic Polish movies, to archival black-and-white programs from the Communist era.
TV shows
Classic Polish TV shows available for free at vod.tvp.pl include:
Alternatywy 4

(1983-1986)—a cult classic comedy series about the lives of the inhabitants of a block of flats in communist Warsaw.

M jak miłość

(2000-)—probably the most popular Polish soap opera nowadays. It tells the story of several generations of the Mostowiak family living in the countryside and a small town near Warsaw.

Ranczo

(2006-2016)—a family-friendly comedy following the story of Lucy, a Polish-American who comes to the Polish countryside after inheriting her grandmother's home.

Czas honoru

(2008-2013)—a critically acclaimed drama set in occupied Poland during World War II, follows the story of Polish soldiers fighting for the country's independence.
Movies
Adapter

—the website lets you stream classics of Polish cinema with audio description and Polish subtitles (adapted for the visually impaired and hard of hearing). Some noteworthy titles available here include

Miś

,

Plac Zbawiciela

, and

Dzień Świra

.

Vod.pl

—though most of its movies are paid, there is still quite a sizeable selection of free ones. Look for titles without the label "płatny".

IPLA

—mostly offers foreign movies with Polish voice-over. The link will take you to the list of all IPLA's movies that can be streamed for free.
It's hard to recommend specific Polish movies with so many genres and titles available, but these two rankings should help you choose something for yourself: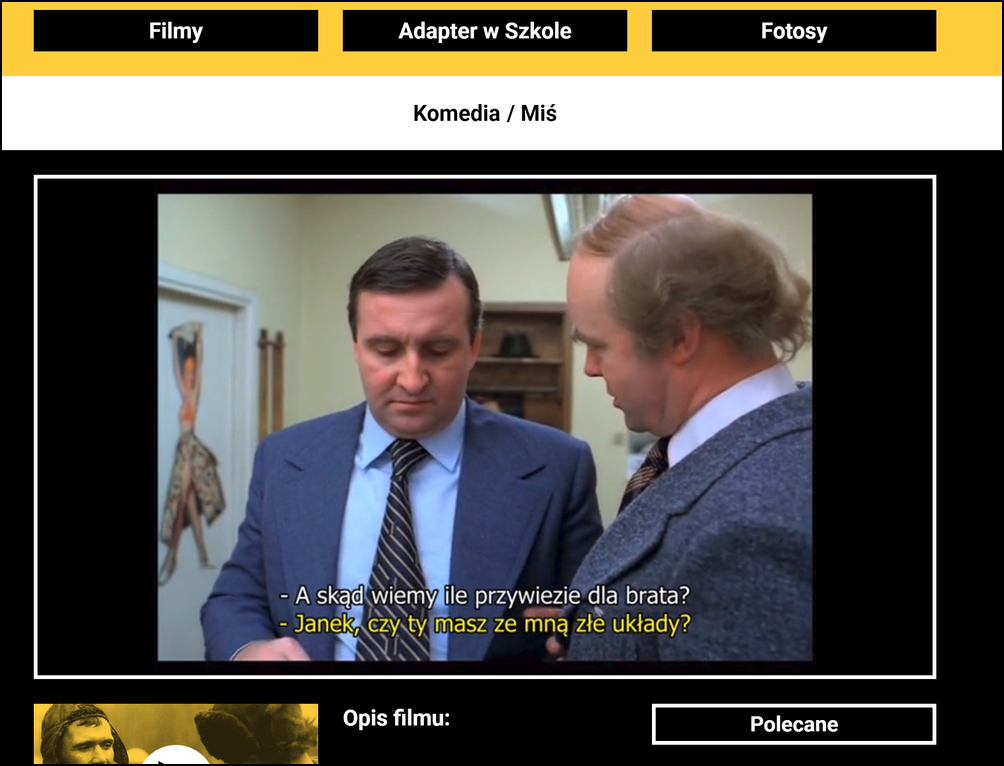 YouTube channels
Whenever you're watching Polish videos on YouTube, it's a good idea to check if subtitles are available—some larger channels even have subtitles in English.
MrRealPolish

—Piotr regularly uploads language lessons, learner-friendly vlogs, episodes of his podcast Real Polish and other valuable video resources.

Easy Polish – Learning Polish from the Streets

—a series of videos in which ordinary Poles in the streets answer questions about various topics. All interviews are subtitled in both Polish and English. Highly recommended as a kind of vocabulary booster.

PolishPod101

—a large catalog of listening-based lessons teaching vocabulary used in everyday situations.

Polish for Beginners—over a dozen video lessons on Polish declension, conjugation and vocabulary.
Uczymy się polskiego

—a Polish course made up of a series of videos in the format of a soap opera. It's quite ancient, but it's not like you can find newer series in a similar vein.

Travel

:

Globstory

,

Busem Przez Świat

, 

Krzysztof Gonciarz

Cooking

:

Kocham Gotować

,

kotlet.tv

Science

:

 

SciFun

,

Polimaty

,

Astrofaza

,

Pod Mikroskopem

, 

emce

History

:

Historia bez cenzury

Movies:

Sfilmowani

, 

Na Gałęzi

Sports:

Footgol TV

Video games

:

EurogamerPL, 

quaz9

,

arhn.eu

Tech:

De-Kompozytor
Currently trending on Polish YouTube
---
Communities
Forums
r/learnpolish

—the subreddit has tons of valuable discussions and a very helpful community, which makes it a great place to exchange experiences with other learners.

PolishForums: Language

—the language section at PolishForums.com has quite a lot of members eager to answer questions related to the Polish language.
Finding tutors
italki

—using italki is probably the best way to find tutors who will give you private Polish lessons for a fee. You can choose to learn with professional tutors, who are better qualified to provide "real" lessons, or community tutors, who tend to focus on conversation rather than structured teaching, but charge lower rates (sometimes as little as $6 per hour).
Facebook groups for learners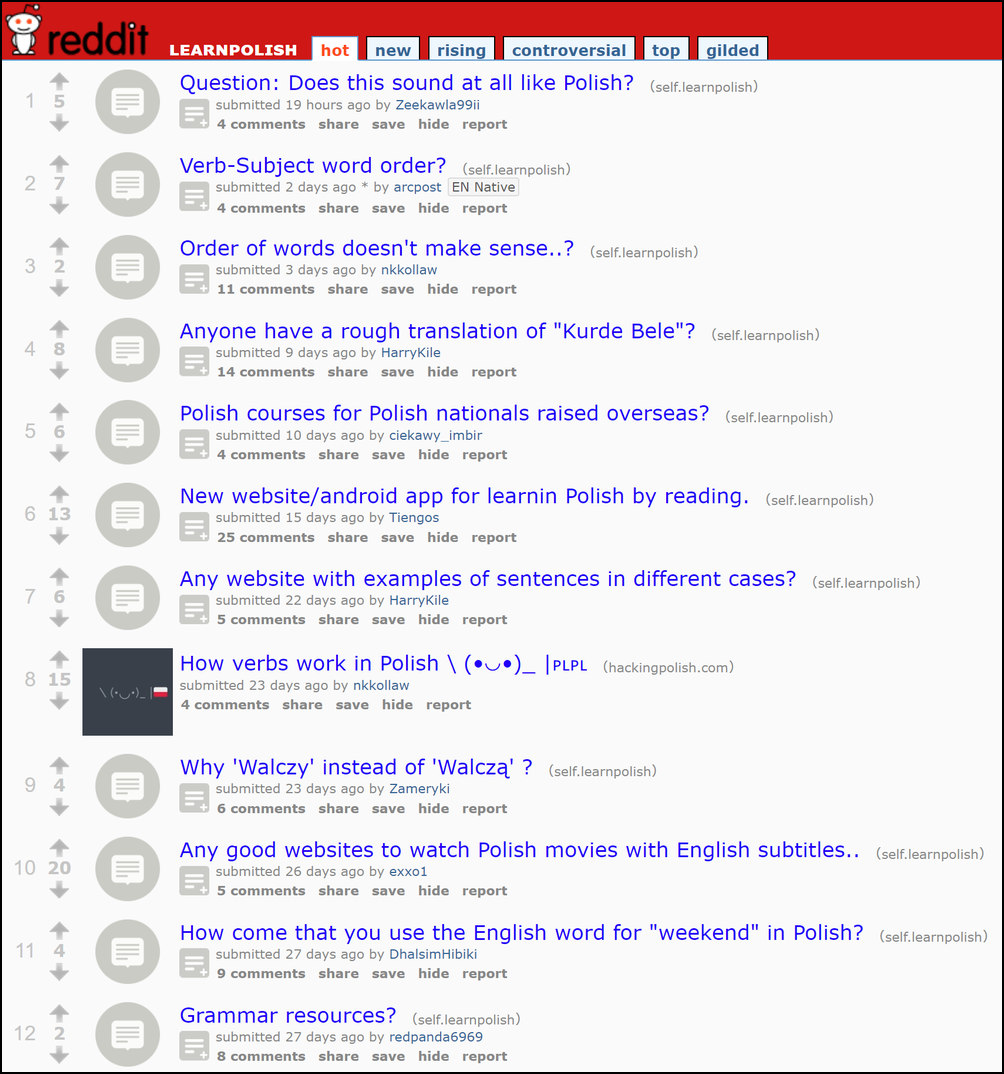 ---
To learn about the best strategies you can use to learn Polish quickly and effectively, check out The Definitive Guide to Learning Polish.
If you know some other resources that deserve a place on the list of the best resources for learning Polish, please share them in the comments!
Don't forget to check out Clozemaster! Learn Polish in context and get fluent faster with thousands of Polish sentences.