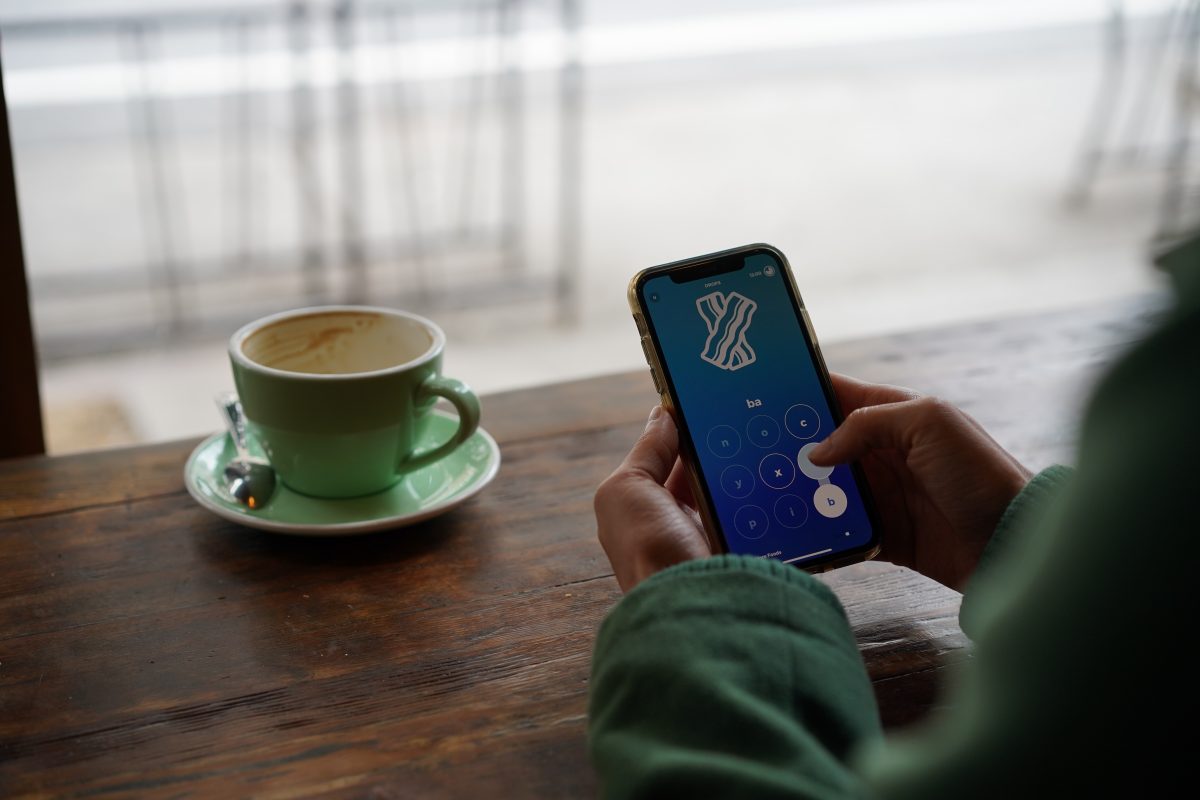 Studying Japanese takes time and effort, but it doesn't have to be boring. There are countless Japanese apps available to make your learning journey more fun and efficient. In this article, we've made a list of our favorite intermediate Japanese apps. These apps are a great way to continue your studies if you've covered basic Japanese in a class or on your own.
How We Chose Our Favorite Apps
As a language with several different alphabets and formal language forms, Japanese can be a tricky language to learn by study app. We selected the apps on this list based on these important factors:
Whether the app has kanji character readings – Does the app provide kana or Romanized spelling for each kanji?
How customizable the app is – Can users arrange flashcards or functions to suit their study needs?
Pricing – Does the app have a paid version, and is it worth the money?
Language function – Is the app aimed at bolstering vocabulary, grammar, or kanji/kana knowledge?
With these points in mind, let's jump into the list!
Clozemaster – A Gamified App for Intermediate Study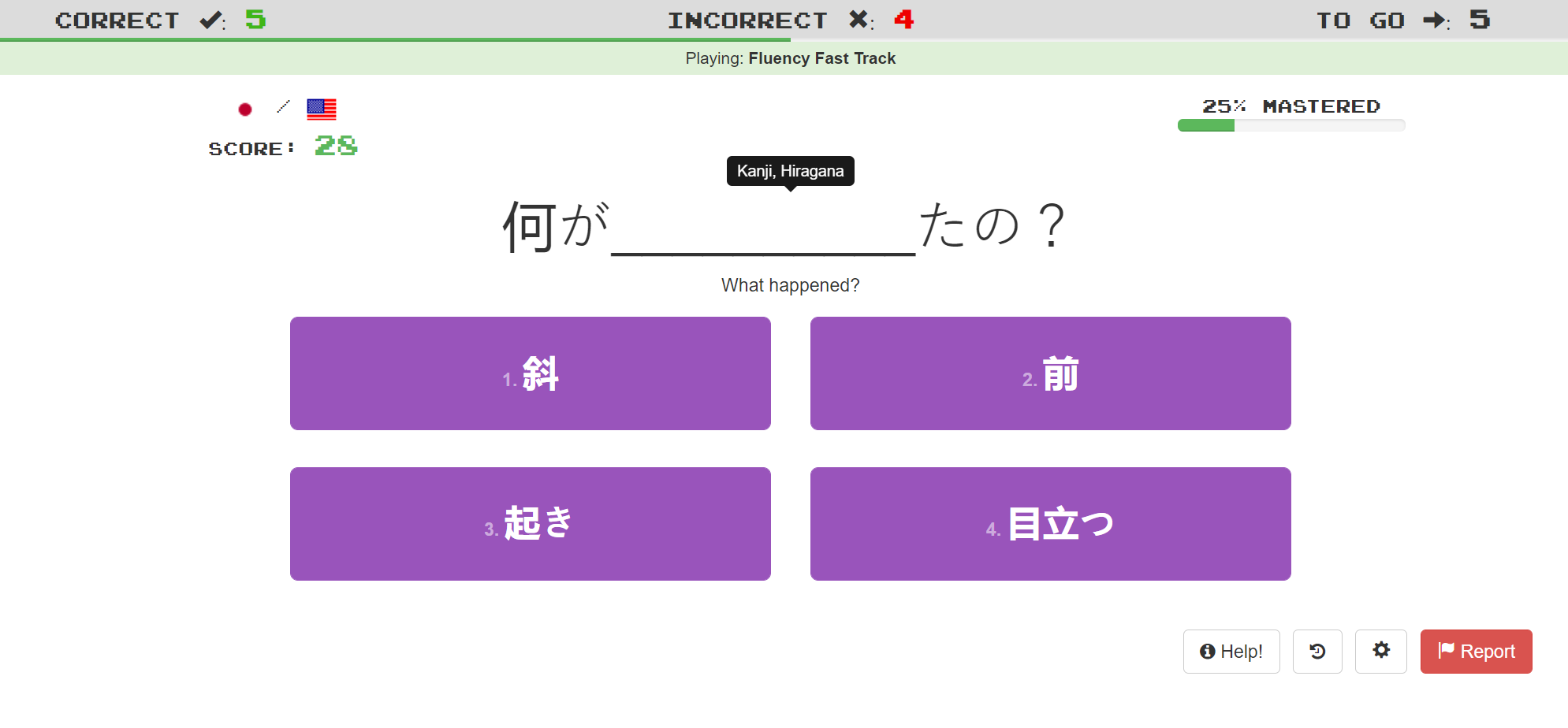 Kanji Readings: Available in kana upon answering a question
Customizable: Not customizable in the free version, highly customizable when upgraded to Pro (you can create word groups, edit sentences, and more)
Functions: Vocabulary, Grammar, Listening (pro version)
Pricing: Free to play, with a more personalized version available for $8/month, $60/year, or $140/lifetime subscription
Clozemaster is an excellent next step for users who finished covering the basics of grammar, kana, and elementary kanji. The app uses "cloze tests"—a method that removes a word from the sentence for users to fill in—and features a fun, game-like layout to encourage its users. Each word or phrase will have a percentage bar that shows how close the user is to fully mastering it.
Choose from a random selection of common intermediate Japanese words and phrases or try the Fluency Fast Track. The Fast Track was designed to expose users to phrases and words in a way that leads to fluent efficiency in Japanese. Users can select the amount of common words they want to focus on, as well as multiple choice quizzes, written quizzes, or listening quizzes. Finally, the app targets specific grammar functions, such as particles and verb tenses.
Pros:
Japanese can be learned from many languages
Gamified features make it fun
Most important functions are free
Cons:
Kanji readings aren't available until after answering the Cloze questions
iKnow! – A Multi-Function App for All Levels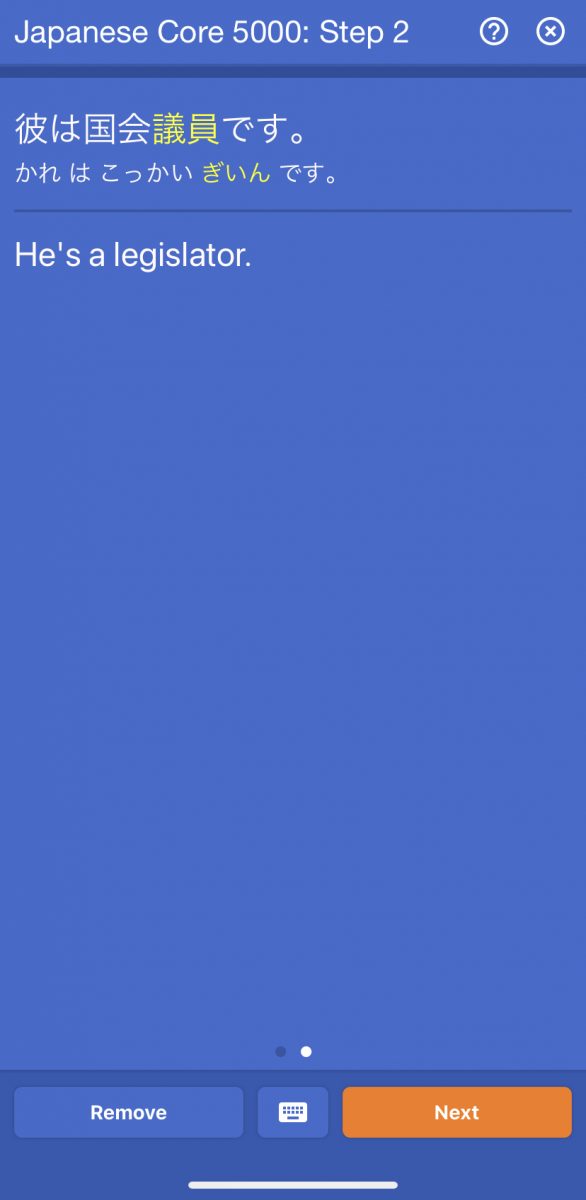 Kanji Readings: Available in kana
Customizable: Slightly (Users may remove items they already know from word banks)
Functions: Vocabulary, Listening, Kana
Pricing: $7.16/month or $90.03/year. A free version is available, but only for 5 study sessions.
iKnow is a multi-functional Japanese app that covers the hiragana and katakana writing systems in addition to a massive bank of vocabulary words and phrases. Users can choose "Core" levels from 1000 to 6000; each Core level contains 10 courses with around 100 words or phrases per course.
The strong points of this app are its use of spaced repetition—meaning users will be quizzed on items they struggle with more often, while items they've mastered are reviewed after longer periods of time—and the audio example sentences for each item. These two functions ensure users will be exposed to native use of each word or phrase, while assimilating the language items at their own unique learning pace.
Pros:
Spaced repetition method makes it a great alternative to Anki
Created by a Japanese company, so grammar and sentence structures are guaranteed to be error-free and natural
Combination of different quiz types improves memory
Cons:
Fairly pricey
Not as customizable as other options
Anki – A Simple, Yet Powerful Study App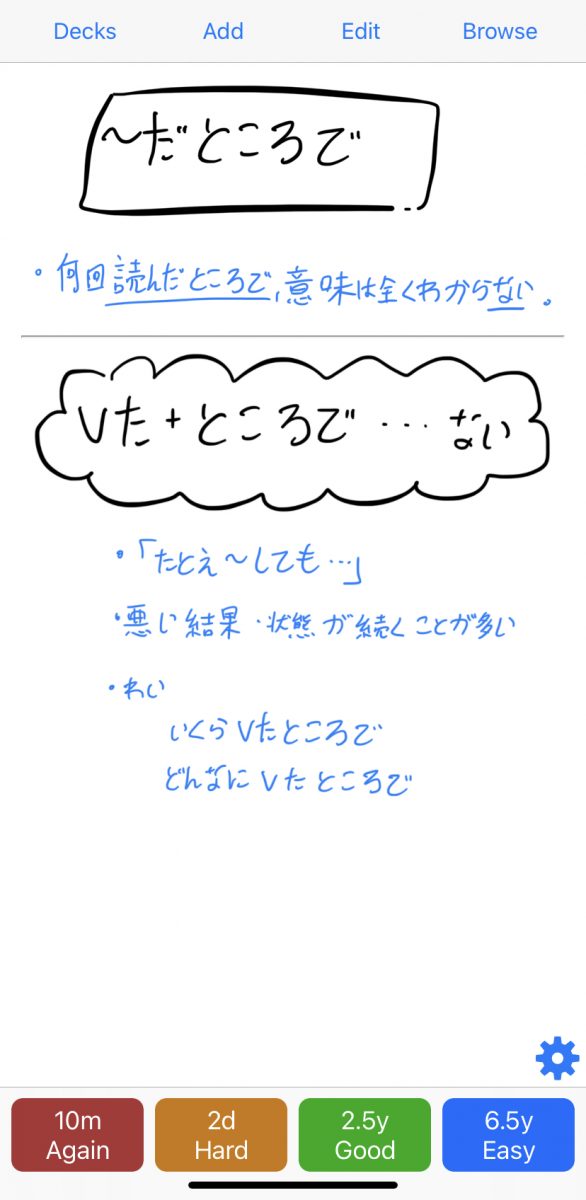 Kanji Readings: Available if user adds them
Customizable: Very customizable
Functions: Vocabulary, Grammar, Kanji
Pricing: Free for Android users, $25 for iOS users
While this flexible flashcard app is often recommended for beginners who want to study Japanese, it's just as useful for intermediate learners. Simply create your own flashcards on whatever kanji, grammar point, or vocabulary list you choose, and start to study. Users can also download shared study decks from Anki's massive database, so if you're studying for the JLPT or another well-known course, there may be pre-made decks already available for your needs.
Anki uses the same spaced repetition method that iKnow! Does, but leaves the amount of time between repetitions up to the user. Once you've flipped the flashcard over, you can choose between three and four amounts of time until you next review the card. While Anki has a very simple layout, its massive amount of customizability gives the user total control over their study session. You can even write and draw your own flashcards.
Pros:
Spaced repetition method consolidates knowledge
Study pacing and content are left entirely up to the user
Cons:
As it's very user-reliant, it may not be as fun or encouraging as other apps
iOS version isn't free
Memrise – Best Transition App From Beginner to Intermediate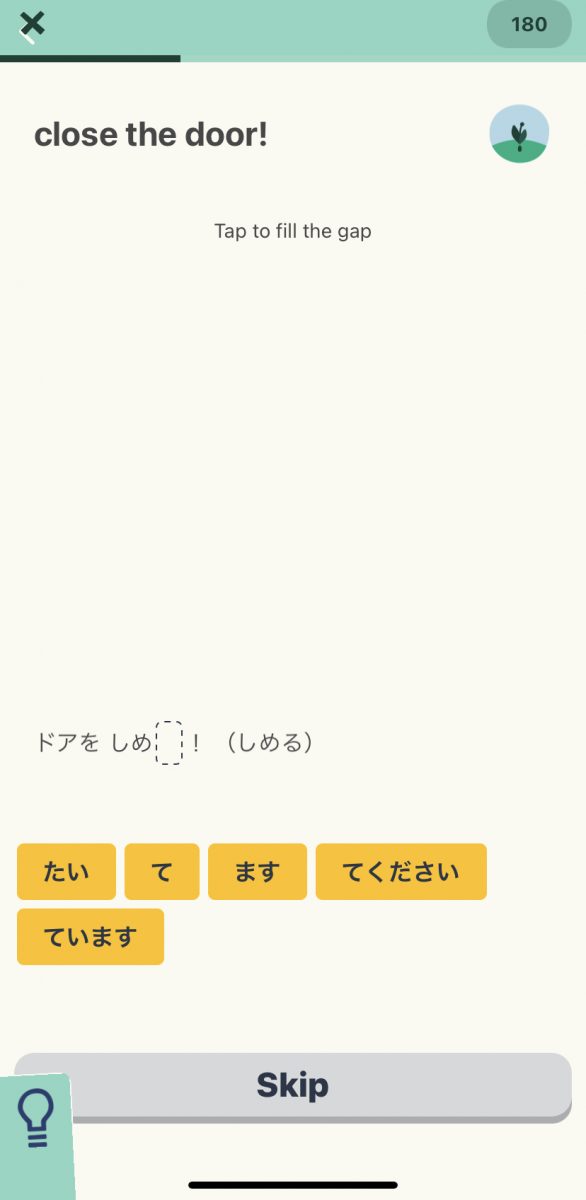 Kanji Readings: Available
Customizable: Fairly customizable with pro version
Functions: Vocabulary, Grammar, Listening, Speaking
Pricing: $8.49/month, $60/year, or a lifetime subscription for $119.99
As one of the oldest Japanese learning apps out there, Memrise uses the image of gardening to encourage its users to master new words, grammar points, or phrases: every time you learn an item and get it right in the following quiz, your flower grows a little more. The app also claims to learn about your current level and adapt its content accordingly. Unfortunately, you do have to start out with easier terms and phrases, which is why we've listed Memrise as a transition app.
Memrise isn't as challenging as other apps on our list, but it has some unique tools that can be helpful for intermediate learners. For starters, Memrise features videos of native speakers saying phrases at their natural speed. Not only can users practice their listening skills, but they can also repeat the phrases back using a recording function for the app to grade. The app also has a camera tool that gives you the name for an object in Japanese when you aim at said object. The tool isn't always perfect, but it's a fun way to learn the words you are interested in. A subscription will also give users access to any language in the app, which makes it well worth the money.
Pros:
Unique tools including a camera dictionary and video listening exercises
Large bank of languages available at a single price
Users can practice their speaking
Cons:
More beginner words than intermediate available
App can be limited if used too often
Kanji Study – A Brilliant, But Android-Specific Kanji App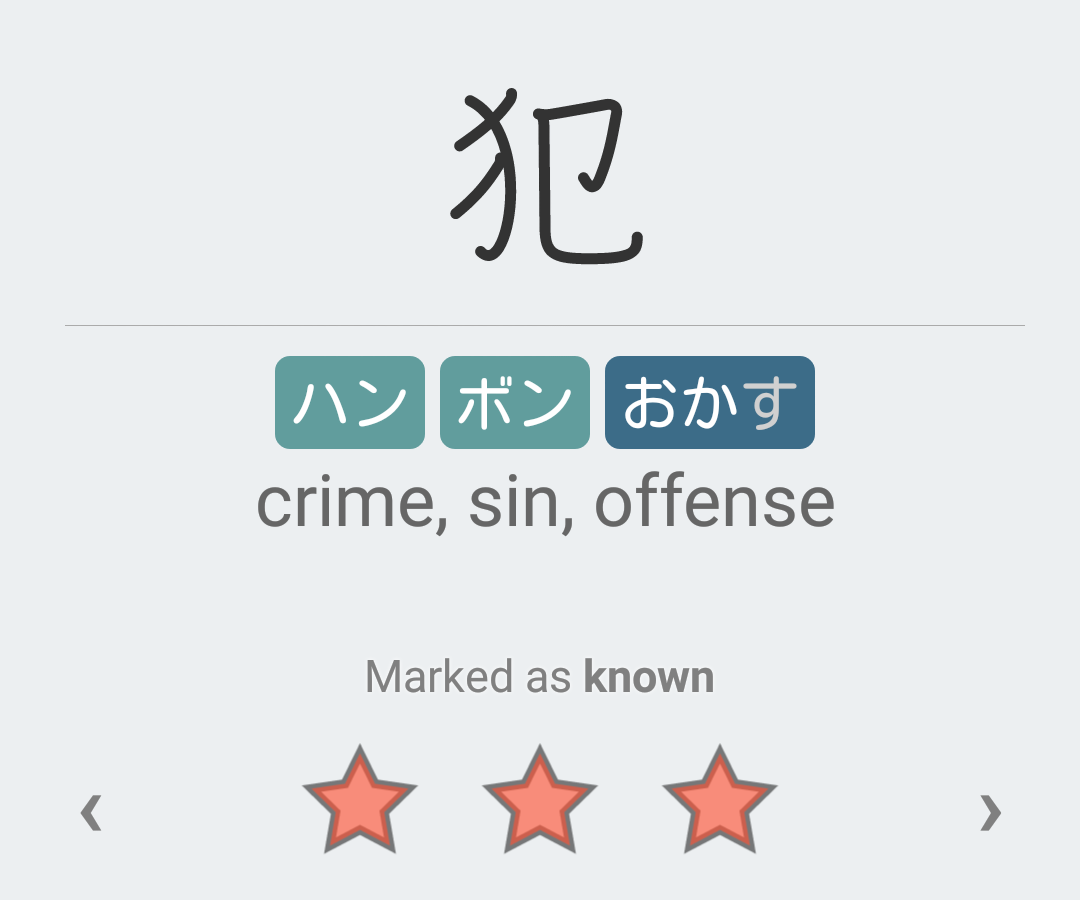 Kanji Readings: Available
Customizable: Very customizable – users can create their own kanji sets
Functions: Kanji, Kana
Pricing: $10
Chase Colburn's Kanji Study app is a treasure trove of knowledge for those who want to step into intermediate Japanese reading and writing. The app has animated kanji stroke order and customizable kanji sets. Better yet, you can study kana and radicals in addition to every kanji character in the Japanese language. An extra purchase will also get you character breakdowns, which dive into the history, ancient meanings, and radical subsets of each character.
Users will find a star rating system to help them rate how difficult each kanji is for them (white, yellow, gold, or red). Review sessions include multiple choice questions for both meanings and readings and writing challenges. Both are fairly customizable in terms of how many hints the user wants (i.e., readings, meanings, etc.).
Users can even access kanji sets in the order of the Japanese learning system (Kanji Kentei) or the JLPT order. No other kanji study app can match this one, but tragically, it's only available on Google Play. Still, if you have a tablet or an old Android phone, you can still use this efficient Japanese app.
Pros:
Offers quizzes for kanji readings, stroke order, and meanings
In-depth and easy to understand texts on the history behind kanji radicals
Radical cards are also available for better memorization of characters
Sample sentences and words are available for each kanji character
Cons:
Not available on other platforms
Pimsleur – Best for Intermediate Learners Who Struggle with Pronunciation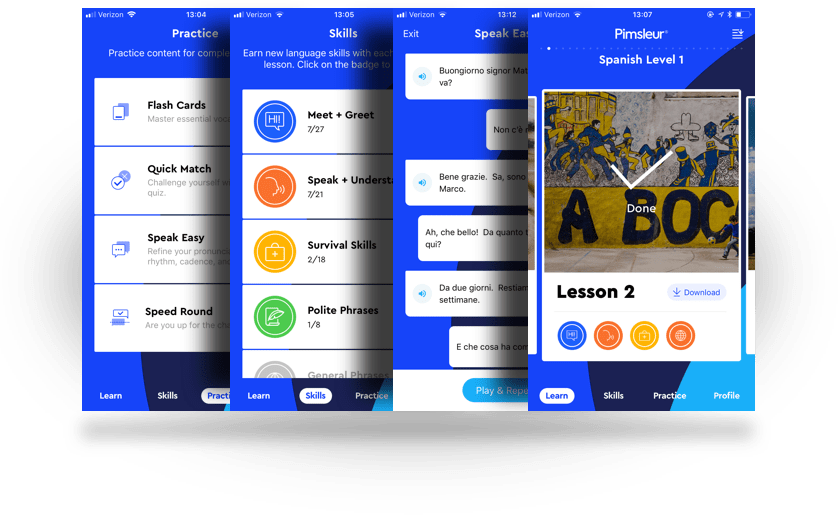 Kanji Readings: Available (romaji only)
Customizable: Not very customizable – learning modules are pre-arranged
Functions: Listening, Speaking, Basic vocabulary
Pricing: $14.95/month
While Pimsleur only contains about 70 hours' worth of Japanese lessons—usually not enough to get from beginner to mid-intermediate levels—the app can't be beat for its ability to teach natural and native-sounding Japanese pronunciation. That said, we've added it here as an honorable mention, in case some intermediate learners want to look back and sharpen their Japanese pronunciation.
Pimsleur uses rote memorization and an audio-based input method to train users on pronunciation and basic grammar. Users learn to listen and repeat after native speakers, then use quizzes to vocally fill in missing words in sentences of their chosen language. Pimsleur's Japanese course currently has five levels, most of which might be review for an intermediate learner. However, the Pimsleur method drastically improves pronunciation and listening skills, which some self-study learners may struggle to brush up on.
Pros:
App contains vocabulary flashcards and extra quiz material to supplement main nodules
As an audio-based study app, it can be used during one's commute or chore time
Cons:
Content level will mostly be review for intermediate learners
Conclusion
Most Japanese apps are aimed at beginners, but there are a few solid options for intermediate to advanced Japanese levels. It's best to find an app that best suits your learning style, but don't forget to give Clozemaster a try!