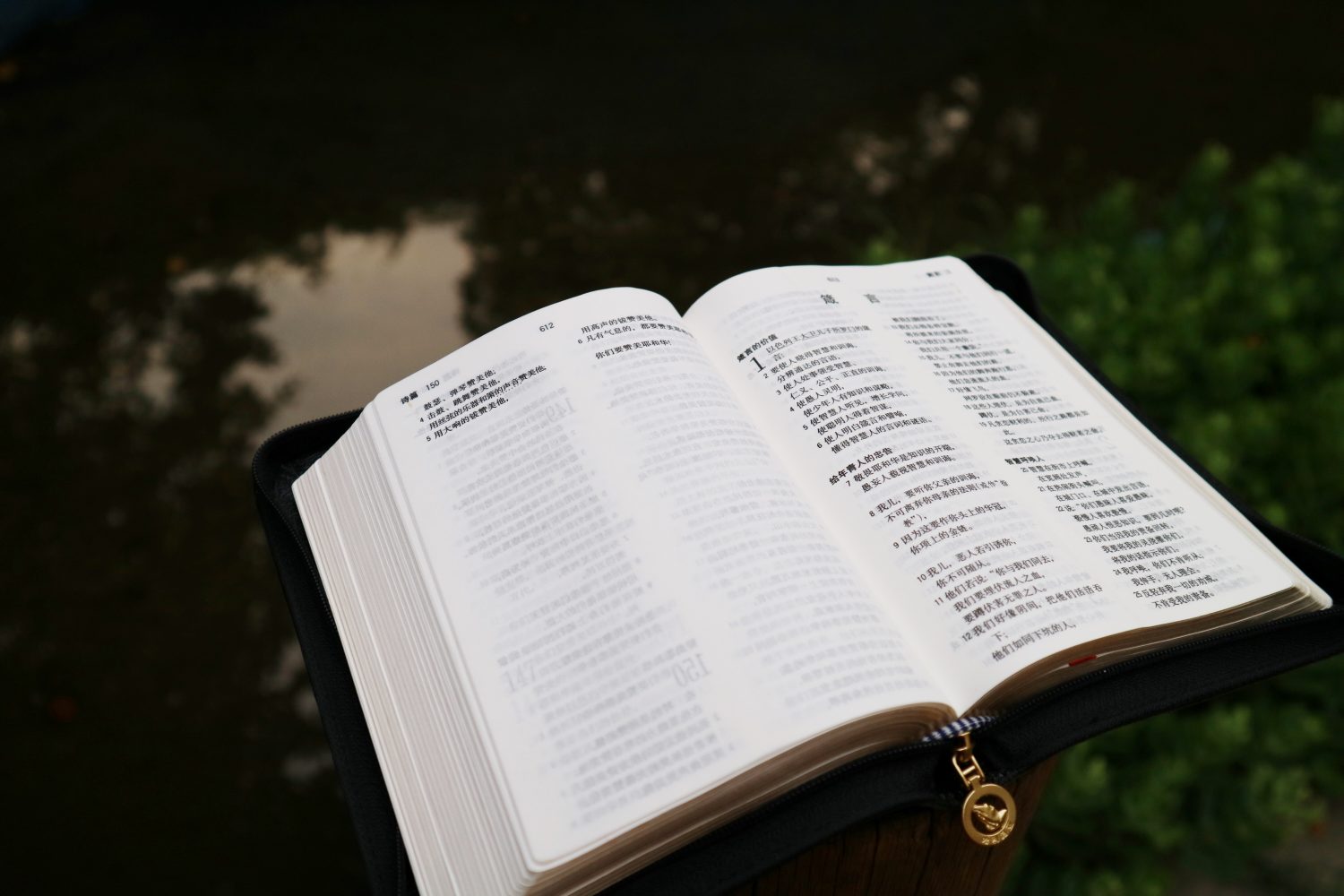 There are tonnes of great beginner resources for learning Chinese out there. Chinese is one of the most studied foreign languages, and it is only growing in popularity. Many well-known language courses are following suit and bringing out courses in Mandarin. However, Chinese is such a unique language to learn that it can be hard to find tools or resources that are truly useful to learn the language the right way.
That's why we've put together the ultimate list of the best beginner resources for learning Chinese, to save you all the research! If you're serious about learning Chinese, I recommend you bookmark this page now.
---
Contents
---
Best beginner Chinese apps and online courses
Best beginner Chinese language learning apps
How much time do you spend on your phone each day? It's amazing how useful that idle time can be if you use it to improve your Chinese instead of scrolling through your Twitter feed.
Best beginner online courses for learning Chinese
Chinese is a complicated language, especially if you're not used to characters and tones. If you are just starting to learn Chinese, you might find that purchasing an online course to get you started is the best way to ensure you have all the material you need. Luckily, there is no shortage of very capable courses which are designed to do just that. Here are some ideas.
---
Best beginner resources for learning Chinese characters and tones
Characters and tones – two of the biggest stress inducers in the minds of students of Chinese. But never fear: there is a logical method to master both of these things, and here are some great resources to ensure you get there.
Chinese characters
Chinese Stroke Order app (Android / iOS) – As the name suggests, this app helps you learn the correct stroke order when you are writing characters. If you are ever writing a character and are not 100% sure of the stroke order, pop it into this handy app and you'll instantly get a visual demonstration of how to correctly write the character. (A web equivalent to this can be found here.)
https://www.hanzigrids.com – perfect your handwriting of characters by creating your own character worksheets for any character you want to practice.
Chinese tones and pronunciation
In Chinese it is particularly important to ensure your pronunciation is correct. If you haven't got the tones right, you're far less likely to be understood when you talk. Here are a few suggestions for resources that make it easier to speak right.
Pimsleur – Pimsleur is a great course to master pronunciation in any language. It is essentially a "listen and repeat" method, and takes you through many commonly used words and expressions. Trust me, once you've heard and repeated them a zillion times on Pimsleur, you won't be able to forget how they're said!
https://wohok.com/mandarin/pronounciation.php – This is a handy little tool that lets you hear the pronunciation of any letter, with any tone, whenever you feel you need to remind yourself how it's said.
---
Best beginner resources for learning Chinese vocabulary and grammar
Chinese-English dictionaries
Pleco app (Android / iOS) – Pleco is my favourite Chinese dictionary app. It shows words in sentences with examples, including English translations. If you search a character, it will show you all the words that can be formed using that character.
Yellowbridge – Yellowbridge is a web-based dictionary. I find it very useful as for every word you search, it shows example sentences with translations and audio options, related works, and stroke order for each character of the word. Unfortunately, it's not available in app form.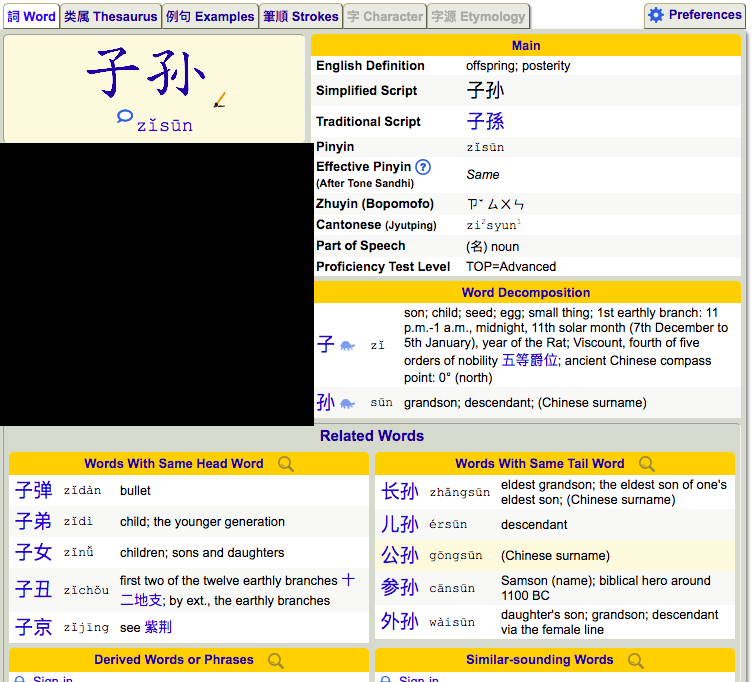 Chinese phrasebooks
Lonely Planet Mandarin Phrasebook – this is a phrasebook primarily aimed at phrases you would need to know for traveling in Chinese-speaking countries.
Rough Guide Mandarin Chinese Phrasebook – this phrasebook is all about basic survival phrases that you will need in day-to-day Mandarin situations.
Learn Chinese Communication – this is an app where you can learn key words, phrases and sentences, and practice common phrases.
Beginner Chinese textbooks
Online textbooks:
Understanding Chinese Characters and Understanding Chinese Words by Bite Sized Chinese – these low-cost digital textbooks are available for pre-order and will be downloadable on the App Store and Google Play soon. They'll systematically take you through what you need to know to get your head around basic Chinese.
Physical textbooks:
Fundamental Written Chinese & Fundamental Spoken Chinese by Nora Yao and Robert Sanders – these are two separate books but I've listed them together as they really go hand in hand. The written version focuses on learning characters by their radicals and starting to read in Chinese. The spoken book focuses on vocabulary, grammar, and conversation. It also comes with audio files so you can listen to the dialogues you see in the books as spoken by native speakers.
Modern Mandarin Chinese Grammar by Claudia Ross – Anyone who says there is no grammar in Chinese is wrong. The grammar of Chinese is simply so different to that of most other languages that it is hard for some people to identify it as grammar. Certainly, you'd be lost with no knowledge of sentence structure. This book helps you to make sure you're aware of basically all the Chinese grammar you need to know.
Frequency lists for beginner Chinese vocabulary
100 core Chinese words – These are 100 words you should probably get to know first as they will help you navigate your first conversation and put sentences together.
HSK frequency lists – This list holds the words you should really know in order to pass the HSK exams at every level.
1000 most common Chinese words – This is a very basic list of the 1000 most common Chinese words in order of frequency. It is a great resource but keep in mind that it is just a list. Combine it with some of the other tools mentioned on this page to ensure you retain the information.
Beginner Chinese grammar explainers
ChineseGrammarWiki – This is an amazing free resource which explains the grammar for basically any structure you need to know in Mandarin. The grammar points are neatly organised into levels from A1 to C1.
Beginner's basic Chinese Grammar – This blog post by Chinese Boost is a helpful starting point to the fundamental grammar points of Chinese for beginners.
---
Beginner Chinese reading materials
DuChinese – The DuChinese app is the best resource I have found for reading in Chinese. It has short texts that emanate what you would expect from a daily conversation. It starts off with texts consisting of the most basic words and sentence structures in the "Newbie" category, and then it goes to beginner, intermediate and advanced texts. You can opt to read the text with or without the pinyin transcription alongside the characters. You can also play an audio of native speakers reading the text, and you can change the speed to make it faster or slower.
If you tap a sentence it will give you the full translation, and if you tap a word it will give you the English translation and the option to save the word to a list. It then has a "flashcard" feature to test you on all the words you saved from your readings. Pretty much everything you need to get better at reading Chinese all bundled into one neat little app!
Google Translate app (Android / iOS)– Reading anything online, it's easy enough to look up a word or character you don't recognise. But what about reading offline? Street signs, restaurant menus, books? This is where the Google Translate App becomes an awesome tool. Simply open the app, tap on camera, scan the text you want to understand, and wait for the translation and pinyin pronunciation of the words to pop up. Now, this tool isn't perfect and it often skips over characters or mistranslates things. But as far as understanding unfamiliar offline text is concerned, it's the best thing I've come across.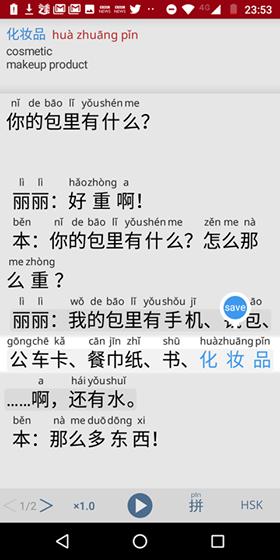 ---
Beginner Chinese listening materials
Listening courses:
https://mandarinhq.com – Mandarin HQ is entirely focused on the aspect of Chinese that many people struggle with – having real conversations and understanding native speakers. They offer a free email course to improve your listening and speaking skills. If you want more after that, there is a paid course with everything you need to be ready for real conversations.
https://chinesepod.com – This is a paid course with a focus on audio and video content to help your listening comprehension.
FluentU – FluentU exposes you to real video and audio content and gives you a platform to learn as much as possible from that content, by providing subtitles on everything. You can easily click on any word or phrase you don't understand to get translations and explanations. Then they quiz you on the words you don't know.
Podcasts for learning Chinese
http://popupchinese.com– This awesome website offers a free account for instant access to an entire archive of Chinese podcasts, and it also has heaps of other tools to help you learn Chinese.
Talk Chineasy daily podcast – This 7-minute daily podcast helps you learn one useful phrase each day with several related words. It's so short and handy that you really have no excuse not to listen to it!
Audiobooks for learning Chinese
Audible – With this app, you can search for basically any Chinese book and you'll find it here. For beginners, I recommend starting with children's books.
---
Resources to pass HSK Exams
If you're looking for beginner resources for learning Chinese, you should be focusing on HSK 1 or HSK 2 exams to start off with. Here are some resources to help you learn what you need to know and practice for those exams. You can purchase them on Amazon or usually any other book store.
---
Multimedia for learning Chinese
China tends to have its own version of pretty much every common western social media or online programme. People in mainland China don't have access to Facebook, YouTube, Netflix or Google. So it is notoriously difficult to find authentic online content in Chinese. You need to know what the Chinese are using, and then you need to check if you have access to that.
Streaming services
As these are authentic services intended for the Chinese audience, neither of them are available in English. As a beginner you might have trouble trying to navigate. However, if you're using Google Chrome, an option should pop up when you get to the page to translate it. The translation is far from perfect but it will give you a rough idea of what is going on.
Youku – This is the major online TV and movie streaming platform in China. To use it you will first need to install the plugin Unblock Youku.
Baidu TV – Baidu doubles up as the country's major search engine and a large online streaming platform. Thankfully, it is freely accessible outside of China.
TV shows
As an absolute beginner I wouldn't normally recommend starting with TV shows as it will be very difficult to understand what's going on without at least a basic understanding of grammar and the most common words under your belt. However, if you do know basic Chinese and want to practice what you've learned, try starting with these shows:
Ni Hao, Kai Lan (你好!凯兰)– Essentially the Chinese version of Dora the Explorer, Ni Hao Kai Lan is a kid's show teaching some of the basics of the Chinese language and culture. If you want to pick up some new words but wouldn't be able to follow a whole show in Chinese, this is a good option for you.
Pleasant Goat and the Big Big Wolf (Xǐ Yáng Yáng Yǔ Huī Tài Láng, 喜羊羊与灰太狼) – Another kid's show, but this one is aimed at native Chinese children. As the plot and dialogue is easy to follow, this is a great show to start with for your first fully Chinese TV show.
The Jin Xing Show (金星秀, Jīn Xīng Xiù) – If you want to watch something aimed at adults and you have a higher beginner Chinese level, this talk show and game show might be up your alley. The dialogue is not too fast and there are usually subtitles (in Mandarin) to help you if you get lost.
YouTube channels for learning Chinese
You won't find a high amount of authentic Chinese content on YouTube (as YouTube is blocked in China), but there are still a number of great channels for learning Chinese for beginners.
Mandarin Corner – Mandarin Corner is a great YouTube teaching video with beginner explainers, activities and sentence structures to help you broaden your understanding of Chinese.
Mandarin HQ – This channel takes authentic video footage of native speakers to show how they react and what they would say in a number of different common, everyday situations. This is great for beginners because it shows language and expressions that are actually used in real life.
ChineseFor.Us – There are 40 beginner videos including grammar explainers, character formation and conversation scenarios. If you finish the beginner Chinese videos and are ready to move on, they also have videos for every level.
Blogs for learning Chinese
https://mandarinhq.com – Mandarin HQ makes the list once again! This time for their awesome blog which sets out ideas for what to say it dozens of different real life situations that you might come across in Chinese.
https://www.chineseboost.com – This is the only dedicated website to Chinese-grammar-explaining and blogging that I have found. It's a free resource and full of useful information to help you on your journey to learn Chinese
https://www.fluentu.com/blog/chinese – This blog answers basically any question you could possibly have about learning Chinese. It also has a lot of suggestions for more resources you can use to learn the language effectively.
---
Communities for beginners learning Chinese
Forums for learning Chinese
If you want somewhere you can discuss things with like-minded people who are also interested in Chinese, check out these forums:
Finding Chinese tutors
Feel like you need a professional to correct your pronunciation and hold you accountable for making progress? Here are soma awesome places to find dedicated, one-to-one paid tutors.
Chinese language exchange
There are millions of Chinese people out there who would love to learn English – why not try to connect with some of them and help each other? Here are some great places to find Chinese natives that want to exchange Chinese for English.
Facebook Groups for Chinese learners
Other useful beginner resources for learning Chinese
Perapera plugin – Using this addon for Chrome, you can just hover over any Chinese character and instantly get the translation. This will help you to read faster and get used to text in Chinese more quickly.
WeChat –You've probably heard of WeChat, the social media platform used by almost all Chinese people. You can use WChat to chat to Chinese people by text or video call, you can follow popular people for authentic content in Chinese, and you can find new language exchange partners or tutors. WeChat is available all over the world so why not download it if you haven't already!
---
If you know some other resources that deserve a place on the list of the best beginner resources for learning Chinese, please share them in the comments!