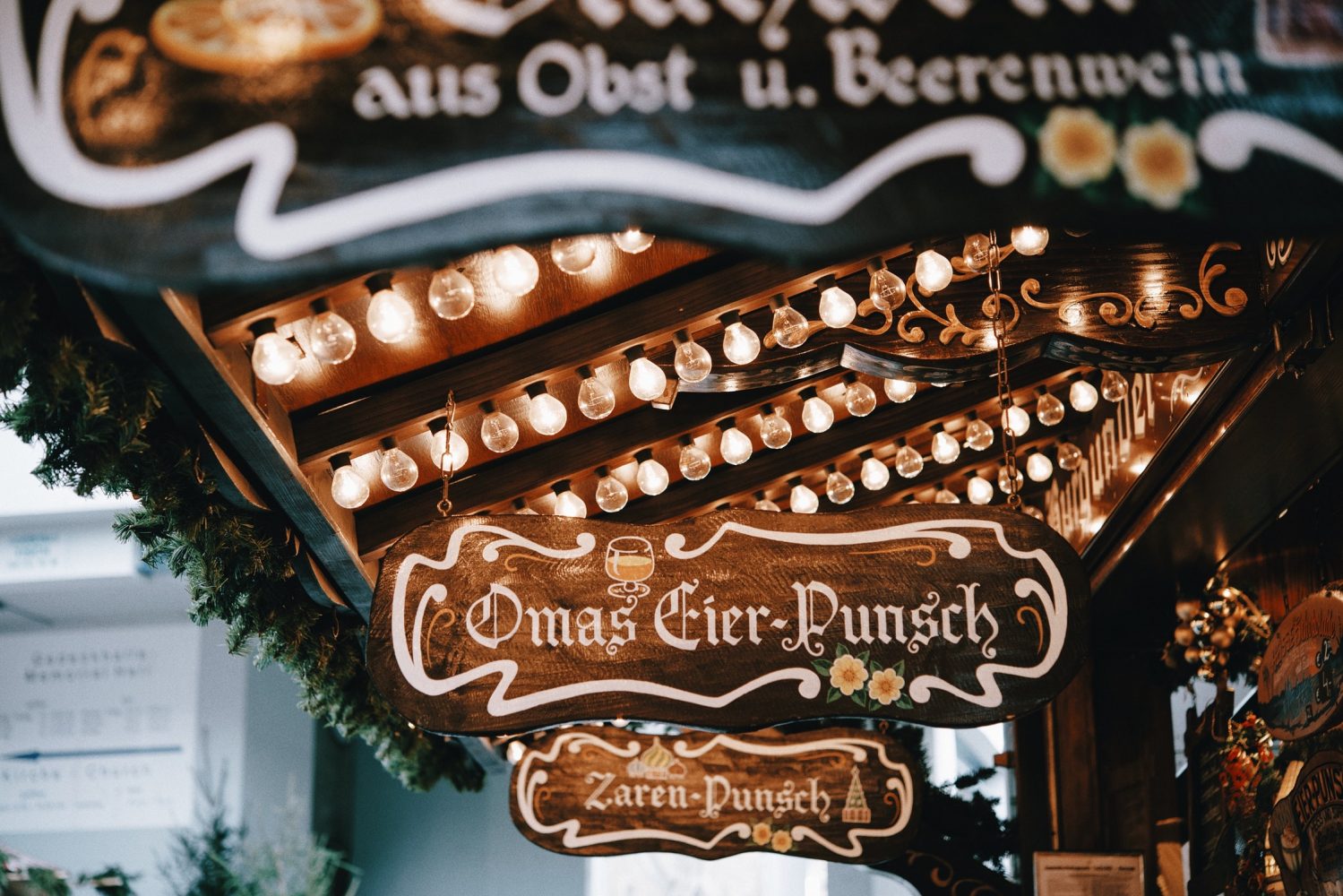 The Holidays are more or less right around the corner — close enough, in fact, to perk up a bit if all of your preparations happen at the last minute like mine usually do (hey, no judgment!).
But before going into a tizzy about your Holiday to-do list for this year, let's take a moment and look at the various German Christmas traditions as well as some linguistic aspects of wishing someone a Merry Christmas in German!
Christmas is a truly magical time of the year in Germany, and if you ever get the chance to travel there during this season, I highly recommend you do so.
Enough with the opening speech — let's jump into this post about Christmas in Germany!
Wishing Someone a Merry Christmas in German
There are a few ways to wish someone a Merry Christmas in German — and just like in many other countries, there is a variety of phrases that might come in handy, particularly when you aren't sure whether the other person is celebrating Christmas or not.
If you are sure the person is celebrating Christmas or you're simply more of a traditionally minded person, you can say:
Frohe Weihnachten! — Merry Christmas! or
Fröhliche Weihnachten! — Joyous Christmas!
You could also say:
Frohes Fest! — A happy celebration! or
Frohes Weihnachtsfest! — A joyous Christmas celebration!
If you want to keep things a little bit more "neutral", either because you aren't sure whether the person is not celebrating a traditional Christmas holiday (or because you know they aren't), you could also simply opt for:
Schöne Feiertage! — Happy Holidays!
Traditionally, most people are off between December 24th and December 26th, so even if the person you are talking to might not be celebrating Christmas, you can be pretty sure they will have some time off.
If you are more intent on focusing on the religious and/or contemplative aspect of Christmas and the spirit of the holiday itself, you could say:
Ein gesegnetes Weihnachtsfest! — A blessed Christmas celebration! or
Ein frohes und gesegnetes Weihnachtsfest! — A blessed and joyous Christmas celebration! or
You could also keep it short and simply say:
Gesegnete Weihnachten! — Blessed Christmas!
When wishing a person a Merry Christmas (or Happy Holidays, for that matter) you will also notice that a lot of times this is done in connection with wishing someone a Happy New Year, especially when you're not likely to see the person again between Christmas and New Year's Eve.
A lot of times, especially on Christmas cards, you will find the phrase:
Gesegnete Weihnachten und ein frohes neues Jahr! — Blessed Christmas and a Happy New Year!
Variations of this include:
Frohe Weihnachten und ein glückliches neues Jahr! — Merry Christmas and lots of luck for the new year!
Frohe Weihnachten und alles Gute für das neue Jahr! — Merry Christmas and all the best for the new year!
Especially the latter phrases are oftentimes used in cards or personal notes, such as the ones that businesses send out to their customers.
Now that we know how to say "Merry Christmas" in German, let's have a look at the various Christmas customs and traditions leading up to Christmas that you might encounter when staying in Germany during Christmas season!
Pre-Christmas Traditions in Germany
As I previously mentioned, there are a plethora of Christmas traditions in Germany — however, there are also traditions leading up to Christmas.
Some of them are more popular with children, and some of them are observed by families with or without children alike.
Let's take a look!
Advent Calendars
Advent calendars are especially popular with kids, but I know even some adults who love following them simply because they make counting down the days leading up to Christmas Eve so much sweeter.
Advent calendars are usually sheet calendars to hang on your wall with 24 small flaps, often with Christmas images or winter scenes. For each day from December 1st to the 24th, you open a flap and there is a small picture or sometimes even a short poem underneath.
For kids, there are special advent calendars that contain small pieces of chocolate, which are revealed when opening the flap. This is an especially easy way to test your child's self-control (since when there's a sweet treat involved, it gets significantly harder to stick with opening one flap a day).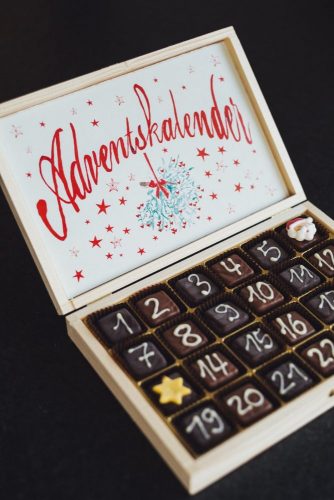 Advent Wreaths
This is probably my favorite pre-Christmas tradition observed in Germany: Advent wreaths!
Advent wreaths, as you can probably tell by the name, are wreaths usually made out of evergreen or pine branches with four (usually red) large candles and other Christmas or winter decorations on top, such as red bows, stars, or pine cones.
Starting on the first Sunday of December, one candle is lit to symbolize Christmas Eve approaching. The following Sunday, a second candle is lit, and so on. By Christmas, all four candles on the wreath are lit.
Advent wreaths are essentially a Christmas countdown for adults.
Christmas Traditions in Germany
There are plenty of German Christmas traditions that aren't just popular among tourists, but also with the German locals.
From Christmas markets to mulled wine: in this part of the article, I'm gonna share a few of my favorites!
Christmas Markets (Weihnachtsmärkte)
The Christmas market — or Weihnachtsmarkt — is one of the main reasons to travel to Germany during the holiday season (for me). They're an essential part of German culture, and definitely not just a tourist attraction that the locals would avoid. Christmas markets are a longstanding tradition in Germany, and they're the perfect place to enjoy a mulled wine (Glühwein) or two with your friends.
German Christmas markets offer a variety of things to do and see: they usually have plenty of snack booths where you can get savory and sweet treats as well as alcoholic and non-alcoholic drinks. Local vendors sell beeswax candles, ornaments, handmade soaps, and household goods as well as winterproof clothing items (from sweaters to hats and mittens). Wooden toys as well as jewelry or Weihnachtsplätzchen (Christmas cookies) can also be found here.
So if you are looking for a souvenir or some Christmas presents to send to your loved ones back home, this is definitely the place to go!
The best thing about Christmas markets though is the atmosphere: usually, they are richly decorated and illuminated with Christmas lights and decoration, and even the booths are decorated as well.
Pro tip: head over in the late afternoon or early evening to see everything light up and experience the magic unfolding!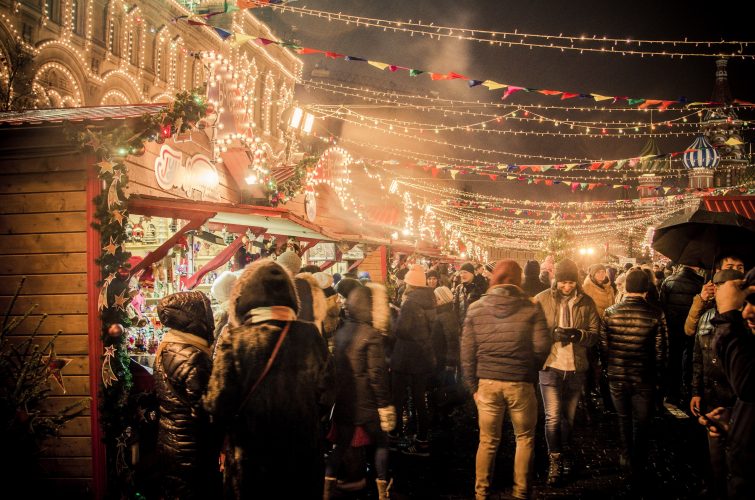 Glühwein and Feuerzangenbowle
Speaking of Christmas markets: As I already mentioned above, Christmas markets do not only offer food, but also some of the trademark (alcoholic) drinks of the holiday season.
Glühwein (mulled wine) is probably the most popular of the two. Made out of warm red wine, sugar and a variety of spices, it's the perfect drink to keep you warm when strolling around the Christmas market in frigid temperatures. While traditionally Glühwein is made out of red wine, there's also a version made out of white wine. (Personally, I have never tried the latter.)
Another favorite at German Christmas markets is the so-called Feuerzangenbowle (fire tong punch). This tongue-twister of a drink is made out of mulled wine, rum (with a high alcohol content) and a sugar cone. The sugar cone is placed over the (usually pretty large mug) of mulled wine, doused in the rum and then gets lit on fire. Watching this is quite the spectacle and about fifty percent of why I love indulging in a steaming hot mug of Feuerzangenbowle — however, if you are a lightweight like me, you might want to be careful and stick to only one "fire tong punch" since it's quite strong.
Christmas Trees
Just like in the US, Christmas trees are a staple in German households during Christmas time. Ever since moving from Germany to the US, I have noticed that the "American way" of decorating the tree is much more elaborate. Compared to this, the German approach is almost minimalistic.
Also: The Christmas trees used in Germany are real evergreen trees — not the fake ones popular with a lot of households in the US. And just like the tree is real, the candles on the tree are oftentimes as well (to the horror of many of my American friends due to the possible fire hazard).
Christmas Ornaments
Christmas ornaments have a longstanding tradition in Germany, as well as other European countries. Most of the time, they are made out of real glass and come in all sizes and shapes — popular are not only traditional Christmas motives, but also things that technically don't have anything to do with Christmas. They are often decorated with lots of glitter, whether they are classic Christmas ornaments or of a more "non-traditional" kind.
Some families also like to put chocolates, homemade Christmas cookies or homemade ornaments on their Christmas tree.
Weihnachtsengel (Christmas Angels)
Christmas angels (Weihnachtsengel) are a staple when it comes to the Christmas decoration in many German households. These angels are little wooden figurines originating from the Erzgebirge — a mountain range in Saxony, bordering the Czech Republic. Weihnachtsengel have a longstanding tradition and oftentimes families don't have just one or two, but an entire "parade" that is put up every year during the holidays.
These angels are often depicted in various positions: holding tiny candles or banners or (and this is probably the most popular variant) playing instruments.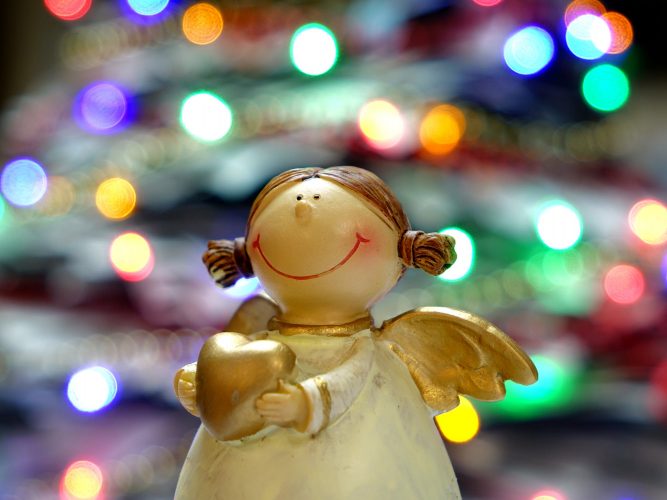 Räuchermännchen ("Little Smoking Man")
Just like the Christmas angels, Räuchermännchen also originate from the Erzgebirge, which is famous for its unique wooden crafts mostly traditionally involving Christmas motives. Räuchermännchen are incense smokers, often depicting Santa, a nutcracker or miners. The Räuchermännchen comes apart in two pieces, usually at its hip, where you insert a lit/burning cone-shaped incense block, the so-called Räucherkerze. After the incense cone has been inserted, the Räuchermännchen is re-assembled. Soon after, you can watch incense smoke coming from the Räuchermännchen's mouth (hence the name "Little Smoking Man").
Weihnachtspyramiden (Christmas pyramids)
You might be a little surprised to hear this name — after all, Christmas and pyramids have next to nothing in common. Christmas pyramids, or Weihnachtspyramiden, are another traditional staple in German households when it comes to Christmas decoration. Just like the two ornaments mentioned before, Christmas pyramids also originate from the Erzgebirge in Eastern Germany.
A Christmas pyramid consists of a pyramidal outer frame (usually containing spots for about four tea candles) and a pyramid-shaped, usually decorated carousel with a rotor at the top. Said rotor is driven by the warm air arising from the tea candles (hello, physics!) and thus starts spinning slowly when the candles are lit.
Weihnachtspyramiden are usually decorated with nativity scenes, however, there are also some decorated with winter or forest scenes.
Christmas Cookies
Christmas cookies (or Weihnachtsplätzchen) are a must during the Christmas season! These sweet treats come in a variety of shapes and sizes, with different flavors and/or sprinkles or dipped in chocolate. Some families even have their own recipes which are handed down from generation to generation.
Baking Christmas cookies is a favorite holiday activity for some people, especially those with smaller children.
Since not everyone has time to bake these treats during the busy holiday time, many bakeries in Germany sell all kinds of Christmas cookies: you can buy them either as a pre-packaged mix or simply pick your favorites.
Another favorite of the Holiday season is Lebkuchen, German gingerbread. It's usually sold at Christmas markets or in supermarkets, and often heart- or star-shaped and filled with sweet jam.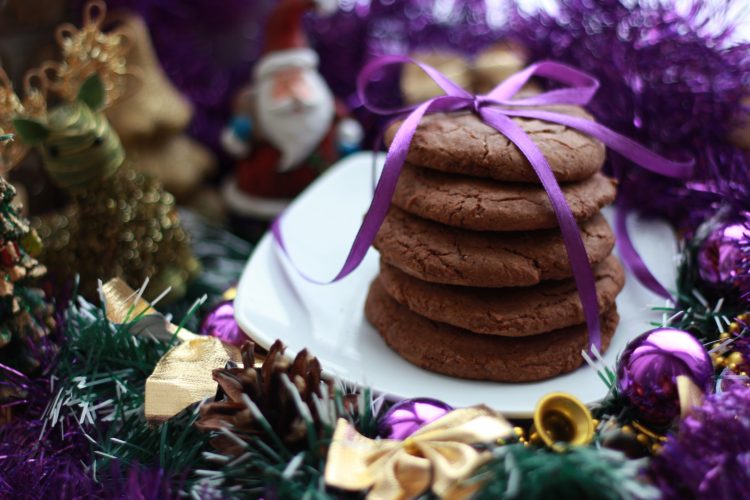 A Couple More Interesting Tidbits…
While you might recognize some of the German Christmas traditions since your part of the world has similar traditions, there are some things Germany does different from the rest of the world when it comes to celebrating this time of the year.
Unlike the US or UK that celebrate Christmas on the morning of the 25th of December, in Germany Christmas Eve is celebrated on December 24th. And while in the US presents are bought by Santa, in Germany it is the Christkind (the Christ child) that is responsible for delivering all the gifts.
While Santa doesn't play much of a role in the actual Christmas celebration on the 24th of December, he—or more precisely, somewhat more of his equivalent—plays an important role on December 6th, the so-called Nikolaustag (St. Nicholas Day).
St. Nikolaus, better known as "der Nikolaus", in popular depiction is a rather heavy set, friendly man in a red frock with a white beard (sound familiar?) who visits all families on the night of December 5th to December 6th when everyone is asleep. Traditionally kids (and sometimes adults, depending on the family) leave their shoes out overnight to find sweet treats, mandarin oranges, walnuts and/or small gifts in them on the morning of the 6th.
(That is, if you were a good kid that year. Traditionally, people who haven't been good are left with a couple of pieces of coal in their shoe as "presents".)
December 25th in Germany is also known as "Erster Weihnachtstag" (first Christmas Day). This day is usually reserved for visiting close family that lives further away such as grandparents, aunts, and uncles. Same goes for December 26th, the "Zweiter Weihnachtstag" (second Christmas Day). More presents are usually exchanged and there's lots of rich foods and more Christmas cookies.
On these days, pretty much everyone is traveling (sometimes even cross-country), which means that traffic is usually iffy, especially when snowfall or — more likely — heavy rain or sleet is involved.
---
I hope I could give you a good insight into Christmas in Germany — both regarding some vocabulary as well as German Christmas traditions — to get you into the holiday spirit!
Frohe Weihnachten, everyone!