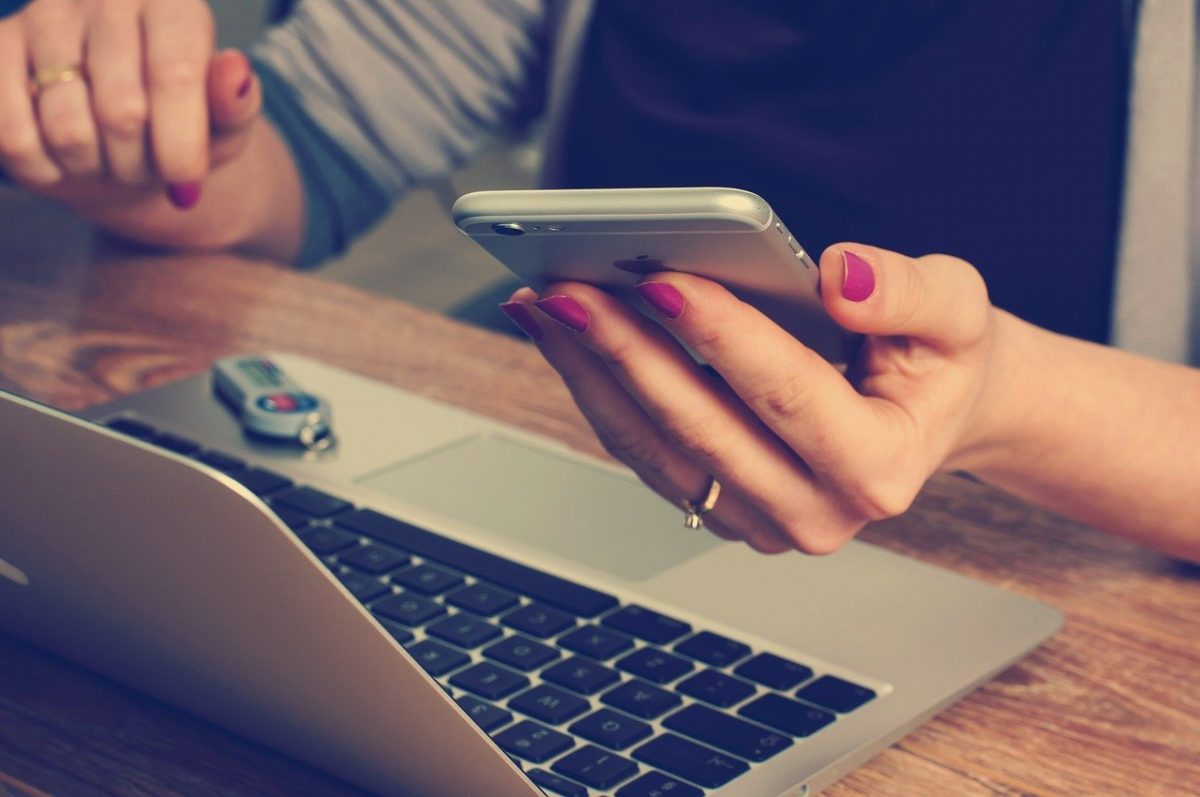 It's easy to reach a plateau in your Swedish language learning when you're at an intermediate level. At the beginning, progress often feels quick, and mastering the basics gives you confidence and motivation. Then, most learners reach a point where it feels a little harder to improve those language skills, and it's easy to get discouraged.
This is the most important time to persevere! You're almost there! You just need the right tools to get you moving again and help you on your journey to fluency. Once you know how to introduce yourself and you've mastered some of the most common Swedish phrases – now what? Try one of these great intermediate Swedish apps, and you'll be speaking flytande svenska (fluent Swedish) in no time!
1. Duolingo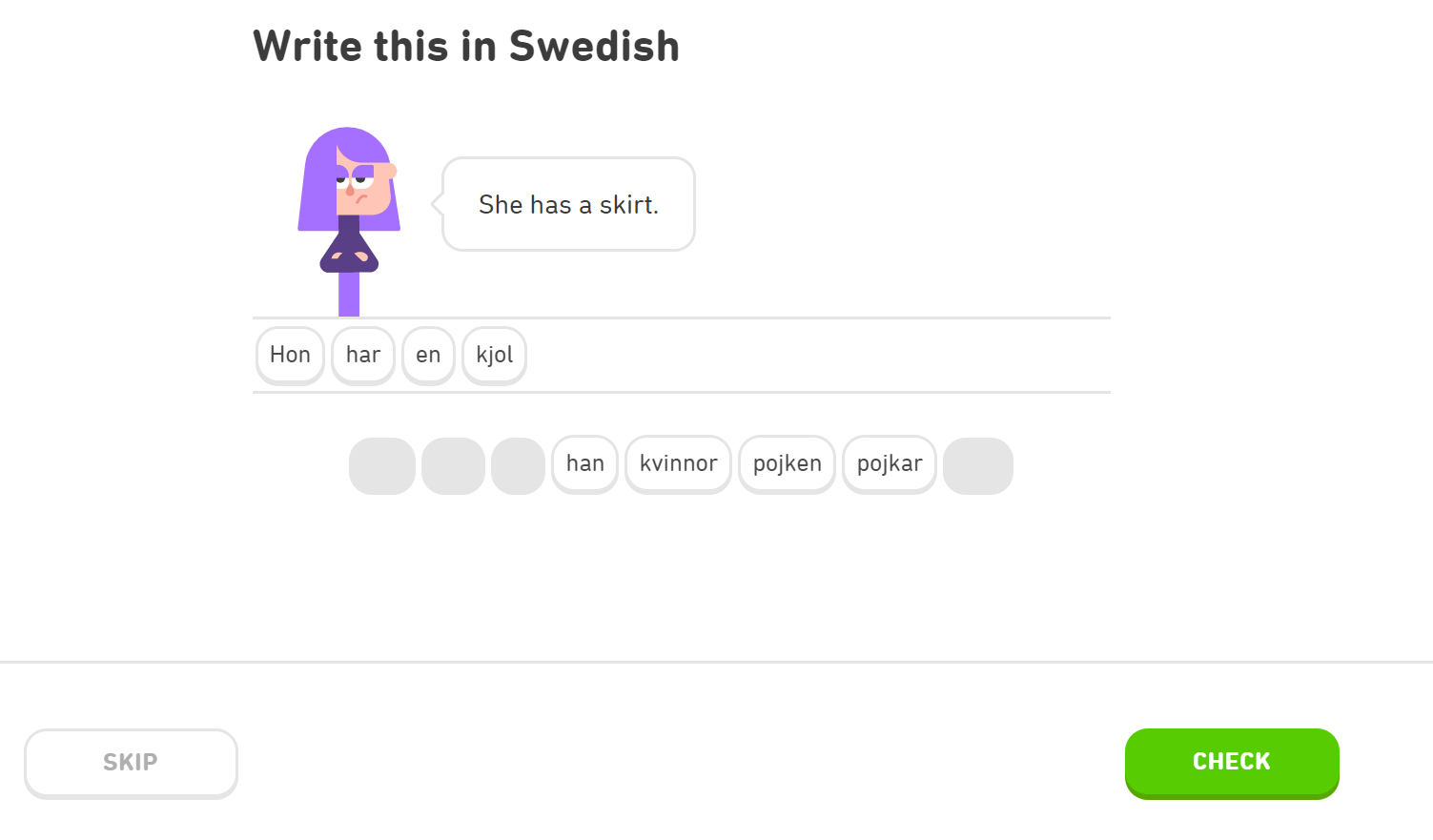 Website: https://www.duolingo.com/enroll/sv/en/Learn-Swedish
Android app/ iOS app: https://www.duolingo.com/mobile
Price: Free, with an optional subscription offering benefits such as no ads and unlimited hearts.
About Duolingo
These days, Duolingo is somewhat of a household name. If you're interested in learning a language, chances are you have already heard a lot about this program.
One of the main advantages of Duolingo is that it's free. There is no risk to giving it a try, and you can even try out the program without creating a profile and logging in. Simply signing in gives you access to the full program which keeps track of your progress and gradually helps you advance through more difficult material.
A wonderful feature of Duolingo for intermediate learners is that you can choose to begin with a placement test to help determine your current level of Swedish ability. There is no need to waste time working through beginner lessons you have already mastered simply because you start using a new program to learn.
Bonus points to Duolingo for doing a great job of integrating listening and reading skills and for making sure you're working from English to Swedish and from Swedish to English. Many apps and programs can be very one-sided in this regard, but Duolingo balances them well.
Key Features
Placement test helps you start at the right level and skip what you already know
Game-style learning motivates you with rewards, daily goals, and fun effects
Encourages short, daily practice to help build consistency and fluency
2. Babbel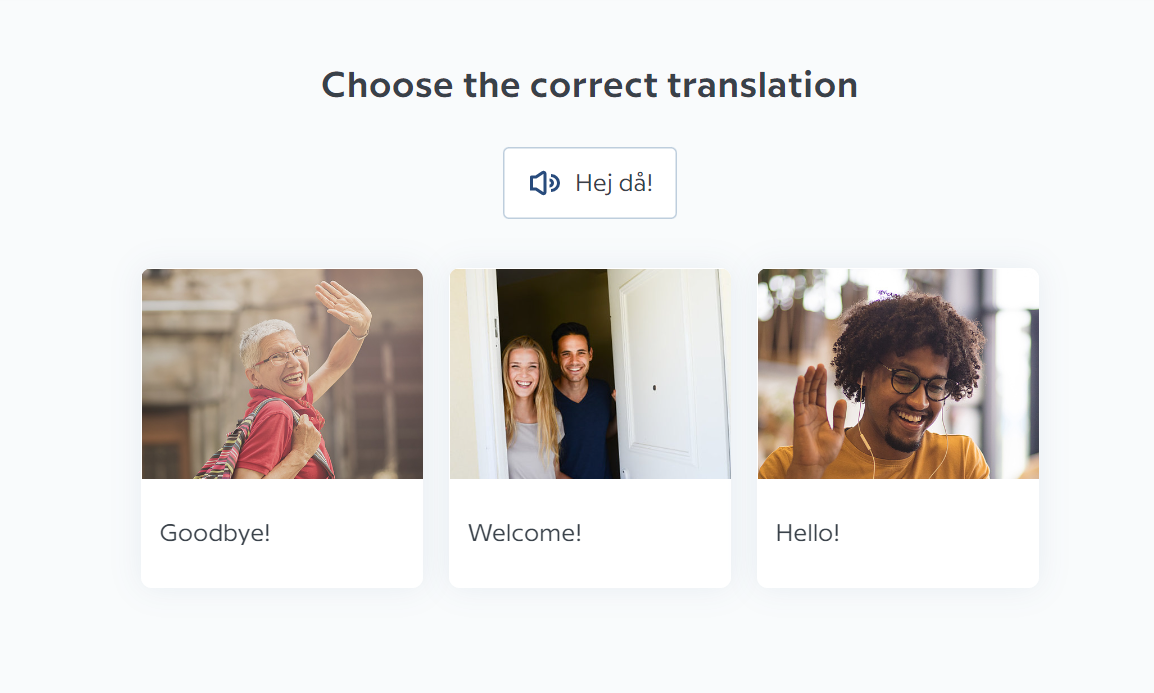 Website: www.babbel.com
Android app/ iOS app: https://www.babbel.com/mobile
Price: Free 7-day trial. After that, pay a monthly subscription fee of $13.95 per month, or $9.95 per month for a 3-month subscription. Longer subscriptions of 6 or 12 months offer discounted rates. Prices apply to self-study program. Babbel's live classes are not available in Swedish at this time.
About Babbel
Babbel has built a reputation for providing quality language learning tools. This program does a good job of blending listening and reading skills by always pronouncing the words as they are introduced. Lessons also include sample dialogues to help put new vocabulary words into context right away. Babbel offers opportunities to review the words that you have already learned as well as progress through new lessons to learn new words.
For many languages, Babbel also offers the choice between a self-study program, live online classes, or a mix of both. Unfortunately, live online classes are not currently available for Swedish. The audio on the self-study program is recorded from native Swedish speakers, so you still have the opportunity to learn pronunciation from native speakers. You will not, however, be able to receive feedback to evaluate and improve your pronunciation.
Babbel offers the opportunity to start at a level that suits your ability, but only one free beginner lesson is available as a sample without beginning a subscription. A confirmed email address is required to access this lesson. If you want to try Babbel using the free 7-day trial, you must first subscribe and then cancel the subscription if you don't choose to continue.
Key Features
New words are put into dialogue context right away
Audio recordings from native speakers reinforce understanding
Easily access review activities from your Babbel dashboard
3. Rosetta Stone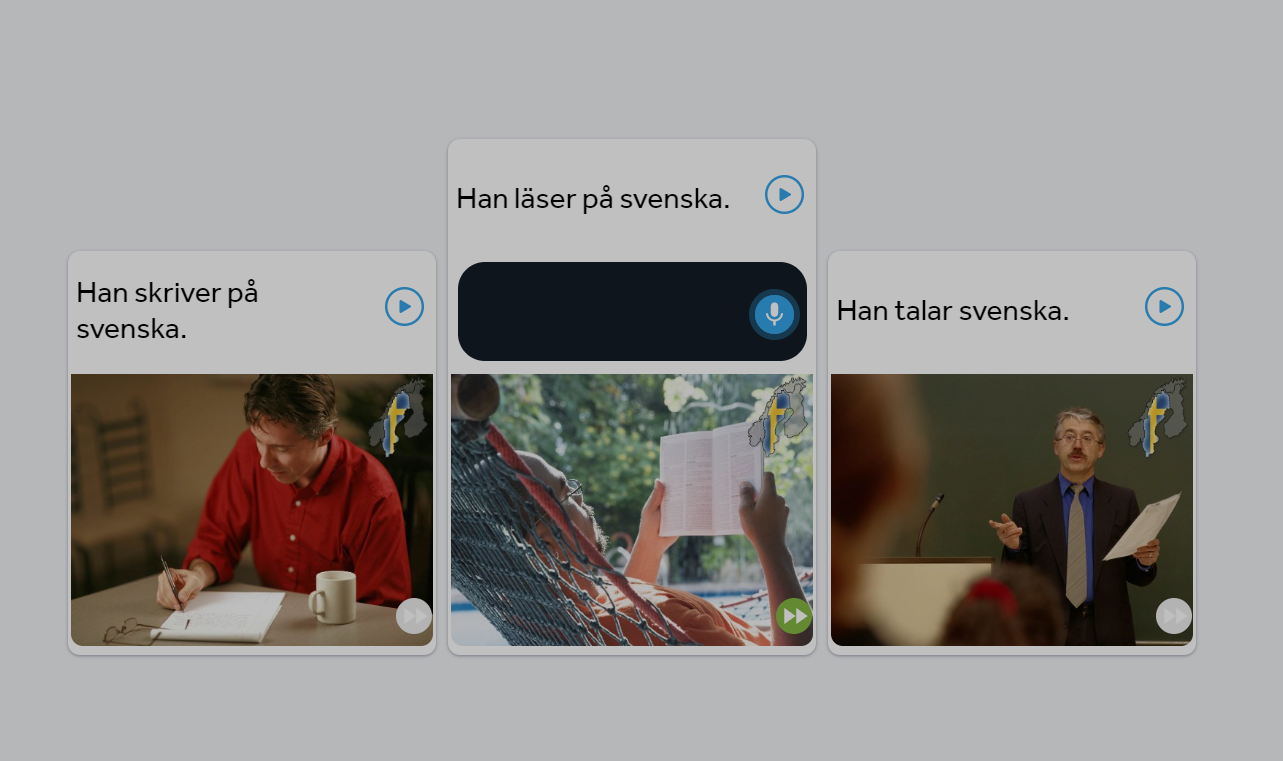 Website: https://www.rosettastone.com/buy/learn-swedish/
Android app/ iOS app: https://www.rosettastone.com/buy/learn-swedish/
Price: Free 3-day trial. After that, $12 USD per month for a 3-month subscription; Discounts available for longer subscriptions. Rosetta Stone also offers a Lifetime Subscription including all 25 language options for $179 USD.
About Rosetta Stone
Rosetta Stone is well-known for its immersive approach to language learning. If you choose Rosetta Stone, you will not learn Swedish from English or any other language. All text and audio will be in Swedish without translation. It is well-designed, using images for clarity.
Rosetta Stone allows you to choose a starting level of beginner, intermediate, or advanced, based on your proficiency. There is no placement assessment to determine this, so you should evaluate your own skills to find the right fit.
One unique feature of Rosetta Stone is that lessons include voice recognition software so you will actually practice pronouncing words and some answers will be spoken rather than written. Each verbal response will be rated and then the recording of the native speaker will repeat the phrase again so that you can hear it correctly.
Native-speaker recordings represent both male and female voices and include some variation in pronunciation for dialects.
Key Features
Voice recognition software allows you to practice and improve pronunciation.
Fully immersive program helps you begin to think in Swedish since there is no translation
Hear recordings of native speakers that represent different dialects you might encounter in Sweden.
4. SwedishPod101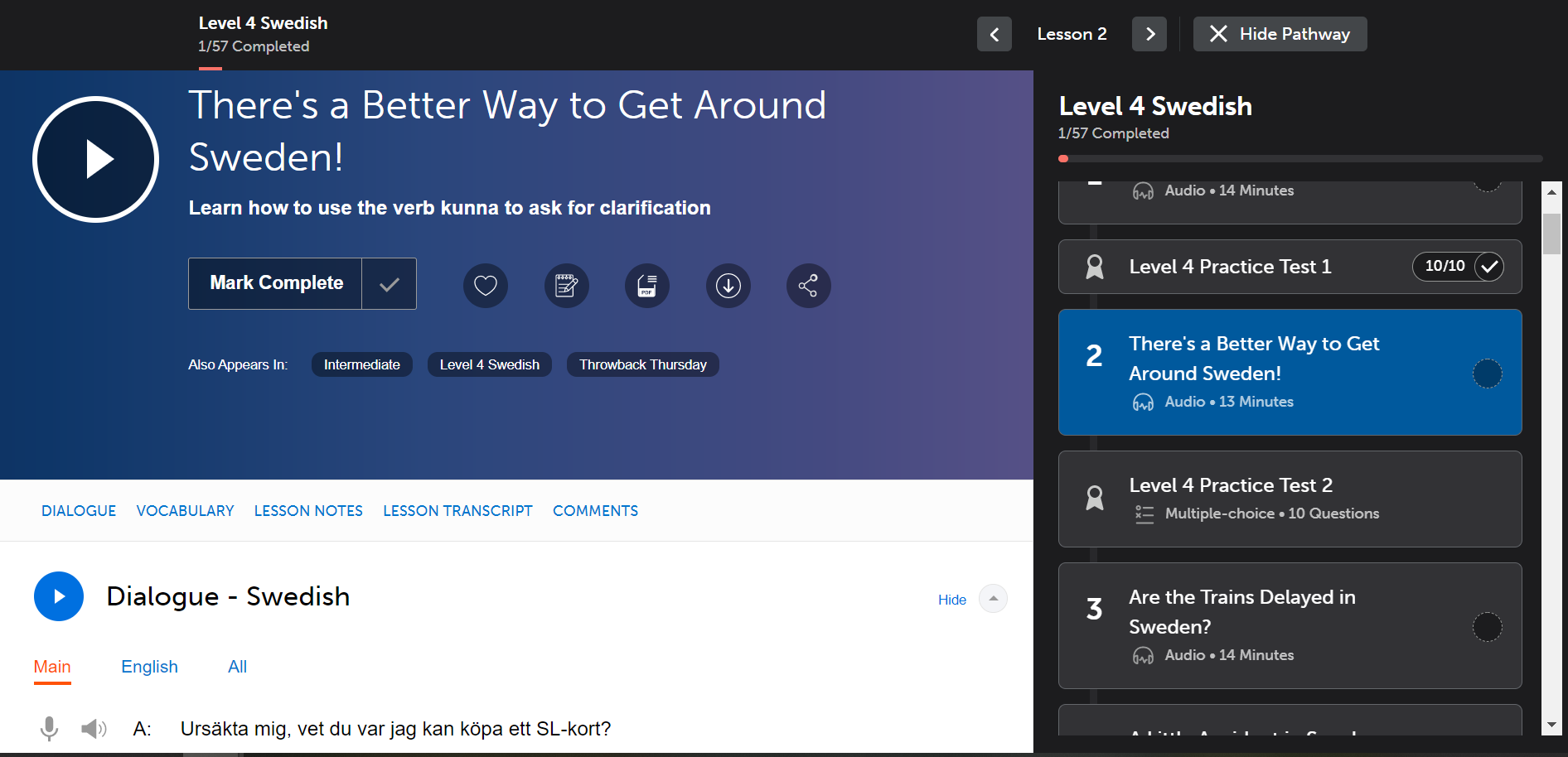 Website: https://www.swedishpod101.com/
Android app/ iOS app: https://www.swedishpod101.com/app/
Price: Free lifetime access. Basic, Premium, and Premium Plus upgrades are available for $4 per month, $10 per month, and $23 per month respectively (for a 24-month subscription)
About SwedishPod101
SwedishPod101 is a podcast/listening based program for learning Swedish. Most of the materials are available for free through their website or on YouTube or your favorite podcast app. Since the website includes additional features, in addition to tracking your progress and saving your results, creating a free login is recommended. 
Sign up to receive daily Word-of-the-Day emails to help you learn new vocabulary and improve your pronunciation. Then choose from five different levels to begin your journey (absolute beginner, beginner, intermediate, upper intermediate, and advanced). There are helpful tips listed to help you determine where you should start based on what you already know, and an optional diagnostic assessment (40 questions) is also available to help you start in the right place. 
Lessons consist of audio recordings (10-15 minutes each) with options for adjusting speed both slower and faster. Listen to conversations (including English translations) and read along with transcripts to help connect spoken and written Swedish. Each lesson includes a cultural focus to help you learn about the context of the language, and not simply the vocabulary and grammar. Follow up each lesson with a 10-question assessment to be sure you've understood before moving on. In addition to lessons, you can also explore vocabulary lists organized around themes, so if you have specific needs, you don't have to wait until you get to that lesson to learn what you need to know. 
Key Features
Designed specifically for learning Swedish, including cultural explanations and implications of the language
Wide variety of starting levels including diagnostic tools to help you avoid repetition of skills you've already mastered
Options to expand your access to personalize the learning tools that you need, including access to individual attention from a teacher
5. Clozemaster
Website: https://www.clozemaster.com/
Android app / iOS app
Price: Free version includes playing up to 30 sentences per day, including a round of listening and a round of speaking; Pro version (unlimited access, customization features) is $8 USD per month, $60 USD per year, or $140 USD for lifetime access. Prices might be slightly different when purchased in the mobile app (depending on things like currency exchange rates and taxes).
About Clozemaster
Clozemaster is a language learning program that's specifically designed for advanced-beginner and intermediate learners. It focuses on learning the most common words in Swedish and gradually increasing your vocabulary, always focused on common words so that you'll learn words that are immediately useful. Start with the 100 Most Common Words list and work your way up to the 50,000 Most Common Words.
Choose which skill you want to practice: listening, speaking, or vocabulary building. You can also adjust your level of difficulty by choosing multiple choice, text input, or transcription (for listening skills). The more difficult your practice, the more points you earn toward your running total.
The free version of the app is limited by how much you can practice each day, and not by how far you can progress, in contrast with many other apps that offer both free and paid versions. Another unique feature is the ability to change your language pairing, which allows you to learn Swedish from a language other than English. At this moment, you can learn Swedish from Dutch, Finnish, German, and Spanish.
Key Features
Choose between multiple choice or fill-in-the-blank play options to adjust your level of difficulty, but always practice words in the context of sentences.
Words are grouped by frequency of use, from the 100 Most Common Words all the way up to the 50,000 Most Common Words in Swedish.
A game-style format gives points, bonuses, and other motivational incentives, including a weekly leaderboard to compare your progress with other learners.
6. Mango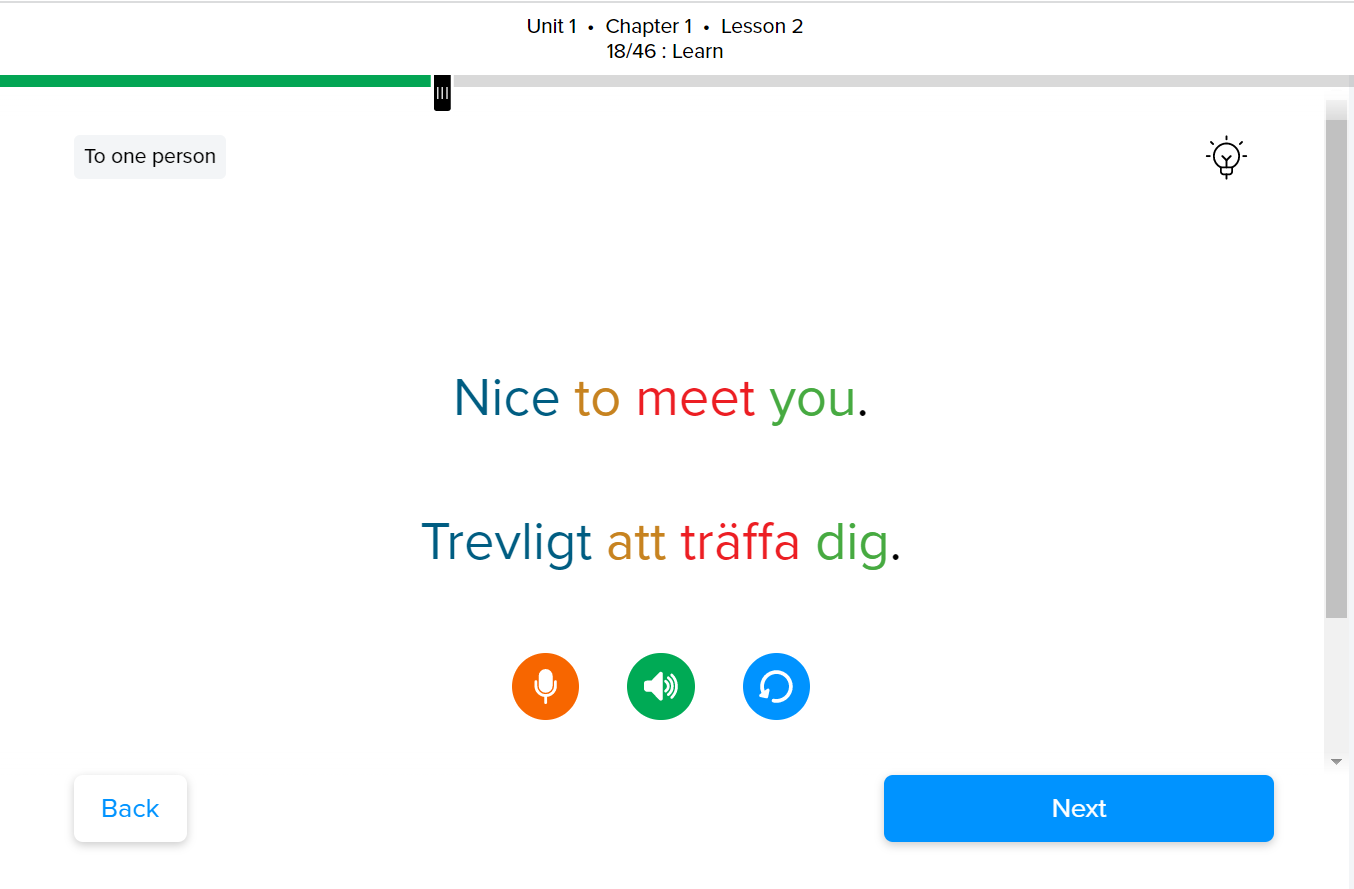 Website: https://mangolanguages.com/
Android app / iOS app
Price: $7.99 USD per month for a single language (14-day free trial when enrolling in a paid subscription); Test it out with 3 free lessons
About Mango
Mango uses a conversation-based methodology with a variety of different types of exercises to help you memorize new words, understand the relevant grammar, and apply what you're learning in practical situations. You'll also find culture notes to help you understand the cultural implications of the vocabulary you're practicing.
Clear audio recordings of native speakers and color-coded images give you the building blocks of the language structure and teach you how to put them together to build sentences and conversations. Compare your native language to the language you're learning by matching colors for parts of speech or translated words and phrases.
Mango also includes a voice recording feature which pairs your recording with the native speaker's recording for quick and easy comparison. Record as many times as you need to get your pronunciation to match.
A disadvantage of Mango for intermediate learners is that the program automatically starts in chapter 1, lesson 1 for beginners. You can skip between different lessons, but it takes trial and error to find the right lessons for your current level.
Key Features
Color-coded sentences help you visually learn grammar and sentence structure.
The voice recording and comparison feature is a great tool for learning and improving pronunciation.
Culture notes and explanations help you connect what you're learning to its practical use in everyday interactions.
7. Pimsleur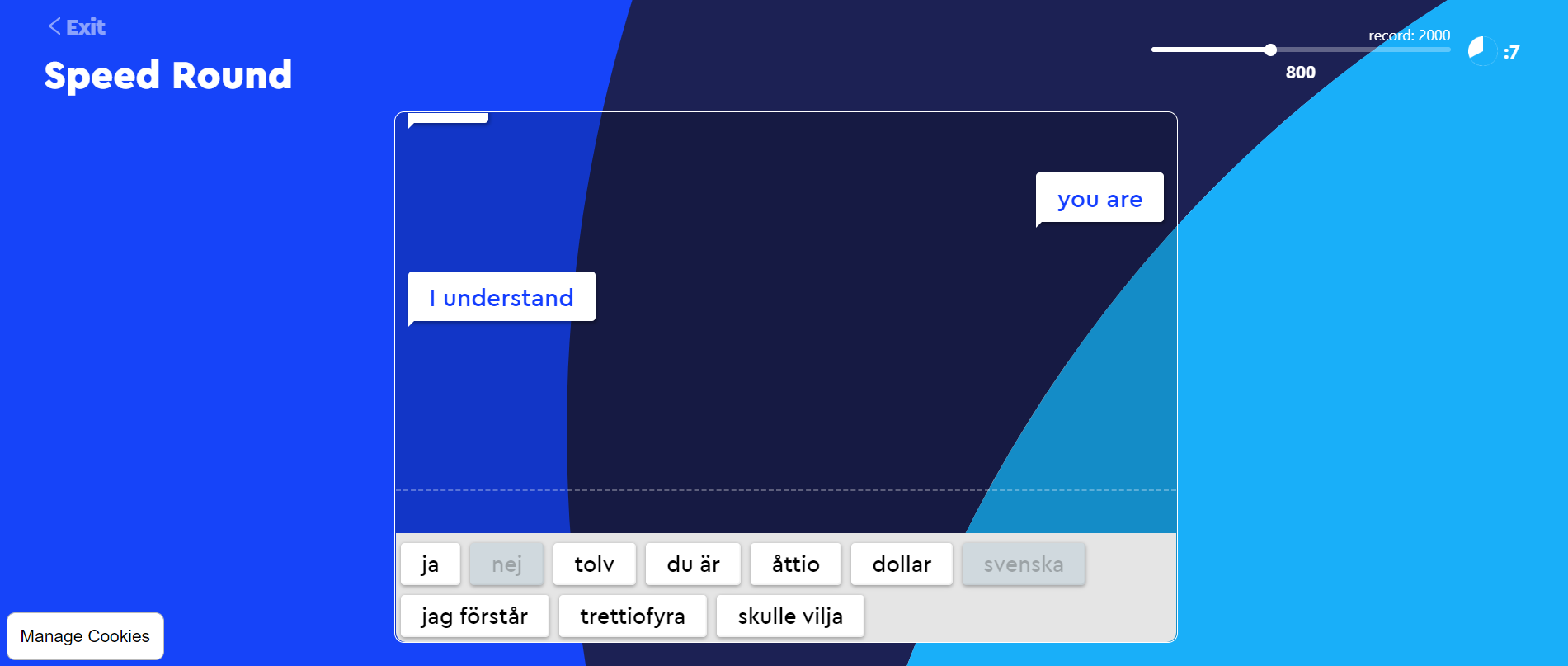 Website: https://www.pimsleur.com/learn-swedish
Android app/ iOS app: https://www.pimsleur.com/c/pimsleur-app
Price: Free 7-day trial, after which subscriptions cost $14.95 USD per month for Audio-only access, $19.95 USD per month for Premium access, or $20.95 USD for All Access
About Pimsleur
Named for the research of Dr. Paul Pimsleur and the Pimsleur Method that he developed, this approach focuses on listening, the way we naturally learn our native languages as children. There is no focus on memorizing vocabulary words or studying grammar structures, but Pimsleur relies on the brain's language center to learn to recognize when something is correct or incorrect.
Pimsleur's core lessons are hands-free and don't require interacting with a screen, so you can study on your morning commute or while exercising – whenever you have free time. Words are taken apart into syllables, working backwards to help you learn to pronounce them, and repeated often for reinforcement.
Reading lessons are interspersed among the other lessons at specific intervals to help integrate the sounds of the language and the written form of the language. Reading lessons do not always match the spoken-language lessons, but are designed to support or supplement them in different ways. Quick Match quizzes (10 questions) are available periodically to help you check understanding. A fast-paced matching game called Speed Round is a fun way to review and build fluency through quick recognition.
Key Features
Focus is on quick fluency in speaking and listening comprehension. Reading and writing build from these skills instead of the other way around.
A hands-free approach lets you listen to lessons anywhere and just use your device for reviewing and practicing.
Provides a solid option for someone who doesn't learn well by drilling, memorizing, or analyzing grammar
Each of these apps offers a different approach, so you're sure to find something to match your needs, preferences, and learning style. Or why not work with several to get the advantages of different styles? Remember to be consistent and use your chosen app regularly. Slowly, but surely, you'll get there!