If you have made up your mind to learn Italian, chances are you are looking for the best way to do it, and one of them is surely to practice with an app.
As you know, learning a language is no longer only about grammar books, huge dictionaries and in-person lessons (though these are also great!), but it has slowly been shifting towards more diverse methods.
Nowadays, there are language apps for all tastes and needs that will take you from learning the alphabet and pronunciation of its letters to having intricate conversations online with native speakers.
In this article, we will concentrate on intermediate Italian apps, as I have found that intermediate students often reach a plateau and require new input to get to the next level. The 6 apps described below will do just that, and take your Italian from intermediate to advanced!
We will look at the 6 best intermediate Italian apps, including their price, key features and description. And don't worry, if you can't choose, remember you can use more than one at a time!
busuu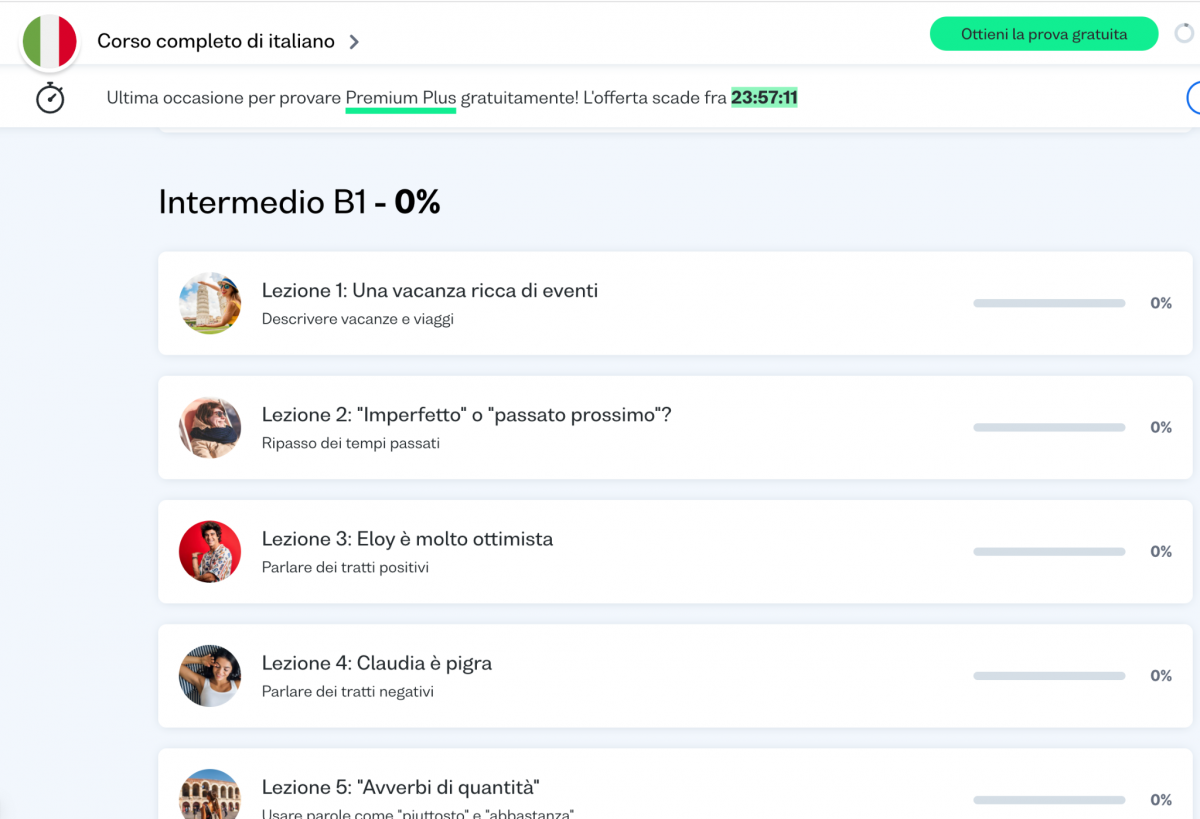 The well-known busuu is always a good choice. It is available both in desktop and mobile versions, and offers a lot of different lessons, from vocabulary to grammar to travel or business specific courses.
It is a great intermediate Italian app as the more advanced lessons are interactive and interesting, with topics that cover basic needs and more complex subjects like politics, nature and life choices.
busuu gives you the opportunity to practice all the essential language skills: listening, speaking, reading and writing, with speaking, vocabulary and pronunciation lessons, exercises and examples, as well as grammar and writing tips.
Plus, this app features a social aspect: you will be able to interact with a community of language learners, correct their exercises and get corrected in return from native Italian speakers.
Another great feature is the offline mode, which allows you to practice even without an internet connection: no more excuses!
The only downside is the price… The app can be downloaded for free, but soon you'll realize that the free content isn't much: if you want access all content, you will need to get a subscription: Premium or Premium Plus.
busuu isn't exactly the cheapest option, but if budget is not one of your main concerns, it is a great choice that will give you great variety and quality at the same time!
TIP: If you want an extra challenge, you can set the app language as Italian, so that you will not only be learning Italian, you'll also be learning in Italian!
Price
Free download. Premium ($5.83/month) or Premium Plus ($6.66/month) plans to be paid yearly.
Key Features
Offline mode
Advanced content
Practice all skills
Duolingo

Duolingo is another big name when it comes to intermediate Italian apps.
It is easy to use and quite entertaining. Exercises are well-built and varied, and the app offers the opportunity to set a daily practice goal (from 5 to 20 minutes), which will help you stay motivated and track your progress without feeling overwhelmed.
Duolingo started out as a basic app for beginners, but, with its colorful design and playful attitude, it has now evolved to meet the needs of intermediate learners.
Its game-like structure includes vocab lessons, grammar and speaking practice. You can either use the mode "Lessons" or "Stories". The first is the classic app-style interactive teaching, while "Stories" is a newer concept that you can use to improve your reading comprehension with interesting texts and listening skills with podcasts and audios recorded by native speakers.
If you are a competitive type, you can try to get to the top of the charts by earning "lingots", the app's currency, and by playing for as many consecutive days as you can.
It sounds good, doesn't it? It sounds even better when you find out that all this is completely free!
Its content is sometimes too 'light' in terms of information or context, but if you want a light, fun practice, maybe to use in combination with a more grammar-focused app, Duolingo is what you're looking for.
Price
Free (with an option for a paid subscription at $6.99 per month)
Key Features
Habit building feature
Game-like structure
Conversational focus
Clozemaster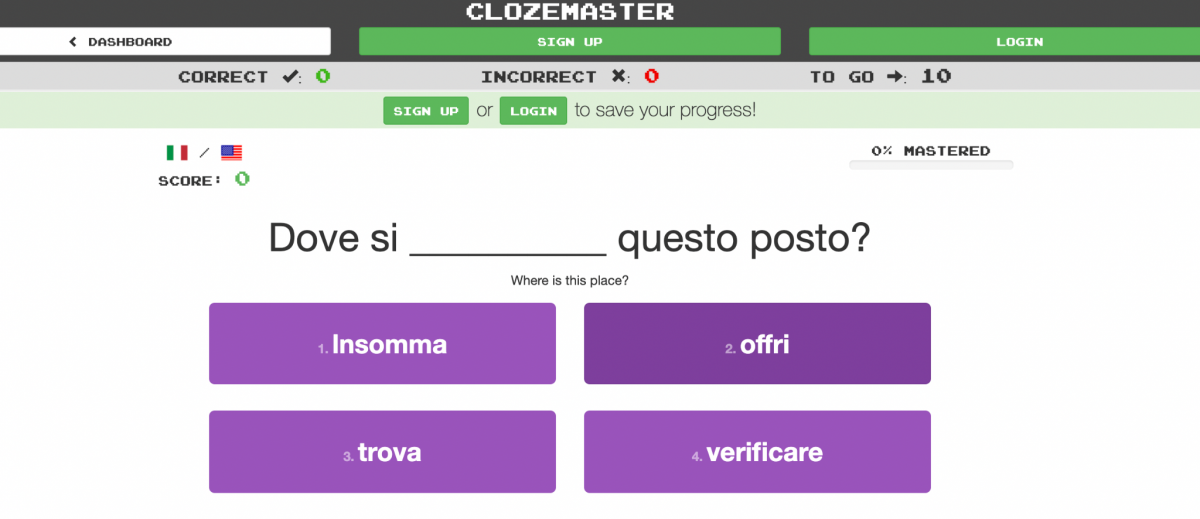 Clozemaster has quickly become one of the best intermediate Italian apps. Its name comes from a type of exercise called a "cloze test", which has always been used in language learning. In this test, part of a sentence is removed, and the student has to understand the context to complete the gap.
This is exactly Clozemaster's specialty: contextual learning.
This method is great for picking up new vocab and learning grammar seamlessly at the same time. It is perfect for intermediate learners, especially in its typing mode, as the Italian sentence, combined with its translation, clue you into what the missing word means and allow you to find it easily, but not thoughtlessly!
Once you've completed the sentence, you will also hear it read out loud in Italian, so that you have no doubts on its pronunciation.
The sentences in Clozemaster include idioms and typical Italian expressions, and you can choose the difficulty level by choosing to practice with 'clozes' that use from the top 100 to the top 50,000 most common words in the Italian language. The app allows you to build your own 'Cloze Collections' and it challenges your learning with Grammar specific collections.
All this is made fun by the game-like graphics and the points you can earn to reach the top of the leaderboards.
Clozemaster created a fun, intuitive app that will not overwhelm you and will make you learn Italian without even realizing it!
Price
Free with options for paid subscriptions ($8 per month, $60 per year or $140 for a lifetime subscription)
Key Features
Fill the gap methodology
Contextual learning
Grammar and listening challenges
Babbel

Babbel is a big name in the language learning universe, and for good reason. Its interactive lessons are vocabulary-based and, after teaching you words and expressions with flashcard-like screens, they test you on them with exercises and speech recognition technology.
Babbel offers interesting topics that will cover your language needs in social situations, while travelling and even in a business environment.
The lessons are not short, however, but they are built on real-life conversations and simulations, so that you do not only learn words, but you learn how to use them in the right context, too.
The exercises cover all four pillars of language learning: reading, writing, listening and speaking, and mostly focus on informal, day-to-day language.
The idea is to get you speaking as soon as possible and go out to practice in the real world!
It is not free (memberships start from $6.95 per month), but if budget is not a problem, Babbel surely has thousands of learners who would swear by it.
Price
$6.95/month for a yearly subscription
Key Features
Learn in context
Interactive exercises
24/7 customer service
Memrise

You might guess the purpose of this app simply by its name: Memrise… Memorize! If you've realized it isn't easy for you to remember new words and expressions, this is the app for you.
Its method is unique, and slightly different from that of the other intermediate Italian apps we've seen so far, but it is proven to work wonders for your memory. It is structured with interactive lessons that help you memorize new words and phrases, and once these are set in your mind, the app will test you with exercises such as multiple-choice questions, translation tests, audios and videos.
With this app, you will build your Italian vocabulary in no time.
Memrise is available to download for free, but the Pro membership provides some extra features (a chatbot, adaptive technology, and personal learning statistics).
The premium version also offers special sections, such as Difficult Words and Learning Skills, which will give you small challenges and extra motivation to practice. The price for the app is $9 per month, $59 per year, or $129.99 for a lifetime subscription.
Price
Free with Premium features ($9 per month, $59 per year, or $129.99 for a lifetime subscription).
Key Features
Memory training
Chat with other Italian learners
Interactive exercises
Drops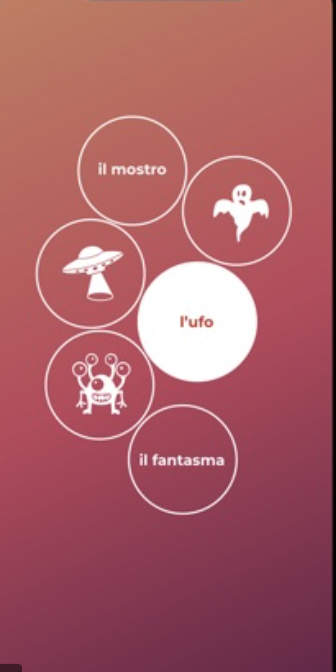 If you discovered you are a visual or tactile learner, Drops is the app for you. The design and colors are pleasant and inviting, creating a good visual environment, and the main type of exercises consist in dragging and dropping words across the screen, with a voice over that reads the text aloud while you move it around.
The illustrations are fun and the topics interesting. Of all the intermediate Italian apps we've seen, this is probably the most game-like and relaxed.
The app does not offer grammar or in-depth explanations and is mostly vocabulary practice. It is perfect for children and young learners, or if you simply want to wind down while still feeling like you're doing something useful for your language skills.
Personally, I find it quite relaxing and fun, like being in a language bubble…
Price
Free or $8.49/month for premium access
Key Features
Pleasant visual aspect and illustrations
Vocab focussed
Gamification
Final Thoughts on the Best Intermediate Italian Apps
Of course, setting some time aside every day for language learning isn't easy, we perfectly know. However, we hope we've made things easier for you with this article on the best intermediate Italian apps out there.
Remember, building a habit of even just a few minutes a day will make a difference in your language-learning journey, and with all the technology we are lucky to have available, we can practice all essential skills pretty much anywhere: from the comfort of our home, while commuting to work, or waiting for a friend at a café!
You can try different apps to see which one's best for your learning style, and even combine different ones to give your practice some variety and not get bored.
For example, you could work with a grammar-focused app in the morning when you are full of energy, and then practice with a lighter, game-like app in the evening. Just give them all a try and see for yourself!