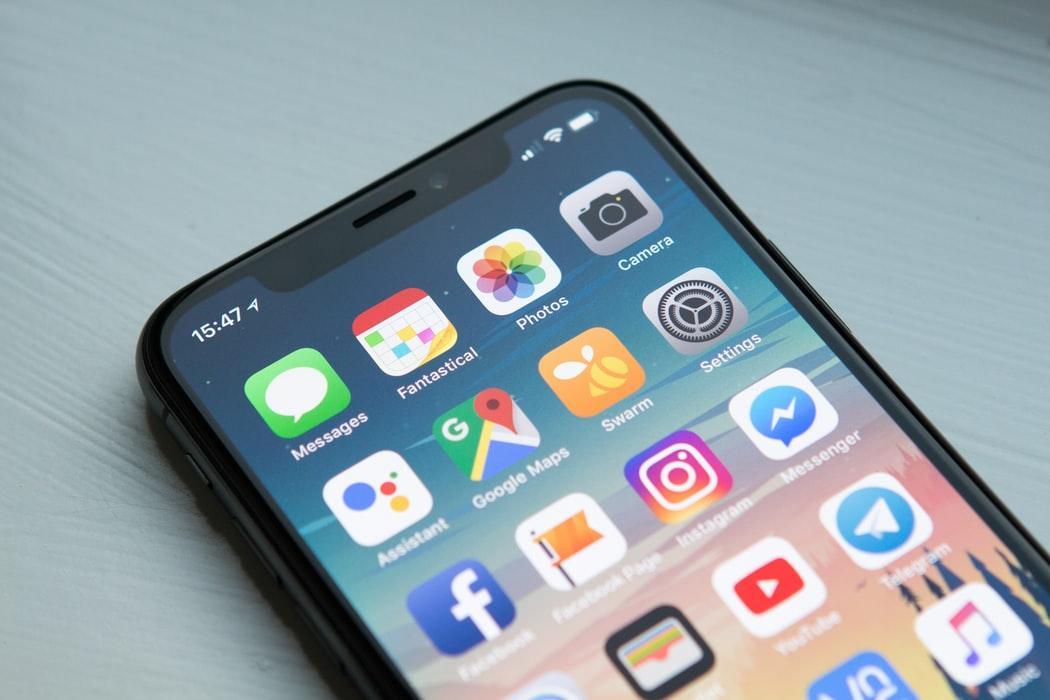 If you've been learning French for a while, then you've probably already tried using different apps or websites. Have you noticed that after a while you come to a standstill? Do you start repeating the same things and stop making progress? That's because many apps are designed for beginners as an introduction to the French language. If you want to continue beyond the basic French lessons and holiday vocabulary, then you need to try some intermediate French apps.
The main advantage of learning French via an app is the ability to do it from anywhere – on your daily commute, during your coffee break, or even while you're in the bathroom (who are we to judge?!)
With the advancement of modern technology, new apps are popping up every day in every domain. This makes it difficult to know which ones are good, and which will suit you and your needs.
Whether you're looking for intermediate French apps that focus on grammar or vocabulary, or those that are entirely conversation-based, we've rounded up the crème de la crème of apps for learning French.
Babbel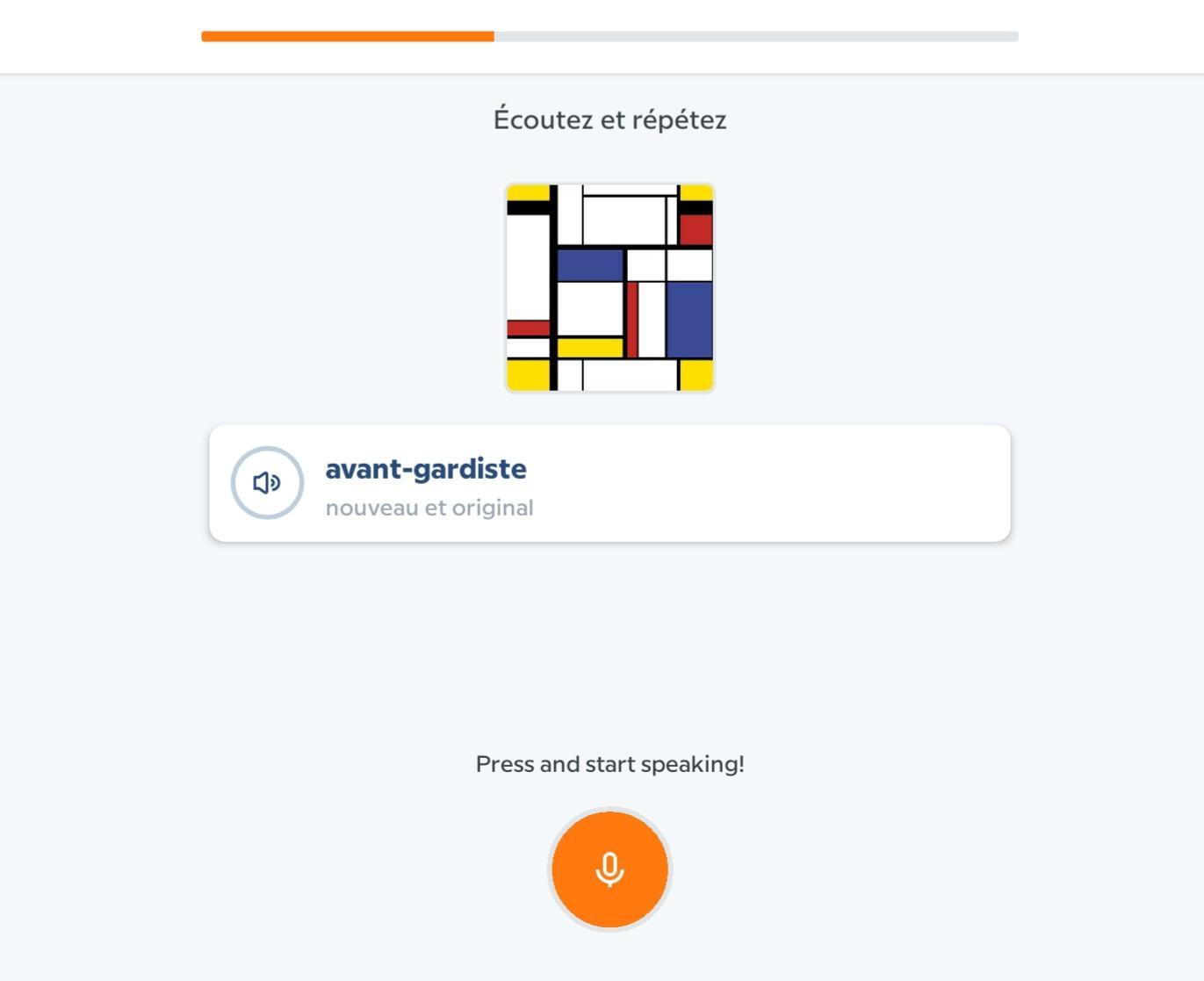 When talking about intermediate French apps, one of the first ones that comes to mind is Babbel, and for good reason. Babbel is a paid language-learning app which uses your native language and personal interests to help you learn more quickly. It is available for all levels, from beginner to advanced, including of course intermediate level. What's more, you don't have to start from the very beginning, you can dive right in at your chosen level and switch levels pretty easily. It covers a wide range of topics that can help in social situations, while travelling and even in a work environment. When you join you can also specify how much time you want to spend on the app, meaning that you don't have to dedicate hours of your time to learning, and can choose to study for as little as 5 minutes per day!
The app uses gap-fill exercises, multiple choice, listening comprehension and word pronunciation, meaning that it covers the four pillars of language: reading, listening, speaking and writing. The app also uses full conversations rather than single words or sentences, providing a more realistic learning experience that teaches you how to use new terms in the right context. Babbel has thousands of positive testimonials from users worldwide, so if you have money to spend on an app, then this might be a good fit for you.
Key features
Covers listening, reading, writing and speaking
Teaches using full conversations rather than individual words
Duolingo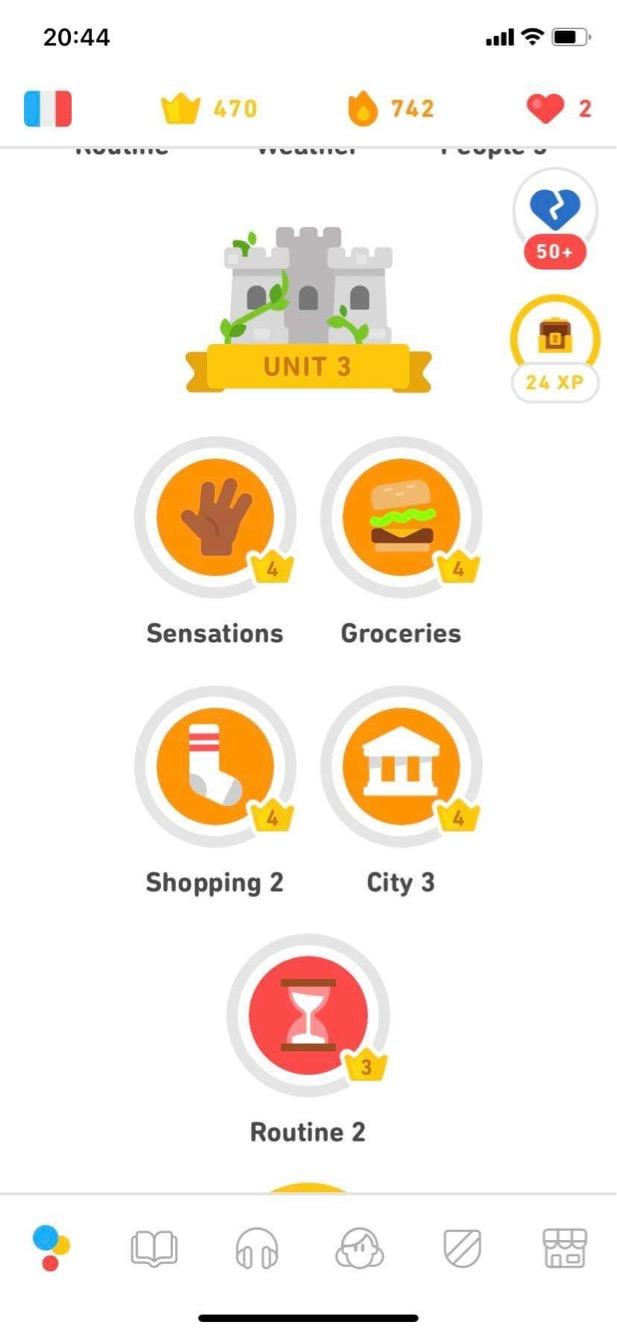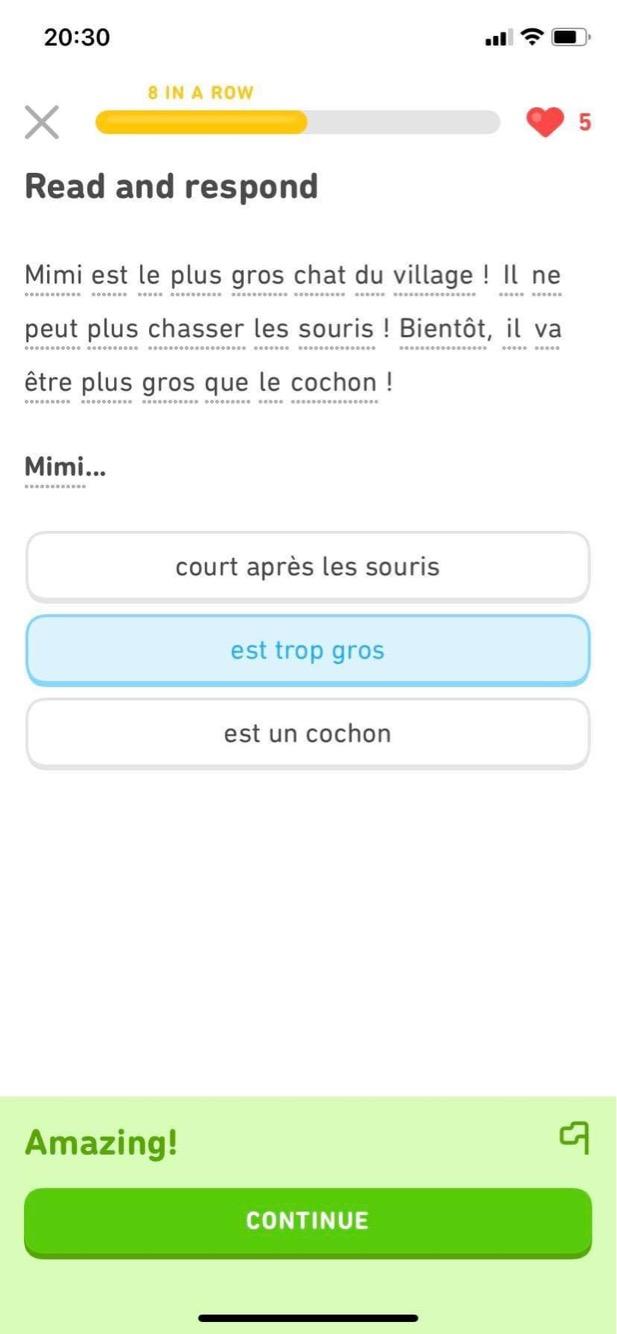 If you're trying to learn a language then there's a high chance that you've already heard of Duolingo. The easily recognizable Duolingo app and website use colorful games to engage their audience with audio, written sentences and speaking practice. Duolingo started out as a basic app for beginners but has evolved over the years, making it suitable for intermediate learners too. An initial level test allows you to skip several basic parts of the course and jump right in with more difficult vocabulary. The app includes not only vocabulary but also grammar lessons, and they have added stories to improve reading comprehension and podcasts so that you can listen to native speakers and test your understanding.
If you have a competitive streak, you can try to get to the top of the leaderboard, earn points via the app's currency (known as "lingots") and try to beat your record by playing the game for as many consecutive days as possible. To top it all off, Duolingo is, for the most part, completely free. You can choose a daily goal from 5 minutes to 20 minute per day, making this a quick way to practice your French without eating into your day. Intermediate level students who wish to learn more difficult grammar and practice using complex sentence structures could use Duolingo alongside other intermediate French apps, for some extra, light and fun practice.
Key features
Fun, competitive and engaging learning in the style of a game
Regularly updated to add new features to improve the user experience
Clozemaster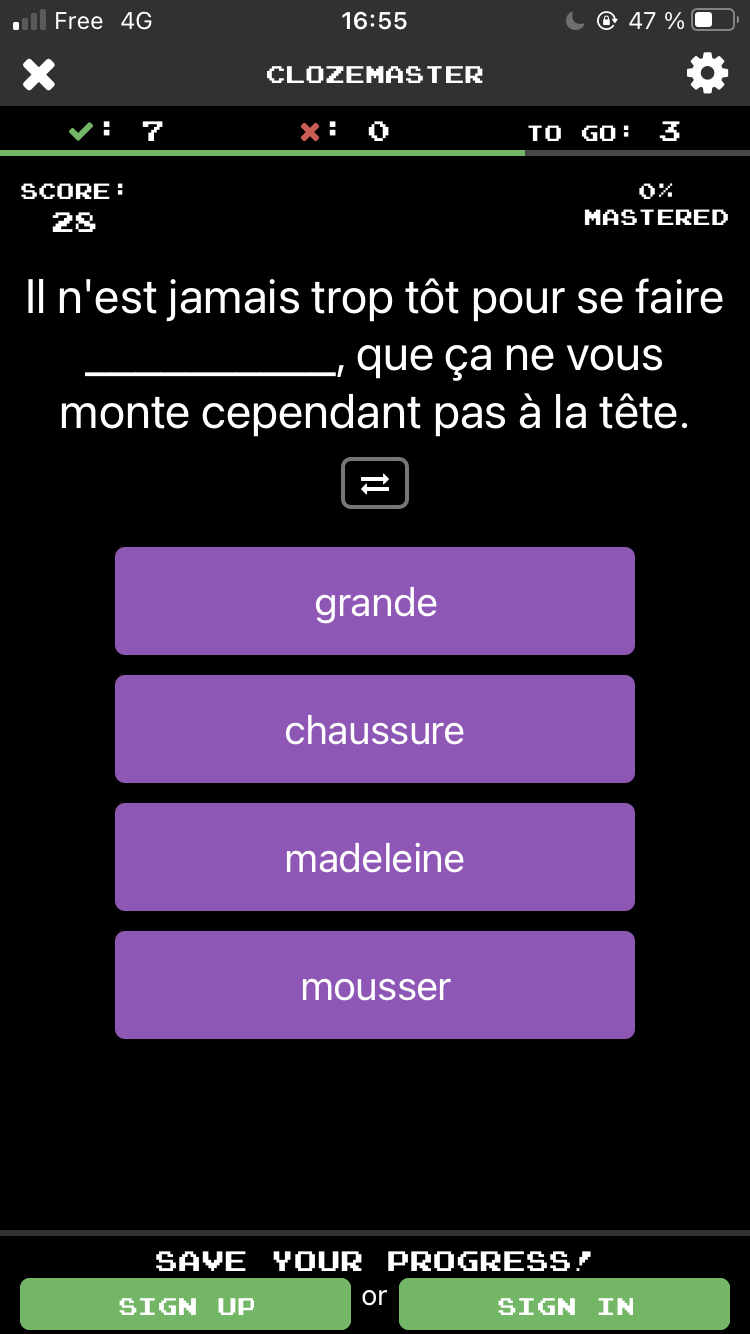 Clozemaster is a relatively new player to the language-learning game, but it has already made a name for itself as an intermediate French app. The concept is simple: you must fill in the gap with the correct word (the cloze). And what's more, unlike Babel and Duolingo, Clozemaster is best suited for intermediate language learners.
What makes Clozemaster unique is the wide range of vocabulary, tenses and sentence structure that users are shown. You can customize the difficulty level by choosing to practice with clozes that make up anywhere from the top 100 to top 50,000 most common words in the French language. What's more, unlike conventional textbook French, Clozemaster includes idioms and expressions which help you become more fluent and be able to converse more naturally.
The gap-fill game can be played in two modes: multiple choice or the slightly more difficult "text input" mode. In addition, you can adjust the settings to make the game more or less difficult, for example with the option of hiding or showing the translation for multiple choice questions.
Clozemaster is also a great way to improve your French listening skills. You can choose the listening skill option when playing sentences which lets you hear a sentence before you see it, or you can play Clozemaster Radio on the mobile app – a continuous stream of sentences and translations spoken aloud so you can keep learning anytime, anyplace, hands-free.
The app and website can be used for free, with additional benefits for premium members. The exercises are quick and you don't have to commit to a long session. Your daily goal is not set in time, but in points, starting with just 10 points per day. If you want to challenge yourself, you can try to increase your streak or earn more points to climb up the leaderboard.
Key features
Huge collection of vocabulary covering an array of subjects
In-app challenges to work on specific aspects of grammar
HelloTalk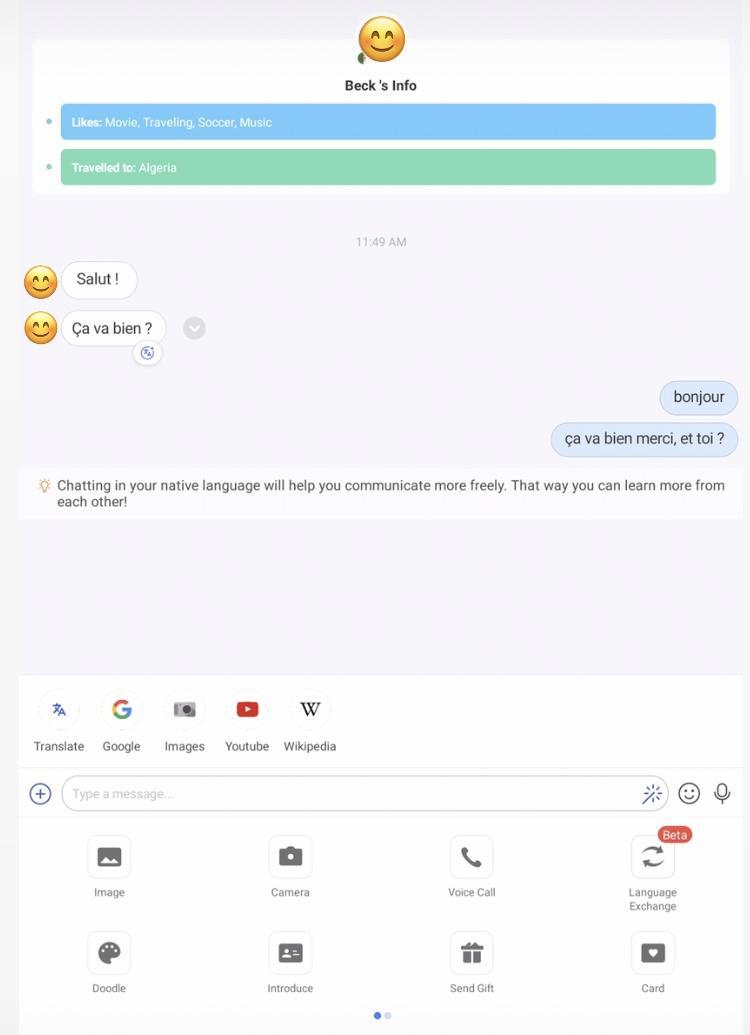 If you think that learning French on a mobile app, compared with face-to-face lessons, doesn't allow you to practice speaking and conversational skills, then this app is for you! HelloTalk is like a social network for language lovers! It's suitable for all levels, from beginner, intermediate all the way up to proficient. You can "chat" with native speakers, send voice messages, and even have voice calls.
This app has a real sense of community; you can post on the message board or respond to other posts to engage in conversation, or message someone directly after viewing their profile. You're encouraged to help fellow users by correcting each other's sentences on the main feed. Within the app you can also use a grammar corrector tool and a translation tool, for when you're in need of a bit of extra help, or a confidence boost before sending out a message. There's even a "serious learners" category where you can concentrate on speaking to others who are keen to learn, rather than just basic chit-chat. Adults cannot directly contact minors making HelloTalk suitable for young learners too. Language exchange is a two-way street; you have to be prepared to speak your native language as well as French, so that other users benefit from the conversation too.
Key features
Social media-style messaging platform
Communicate with native speakers or post a "status" in French for others to correct
Brainscape
We've all studied using homemade flashcards, but wouldn't it be easier if there was an app filled with pre-made flashcards ready to help us learn? Brainscape is the solution. The premise is simple: use flashcards to memorize vocabulary. This app actually covers the whole academic spectrum with subjects ranging from biology and chemistry to mythology, astrology and foreign languages, you just have to select your chosen subject. It can be used as an intermediate French app by selecting higher French levels, which give you access to over 3000 flashcards. When studying each flashcard, you are given a word or sentence to translate, out loud or in your head, and then you are shown the answer and must rate how well you knew the phrase, so that the app knows that you need to revise those that you didn't understand. You can also listen to the pronunciation of each flashcard to make sure you're getting it right, but if you want to improve your speaking even more, pair this app with a conversation-based learning approach. You can learn as few as 5 words per session, meaning that this app is also ideal if you don't have much time on your hands and want to cram in some French practice when you're on the go.
Key features
Flashcards to study using the tried and tested "repetition" approach
Quick and easy to use app with no time commitments
Tandem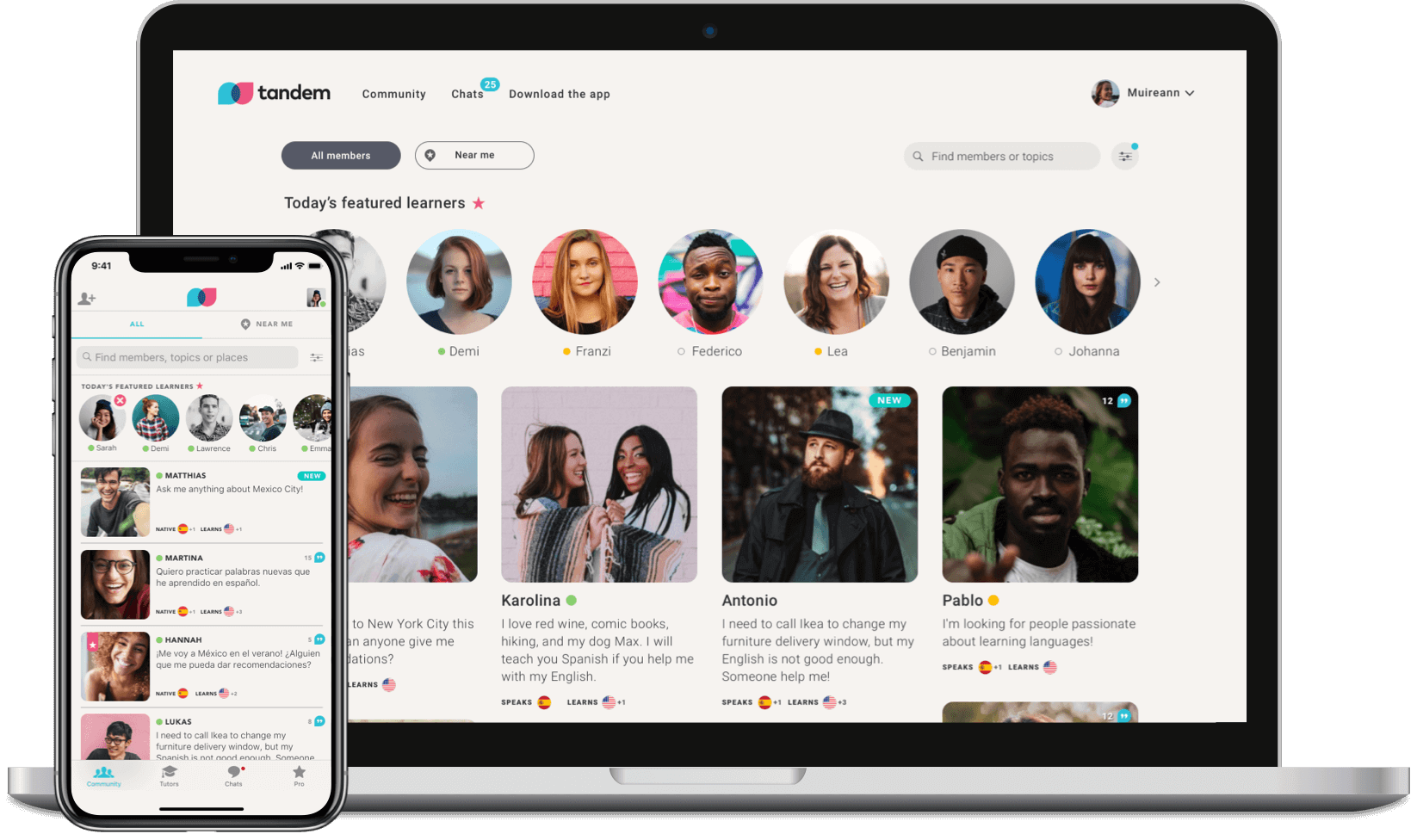 Have you always wanted a pen pal? Someone to chat to in a foreign language, maybe even meet up with one day? Tandem is an app that turns your pen pal dreams into reality, by pairing you with like-minded native French speakers for you to chat with via text, audio and video calls. However, you don't have to be matched to someone, you can also choose who you would like to start a conversation with based on their "bio". The app is extremely active, and you might receive many messages every day, giving you the possibility to meet and chat with multiple people. It's aimed at adults who want to chat with like-minded people, but is also open to users over the age of 14. Of course, you do have to be willing to speak your native language in order to help your partners to improve their language skills too.
Tandem also provides tools to assist with translation, pronunciation, transliteration, and correction. Forget the difficult grammar and boring school-style learning, chatting with a native French speaker will get you speaking like a native in no time! If you need a little extra help on the grammar front, you can pair this app with more technical intermediate French apps and have the best of both worlds. While this might seem intimidating for people who are shy and reserved, it's a great way to improve your listening comprehension, pronunciation and general conversational skills much more quickly than in a classroom environment.
Key features
Language exchange with native speakers who share similar interests to you
Entirely focussed on conversational skills to improve spoken French and pronunciation
Le Conjugueur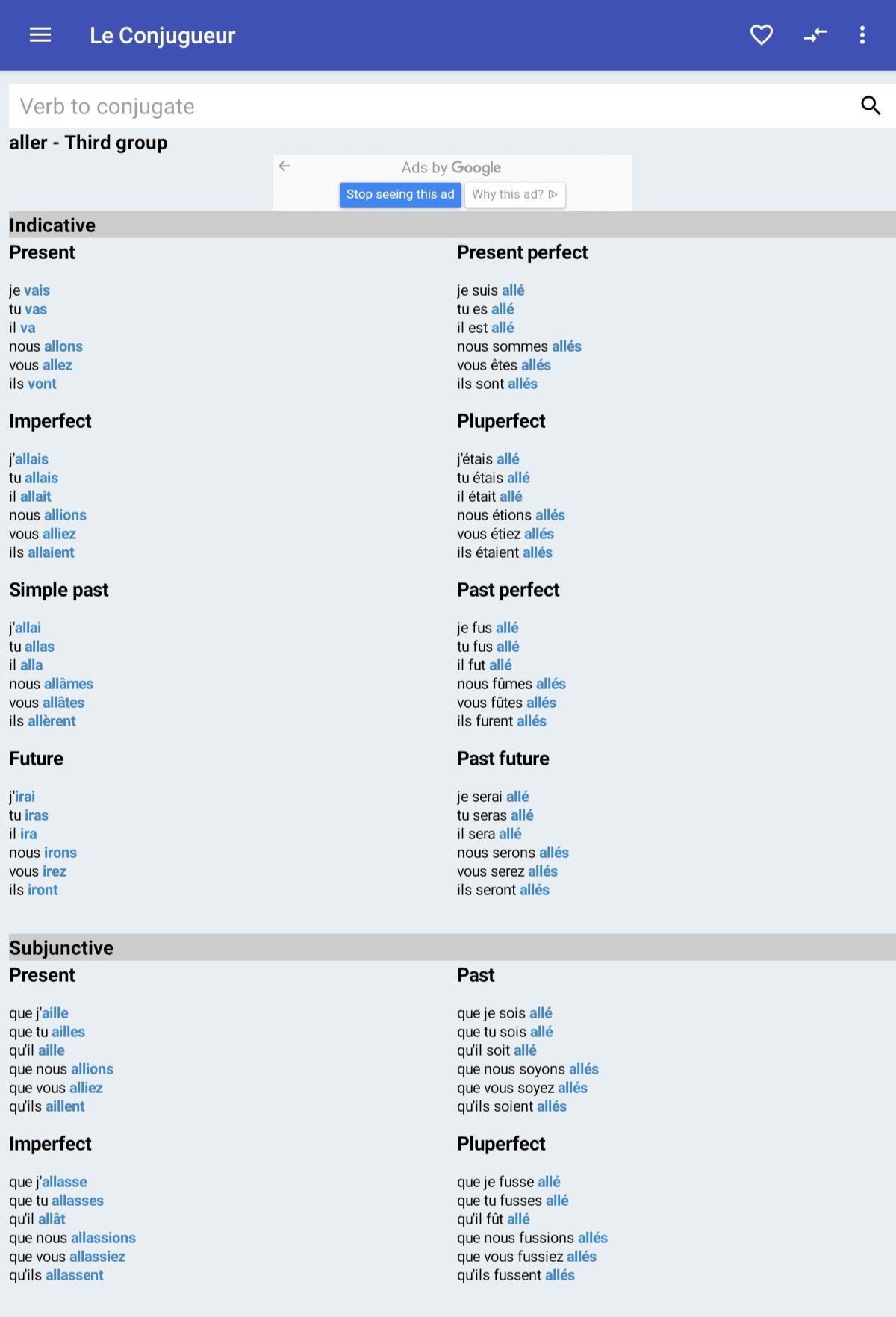 Finally, if you've already reached intermediate level then you're probably familiar with the various tenses and conjugations of different French verbs. The French language can be pretty perplexing, so no matter how long you study for, you're bound to forget a conjugation every now and again, even native speakers make mistakes from time to time! Le Conjugeur (Android / iOS) is an offline app, that's right, you don't even need an internet connection! You just search for the verb, and it provides you with a clear list of all of the conjugations in all tenses for that particular verb. It even has an explanation of the rule and different definitions and uses of that particular verb. You can check out similar verbs that follow the same rules, and you can even see explanations of different conjugation rules. The app is French, but you can change the interface to English in order to see the headings and detailed rules in English. And did I mention, it won't cost you a penny!
Key features
Totally free, no add-ons or in-app purchases
Verb conjugations at your fingertips, even when you're offline
The Best Intermediate French Apps
We understand the difficulty of setting aside time every day for hobbies like learning a language, which is why all of these intermediate French apps allow you to practice for as little as just a few minutes each day. They help you progress from the comfort of your own home, desk or on the way to work. You might already know what kind of app you're looking for – vocabulary games, grammar exercises, or conversation practice, or maybe you're open to anything.
I highly recommend trying out different intermediate French apps to see which ones suit you. There's nothing stopping you from combining a conversation-based app and a more general learning app so that you can fine-tune your pronunciation, polish up your grammar and expand your vocabulary all at the same time.